TABS 2015 Vitamin & Sports Nutrition Study
Overview of Vitamin and Sports Nutrition Buyers and Channels
TABS Group is proud to provide a report on its 8th annual Vitamin (VMS) & Sports Nutrition study covering buyer and channel trends for both the VMS and Sports Nutrition categories. This report supplements the webinar conducted in May 2015.
In our 6-page report you will learn, among other things: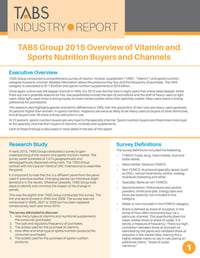 What's shaping the debate about the true size of the VMS category
Estimated outlet sales and share of occasions, including the online channel
How age and ethnicity shape Sports Nutrition buying
Plus more!
The VMS and Sports Nutrition categories continue to grow and are important bellwethers in the consumer packaged goods industry. CPG professionals, in general, will benefit from the detailed analysis and trends covered in this report.
Download this free report now to learn more!