Why Online Grocery Is Failing...And What You Should Do About It


TABS 2016 Food & Beverage Report
Much has been written about online grocery, and big money has been spent on its promise to revive declining food and beverage category sales. Don't bet on it.
In short, online grocery continues to underperform and has not reached a critical mass in penetration and loyalty, painting a very ugly picture for its future to deliver growth to the category. In this white paper covering15 food and beverage categories, we'll take you through the cold hard truth of the matter from our four years of research on the topic.
In our fourth annual Food and Beverage Report, we'll cover additional points such as: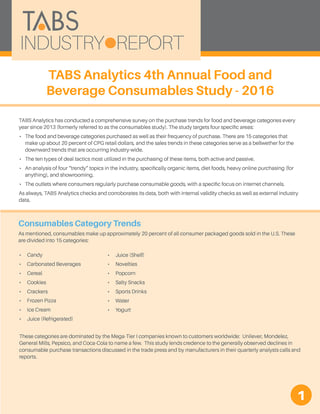 How to improve your sales by focusing on where your heaviest food and beverage consumers are - in households with children
Why trade promotion remains an important strategic tool to drive sales
What food and beverage concepts remain niche players despite being trendy
...and more!
The food and beverage categories covered in the TABS Analytics 2016 study represent approximately 20 percent of total U.S. consumer packaged goods sales, so they are an important bellwether for the industry as a whole. Food and beverage professionals will benefit from the trends and detailed analysis covered in this report.
Download this free report now to learn more!