2016 TABS Vitamin & Mineral Supplements Report
Overview of Vitamin and Mineral Supplements Buyers and Channels
TABS Analytics is proud to provide a report on its ninth annual Vitamin & Mineral Supplements (VMS) study covering buyer and channel trends. This report supplements the webinar conducted in May 2016.
In our 7-page report you will learn, among other things: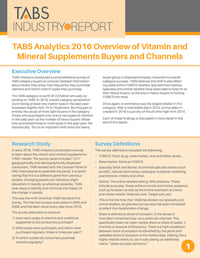 How many types did consumers purchase?
What types were purchased?
Which outlets do consumers regularly purchase from?
Plus more!
The VMS category continues to grow and is an important bellwether in the consumer packaged goods industry. CPG professionals, in general, will benefit from the detailed analysis and trends covered in this report.
Download this free report now to learn more!