2016 TABS Vitamins, Minerals & Supplements Report
What is the Real Size of the VMS Category?
The TABS Vitamin Study originated in 2005 with the objective of getting a more accurate measurement of the VMS category size. There has been a long-standing debate over the category size stemming from various industry reports when compared to TABS' vitamin study estimates.
In our second installment of our 2016 VMS study and report, we provide an in-depth explanation of how we arrive at the category size. Further, we cover points such as: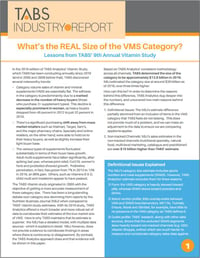 Why

an accurate market size estimate is important for the industry

How

and why we

a

djust

the

category definition
Why the specialty channel is critical to reconcile properly

...and more!
The VMS category continues to grow and is an important bellwether in the consumer packaged goods industry. CPG professionals in the Vitamins, Minerals and Supplements industry will benefit from the detailed analysis covered in this report.
Download this free report now to learn more!