TABS Analytics 2017 Household Care Study White Paper
TABS Analytics founder and CEO Dr. Kurt Jetta shares his analysis of the most up-to-date Household Care category data available in our 2017 Household Care Study report.
Categories included are: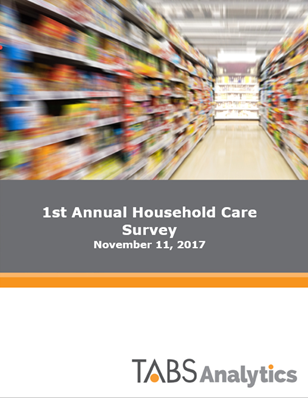 Laundry Detergent
Consumer Tissue and Disposable Tableware
Household Cleaners and Devices
Air Fresheners
Household Cleaning Products and Supplies
And more...
You'll be the first to find out answers to questions like:
Which demographics are driving growth

when it comes to buying household care items?

How important are heavy buyers to the category (and who are they)?

What deal delivery methods are replacing once-popular circulars & FSIs?

How important are online and discount channels (e.g. Dollar, Discount Grocery)?

Plus many more…
It's highly unlikely you'll get this much category data and insight in one report anywhere else.
Download this free report now to learn more!