The TABS Analytics 2018 Baby Care Study...
If you need to understand how adults and families in the U.S. spend their household dollars…
If knowing the latest consumer trends in baby care and products would help you work more effectively…
If you want to cut into a bigger slice of the $30 billion baby care industry…
In this report, you'll find extensive analysis of the most up-to-date Baby Care category trends data available in 2018.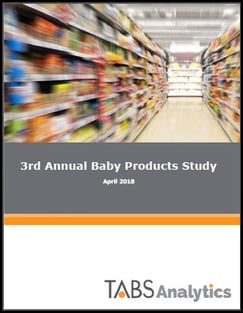 You'll discover:
Along with...
Category purchase dynamics, including product types purchased within categories

Outlet shopping patterns, with a focus on comparing online to brick-and-mortar as well as measuring non-tracked channels

And more insights to help you market and sell more effectively
Fill out the form on the right to download the report