Advanced Marketing Analytics Tools

Drive productivity and make intelligent business decisions with our intuitive, affordable marketing analytics tools.
You know that in order to grow your brand you must compete at a higher analytical level from a CPG marketing strategy standpoint. But unlike our competition, you don't have hundreds of thousands of dollars to spend on consumption data, personnel and business intelligence software for sales and marketing analytics. TABS Analytics can help you compete within an affordable budget.
Our new approach to price elasticity combines the predictive benefits of Virtual Shopping with Machine Learning to achieve the perfect price. This method is effective because it delivers:
Accurate Price Elasticity

that

considers

cross

elasticity and

removes

the

effects

of

market

shocks

Realistic Market Trends

that

consider

multiple variables

like

distribution,

promotions,

and

marketing

Fast, Cost Effective Results

with

the

ability

to update

regularly
Advertising Effectiveness
Measure the ROI of your major marketing programs effectively and affordably. Typically, multiple methods of tracking the ROI will be needed to ensure you understand the full value of your marketing programs (e.g. Brand Awareness, Brand Perceptions, Incremental Sales). We can integrate multiple sources of data – online surveys, retailer POS, and syndicated scanner data to help you determine if your multi-million dollar consumer programs efforts are a good spend.
Marketing Mix
TABS offers a powerful marketing mix tool includes predictive analytics for the major sales and marketing drivers of your business. Our distribution-based analytics approach is at the heart of our market mix approach and you'll receive our expert consulting support and a simulation tool to help you plan your marketing and sales activities.
Household Panel
TABS PanelMaster™ has particular expertise with household panel data from Nielsen. Let us show you the business gold that resides in the mountains of data available through Nielsen Homescan®.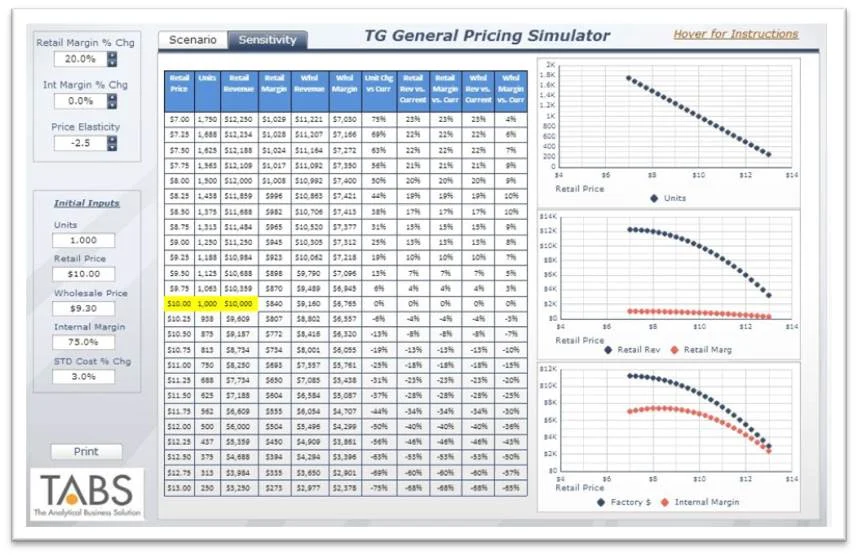 Price Elasticity & Gap Analysis
Understand the impact of price changes on Units, Dollars and Gross Margin at the trade class and account-specific levels with our elasticity and gap analysis tools.
Custom Consumer Research
TABS Shopper Insights will enhance your sales and marketing efforts using input from consumers to understand key metrics driving brand sales such as awareness, favorability, loyalty and conversion to trial. We can offer significant savings versus full-service CPGH consumer research firms, and provide in-depth analysis along with competitive, practical recommendations you can implement immediately.
Syndicated Category Research (NEW)
TABS Syndicated Category Tracker provides a better way to understand market insights. The category tracker delivers sales estimates for all outlets, including eComm and specialty channels. Like our custom consumer research, we offer significant savings versus full-service research firms, and with the syndicated tracker, you'll pay a fraction of what it would cost to get key category data for channels, buyers and brands.
Post-Event Analysis (Blacksmith TPO)
Through promotion optimization, you can automate post-event analysis to build plans that outperform the norm.