Advanced Analytics Tools

Drive productivity and make intelligent business decisions with our intuitive, affordable marketing analytics tools.
What is Revenue Growth Management (RGM)?
Revenue Growth Management is the discipline in an organization that provides strategic guidance and management of the short-term levers of the Marketing Mix: Everyday Pricing, Trade Promotion and Product Assortment.
Why RGM?
CPG manufacturers haven't been hit as hard by COVID-19 as other industries. In fact, some categories and brands have seen an immediate sales boost. However, the sector is still dealing with many long-term challenges that haven't subsided. Perhaps one of the largest issues is keeping up with scaling your analytics to your operations.
Trade promotions are a key part of this, but if they backfire, this just makes a bad problem worse. Revenue growth management is a discipline designed to help keep this from happening, but many businesses misunderstand it.
A properly modernized revenue growth strategy can generate benefits equal to 3-5% of gross profit. This can be huge for companies trying to get every last bit of profit to appease investors.
Speed to Insight
Combining advanced analytics from TABS and virtual shopper research with Decision Insight will provide clarity on how to install and improve your revenue growth management measures.
Using TABS Analytics Advanced Analytics Tools to Support RGM
You know that in order to grow your brand you must compete at a higher analytical level from a CPG marketing strategy standpoint. But unlike our competition, you don't have hundreds of thousands of dollars to spend on consumption data, personnel and business intelligence software for sales and marketing analytics. TABS Analytics can help you compete within an affordable budget. Our distribution-based analytics approach is at the heart of our market mix approach and you'll receive our expert consulting support and a simulation tool to help you plan your marketing and sales activities.
Our new approach to price elasticity combines the predictive benefits of Virtual Shopping with Machine Learning to achieve the perfect price. This method is effective because it delivers:
Accurate Price Elasticity

that

considers

cross

elasticity and

removes

the

effects

of

market

shocks

Realistic Market Trends

that

consider

multiple variables

like

distribution,

promotions,

and

marketing

Fast, Cost Effective Results

with

the

ability

to update

regularly
Marketing Mix
TABS offers a powerful marketing mix tool includes predictive analytics for the major sales and marketing drivers of your business.
Price Elasticity & Gap Analysis
Understand the impact of price changes on Units, Dollars and Gross Margin at the trade class and account-specific levels with our elasticity and gap analysis tools.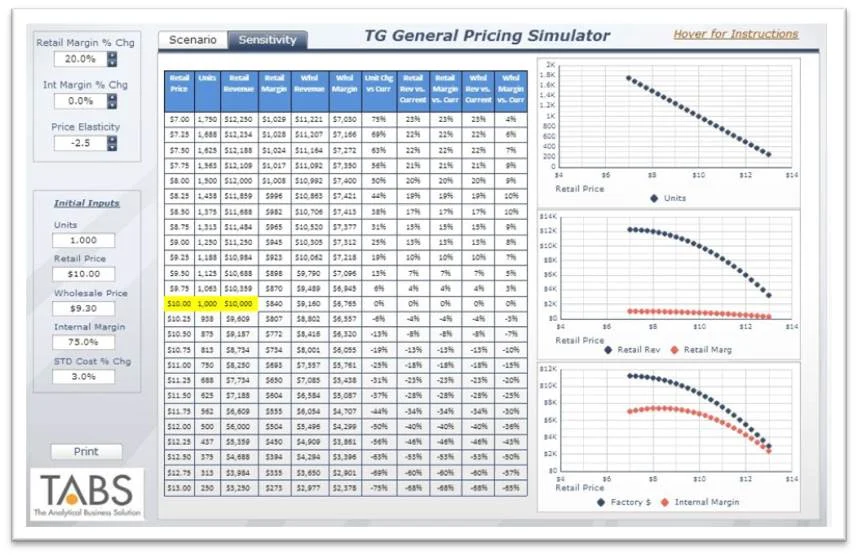 Custom Consumer Research
TABS Shopper Insights will enhance your sales and marketing efforts using input from consumers to understand key metrics driving brand sales such as awareness, favorability, loyalty and conversion to trial. We can offer significant savings versus full-service CPGH consumer research firms, and provide in-depth analysis along with competitive, practical recommendations you can implement immediately.
Post-Event Analysis (Blacksmith TPO)
Through promotion optimization, you can automate post-event analysis to build plans that outperform the norm.