Sales of baby products were down across all demographics, except one – the highest income individuals. This was just one of the interesting insights that were revealed in the recently released TABS Analytics 2017 Baby Product Study.
TABS' CEO, Dr. Kurt Jetta, highlighted findings from the second-annual survey, which examined the shopping patterns in the estimated $30 billion market for baby products. This market includes seat and safety products, feeding needs, diapers and accessories, formula and food, and baby needs, such as shampoo, lotion, powder and ointments. The study also looked at the types of outlets – mass market, specialty and online – at which these purchases were made, as well as key demographics, including income level and presence of young children (ages 0 to 5) in the home.
Here's a snapshot of the survey findings, and what they mean for baby product retailers and manufacturers:
Higher Income = Higher Penetration
Penetration for baby products dropped by double digits across all demographics – age, ethnicity, region and presence of children in the home. The only positive news came in the highest income bracket (consumers with incomes of $150,000 or more), which was the only group to show increases in penetration over the past year.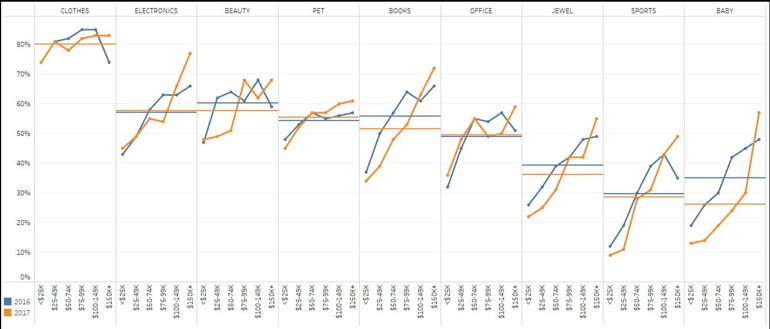 These high-income individuals represented about one-quarter of all buyers. But 57 percent of them made at least one baby product purchase during the year, compared to only 13 percent to 14 percent of those with incomes under $50,000.
Baby Products the Weakest of All Retail Sectors
It's well known that books, jewelry and sporting goods retailers have seen declines in sales over the past year – not surprisingly since consumers are moving in droves to eBooks and the Sports Authority bankruptcy caused upheaval in that sector. But the biggest loser in the various sectors we track is baby products, where we witnessed a 10 percent to 15 percent year-over-year drop. Given that baby is a $30 billion retail sector, this drop translates into an estimated $3 billion to $4.5 billion decline in sales.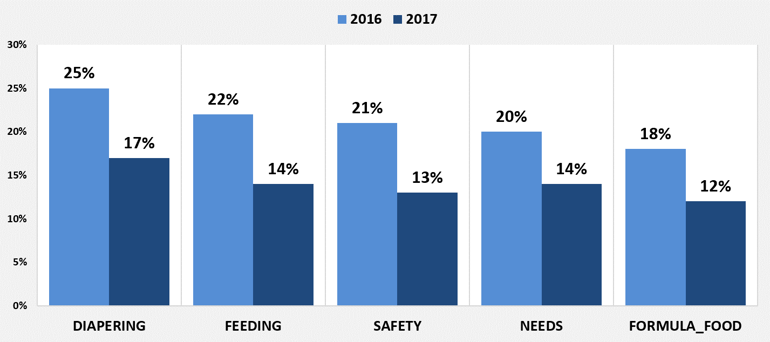 eCommerce Grows Share, but Sales Fall
Online retailers – Walmart.com, Target.com, Amazon.com and the now-shuttered Diapers.com – saw a 2 percent share increase, at the expense of specialty retailers like Babies "R" Us, Toys "R" Us and Buy Buy Baby. Even though more people were shopping online, overall eCommerce baby sales declined, albeit less steeply than at brick-and-mortar retailers.
We believe these results are an indicator that eCommerce isn't likely to offset consumers' move from traditional stores. These results signal a bigger trend at play, particularly since there's such disparity at the high income levels, which has a depressing effect on the overall retail environment.
Households Without Kids Accounted for Majority of Buyers
If you assumed that households with young kids would account for a large portion of all baby product purchases, then you wouldn't be exactly right. Yes, 68 percent of households with kids purchased something in the five baby segments. But when you looked at the majority of buyers in the segments, 58 percent of those buyers came from households without kids, which opens a new market of "non-traditional" consumers for baby product retailers and manufacturers to target.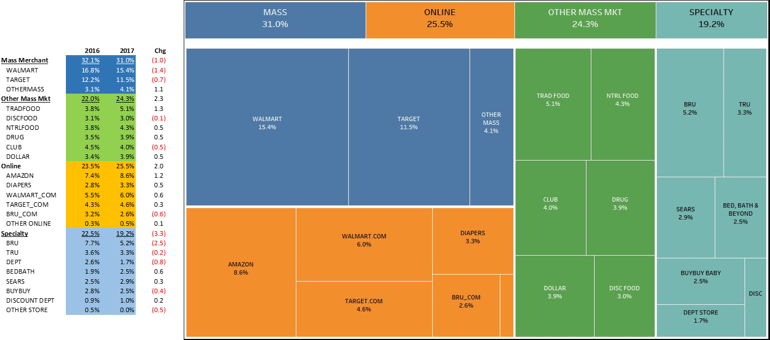 For more insights and analysis of the 2017 Baby Products Study, you can view the webinar or download our white paper below.