TABS Analytics 2017 VMS Trendspotter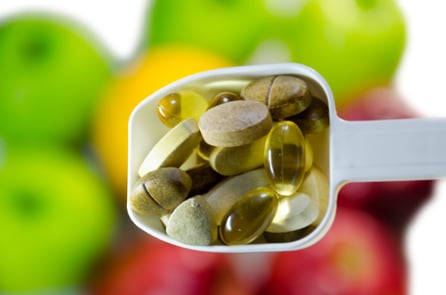 Supplement Subscriptions Revolutionize Delivery and Aesthetics
Anti-Inflammatory Warm Drinks
B12: A Vitamin on the Rise
Gumming Up the VMS Industry
Inside-Out Beauty: The Rise of Collagen
A Focus on Sleep and Relaxation
Supplement Subscriptions Revolutionize Delivery and Aesthetics
Health supplements are getting a bit of a facelift.
Despite its exponential growth in recent years, the VMS industry has been comparatively staid when it comes to branding in general, and packaging specifically. This appears set to change in 2017.
Ritual is a vitamin service similar to meal box services like Hello Fresh or Simply Cook. Launched in October 2016, subscribers receive a vitamin box focused on "women's development." Its colorful branding is a far cry from the rows of nearly identical white bottles one usually sees in the supplement aisle. Part of this branding includes the additional supplement trend of transparency. Each of its nine ingredients is plainly listed, and the company web site even details where these ingredients were sourced.
Additionally, vitamin startup Care/of, headed up by former Bonobos marketing VP Craig Elbert, has boxed their supplements in packaging that wouldn't look out of place in the beauty aisle:
They too are a $30/month subscription-based service, and slightly more customized. Users fill out a form that details their age and lifestyle, and Care/of's algorithm recommends a special formulation that's specific to their physiological needs.
Anti-Inflammatory Warm Drinks
Healthy hot beverages are increasingly becoming the delivery method of choice for those who love a good cuppa, but dislike popping pills and capsules.
Willa Tellekson-Flash of the blog Well + Good posted several recipes of several popular drinks. Note that these beverages are not VMS products on their own per se (although these do exist – see below), but rather use of several ingredients found in the supplement aisle that are known to have anti-inflammatory properties, including…
Turmeric, infused into a chai latte. It's also the principal ingredient in a flu-fighting hot toddy made with lemon and honey.
Reishi, an antiviral and anti-inflammatory mushroom, best in a chocolate latte, where the cacao masks the mushroom's bitterness.
Gingerol, an anti-inflammatory compound in the ginger root.
For those who prefer a simple mix, several vendors now make a turmeric-infused "golden milk" powder, including Gaia Herbs and Opportuniteas. Just scoop into the warm beverage of your choice, and eliminate symptoms of inflammation, which run the gamut from bloating & gut issues, to joint pain, to chronic illness.
B12: A Vitamin on the Rise
With "lack of energy" being a principal complaint of those who seek out vitamin supplementation, it comes as no surprise that Vitamin B12 is enjoying increasing popularity. According to SPINS data, its sales have grown 7.4% in the multi-outlet channel, 14.2% in the natural channel, and 3.9% in the specialty gourmet channel.
The fact that B12 is so critical to cellular activity has led many consumers so see their B12 levels as essential for daily energy. These levels tend to be particularly low in older adults, as the ability to absorb this nutrient decreases with age.
As it's found naturally in animal products, B12 levels can also be low in those who don't consume them. As such, significant growth has been seen on B12 products labeled as "vegan."
Additionally, there's evidence to suggest that B12 can aid with heart and brain function in addition to energy, and SPINS data does seem to indicate a slight uptick for B12 in the heart-health and brain-health categories, potentially benefitting sufferers of illnesses such as Alzheimer's and diabetic neuropathy.
Finally, consumers are becoming more savvy to how the different forms of B12 differ in terms of their bioavailability. They tend to gravitate more toward methylcobalamin, which gets absorbed much better than cyanocobalamin.
Gumming Up the VMS Industry
Fruit- and gelatin-flavored treats have been a staple of the candy counter for nearly a century. Much more recently, they were adopted by VMS manufacturers as an easy means of getting kids to take their vitamins. Now, the gummy has grown up.
Manufacturers such as Vitafusion and Caltrate now offer supplements in gummy form, and the list continues to grow. In fact, according to IBISWorld data, gummy multivitaminds made up 7.5% of the 6 billion dollar multivitamin market in 2016. And in supplements overall, over gummies made up over one billion of the $41 billion supplement market, a whopping 25% increase over 2015 sales.
Gummies are particularly popular with users who cannot swallow large pills as well as with those who suffer from "pill fatigue," generally older adults on multiple prescription medications who are happy to have one less tablet in their daily pill box.
Despite their increasing popularity, there are concerns about additives and sugar content as well as the prospect of users taking too many. That said, the sweetness of avoiding the nasty taste of vitamin tablet suggest that gummies will gain popularity over time.
Inside-Out Beauty: The Rise of Collagen
At the 2017 Expo West show in Anaheim, health editor Stephen Daniells noted among the various supplement trends a radical increase in collagen-based products. Collagen (as well as the general concept of "inside-out" beauty) has had several false starts, but things are looking up.
Manufacturers with new collagen products included BioSil, Neocell, YouTheory, and Reserveage.
The touted benefits of collagen supplementation include improved circulation, reducing the appearance of cellulite, wrinkle reduction, improved hair quality, and treating leaky gut syndrome.
Collagen is derived from the bones and connective tissue of animals. Marine collagen is now generally recognized as the most bioavailable (approximately 1.5x that of land animals), a potential obstacle for those with seafood allergies.
Another challenge may have to do with the fickle sensibilities of its consumers. Since many of the advertised benefits of the supplement are aesthetic, there's a "seeing is believing" ethos that's likely to pervade its more beauty-oriented customer base. Despite this, the increased presence of collagen on the shelves and in the beauty press will likely lead to more consumers to at least give it a try.
A Focus on Sleep and Relaxation
Another of Daniell's take-aways from the 2017 Expo West was a massive increase in supplementation designed to aid sleep, mainly melatonin.
According to the National Institutes of Health, melatonin use more than doubled between 2007 and 2012. Its use for children experienced a sevenfold increase during those years. And they're only increasing. According to SPINS data, 2016 yielded a 10.6% from YAG, to exceed $225 million.
Melatonin, however, is not the only natural sleep aid. Magnesium use is growing, with sales set to overtake that of calcium by 2020. Other supplements that enhance relaxation and sleep are also on the increase, including GABA, L-Theanine, Holy Basil, and Bacopa, among others.