In August 2018, TABS Analytics rounded up comprehensive data to delve into specific food and beverage industry trends as they relate to consumables.
This information outlines shopping patterns and trends, including online grocery trends, snack food trends, organic food trends and other highly detailed statistics specific to the food and beverage industry.
The Experts in Consumer Analytics®
Since 1998, marketers in the food and beverage industry have relied on the detailed analytics of TABS research, founded by Dr. Kurt Jetta in 1998, to track consumer shopping habits and trends.
Our technology-enabled analytics firm aims to simplify and improve the way analytics for consumer products are conducted through innovation to provide our clients with a strong, competitive advantage.
And our techniques get results — TABS is a leading outsourced sales and marketing analytics firm in the consumer-packaged goods (CPG) industry.
As we do each year, we recently took our innovative analytics techniques and applied them to our survey on 2018 food and beverage industry trends, including:
Food & Beverage category purchase frequency
General Food & Beverage category trends
Demographic profiles and deal preferences
Outlet shopping patterns, with a focus on emerging channels and eCommerce
Consumer attitudes towards "on-trend" concepts
Additional content on candy trends
For a brief overview of the state of the food and beverage industry trends for 2018, however, just read on.
Normalizing Category Purchasing Trends for Improved Accuracy
We looked into 15 consumables categories, gathering data from over 1,000 adults surveyed - ages 18 and over - to understand their purchasing behaviors.
Below is a recording of the September 2018 webinar where we presented the findings in detail:
Our categories included:
Carbonated Beverages (Carb Bev)
Water
Shelf Juice
Refrigerated Juice
Sports Drinks
Salty Snack
Crackers
Cookies
Popcorn
Novelties
Candy
Ice cream
Frozen Pizza
Cereal
Yogurt
As Dr. Jetta notes, "(These categories) account for 20% of all CPG retail and about 30% of food retail. These are kind of the leading-edge categories that give us a deeper understanding of the sector in general."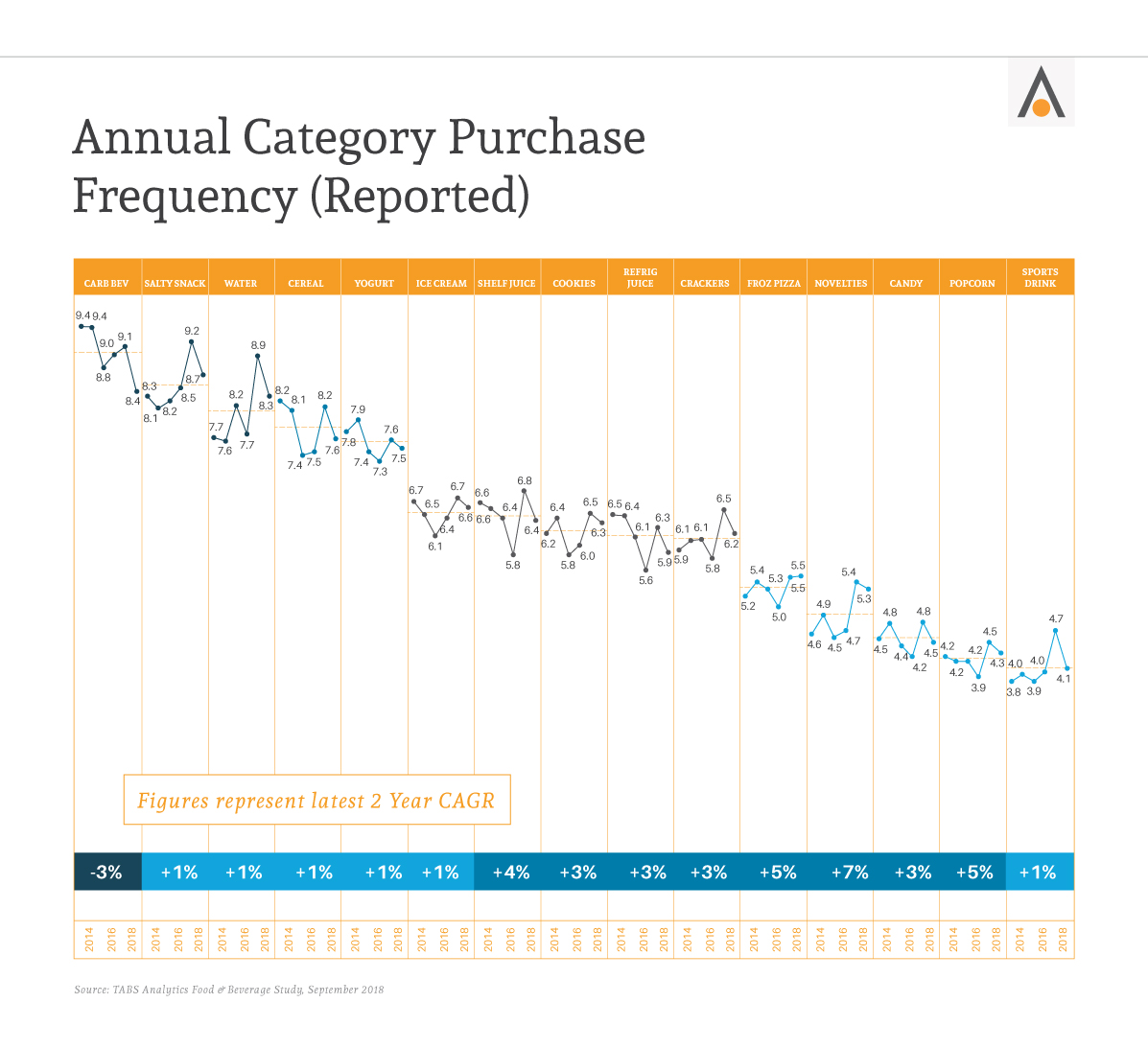 There's Good News Overall
For the most accurate representation of trends, we normalized the data over two years. Using this formula, it's obvious that only Carbonated Beverages are seeing declines in their category.
Consistent with larger trends persisting across markets, all other categories are either flat or showing continued growth.
In fact, extremely strong gains are seen in the Frozen Pizza, Popcorn, and Novelties ("The Greatest Food on the Planet" TGOTP) categories, due in part to both overall buyer growth and growth in Very Heavy Buyers (11+ times).
Dr. Jetta explains, "You haven't seen 5%, 7% growth in transactions probably in over 10 years in any given category and here's three of them. . . And what's driving them? . . . They're getting more people buying and they're getting people to buy more often, which is always a good strong indicator of not only just why things are growing but they suggest that continued growth will be seen over the next few years.
Note that Water's Purchase Frequency, at 8.2, is still lagging behind Carbonated Beverages (8.3), and Salty Snack has surged to No. 1 at 8.7.
Dr. Jetta weighs in on this, "Pepsi continually reports salty snacks as one of their big growth drivers, and not so much Carb Bev, and that's why they're getting into other sectors."
Who's The Core Shopper?
To run an informed marketing campaign that focuses on either areas of highest purchase, or improving areas of low purchase, you need critical demographics.
We've provided multi-faceted demographic analysis that will allow you to target specific areas as needed and used a five-year basis for normalized calculations.
Our categories include:
Age
Gender
Income
Kids/No kids
General geographic location (northeast, south, central, west)
Specific geographic location (New England, Mid-Atlantic, South Atlantic, East South Central, West South Central, East North Central, West North Central, Mountain, Pacific)
Ethnicity (Non-Hispanic Whites, Non-Hispanic Blacks, Hispanic, Other Ethnic)
This breakdown allows more accurate assumptions based on very specific purchase habits.
So, what did we find?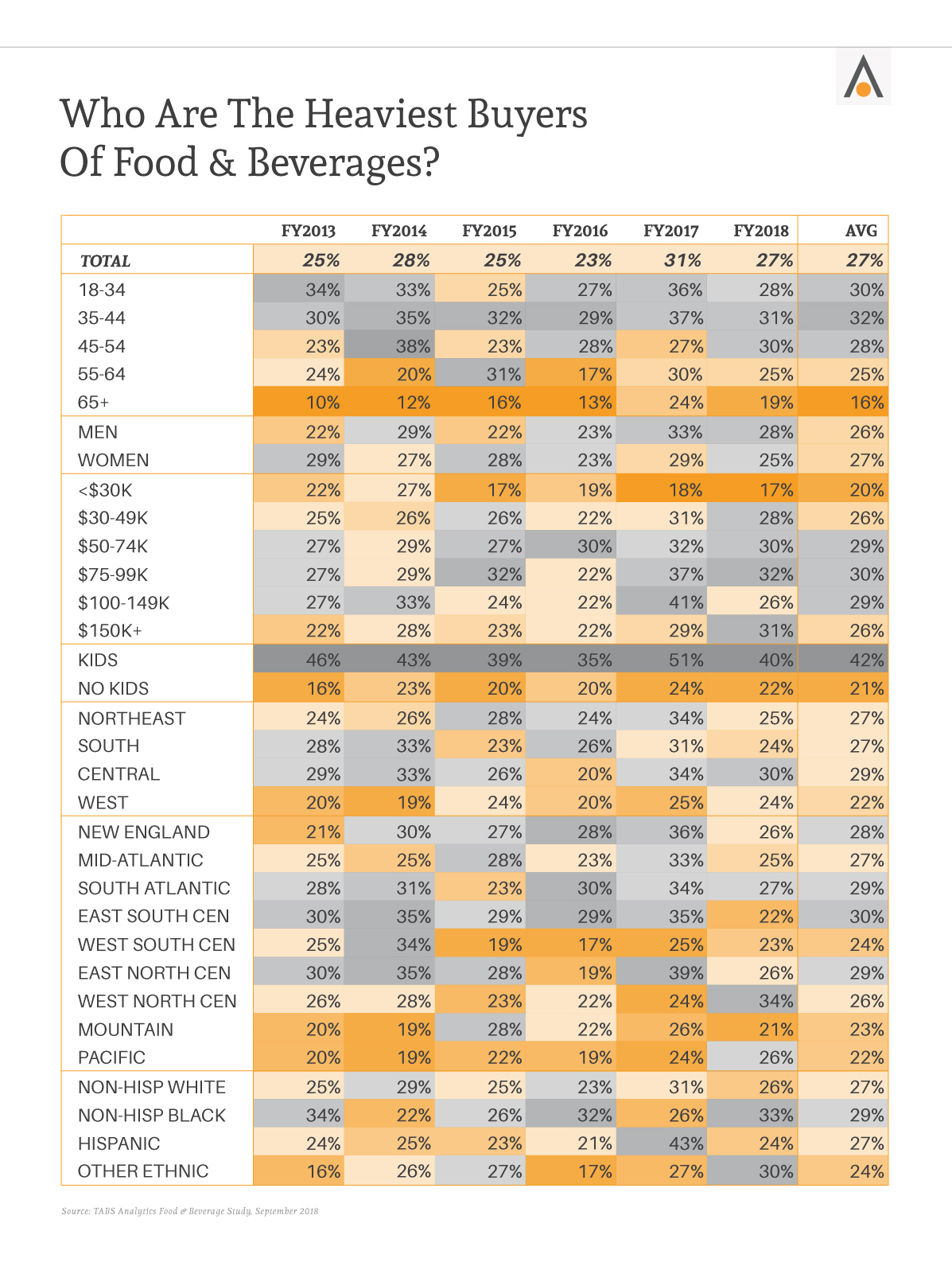 Families with Kids, for the Win
The heaviest buyers of food and beverages continue to be households with children. While purchasing did peak for this group at 51% in FY 2017, it maintains an overall average of 42%.
Keep in mind, however, that as Dr. Jetta says, "Now that doesn't mean the majority of volume comes from households with kids because, remember, they're still only about 25% to 30% of all households. So, the majority is still coming with households without kids, but most efficient target messaging would go to households with kids."
Next in line are the "Vaunted" Millennials, ages 18-34, that present a 30% buying average. While this is significant, it's not enough to represent a sharp departure from the norm.
Dr. Jetta says, "These vaunted millennials that the press seems to be so obsessed about, they're above average but nothing to go crazy about."
Men and women buy equally. Among income groups, the under $30K group is the lowest purchasers with 20%, while the highest — at 30% — is the $75-$99K group.
Dr. Jetta notes, "The Census Bureau...just reported that the median household income grew about 2%. So, for our industry, we really want to make sure that people in those middle incomes, they're seeing income growth because that then trickles down to food and beverage."
Geographically, the West performs poorly with a 22% buying average, while Central leads with 29%. The Northeast and South remain neck-and-neck at 27% each.
In specific geographies, East South Central leads with 30% and, predictably, the Pacific and Mountain areas lag at the 22% and 23% levels.
Buying across ethnicities is relatively level, with Non-Hispanic Blacks leading at 29% and Other Ethnic coming it at the lowest point with 24%.
So, if food retailer's market shares are tied to purchasing trends, how are most retailers reaching consumers?
Let's Make a Deal
There is an arsenal of deal tactics retailers can use to attract customers, from retail circulars to rebates. We've tracked the most common to show what's being used most, and how it's affecting purchase activity.
We considered the following tactics:
Every Day Low Price (EDLP)
Shop For Deals
Private Label (PVL)
Shopper Card
Weekly Store Circular
Value Size
Online Coupon
Sunday Paper Free Standing Insert (FSI)
Bonus Pack
Rebate
*Learn about these terms in the CPG Retail Glossary.
What trends did the data show?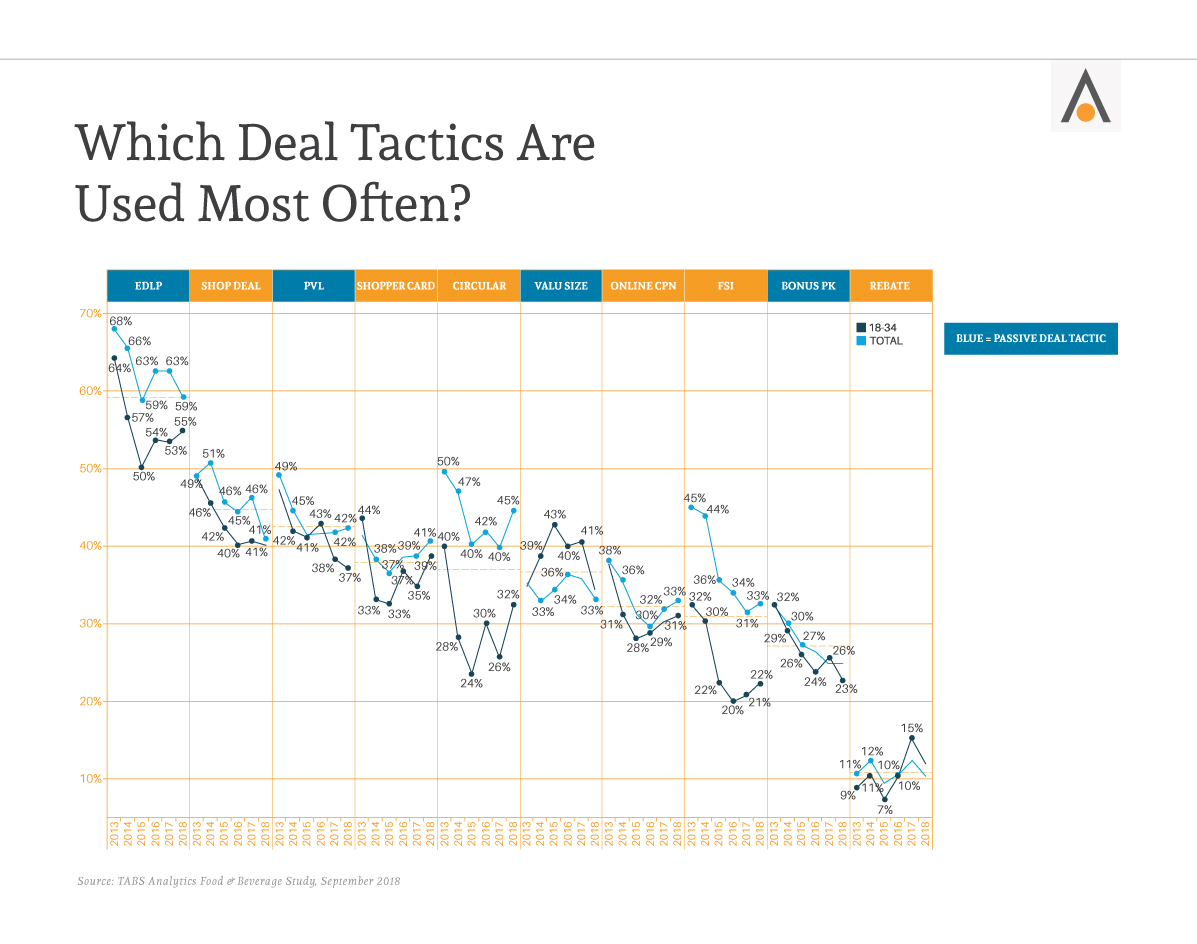 Lower Prices, Every Day Has Staying Power
With a 59% share, EDLP continues as the preferred deal tactic, with retail circulars jumping up to second place.
Two items of note include a sharp drop in Value Sizes — probably due to a growth in eCommerce and Club usage — and a large gap in FSI and Circular use between the General Population and 18-34-year olds.
In addition, there's a sharp drop in Deal-Searching among Households with Kids, attributable to Millennial behavior making its way to the next stage of life. Currently, Households with Kids are showing more preference for Bonus Pack and Value Size than the General Population.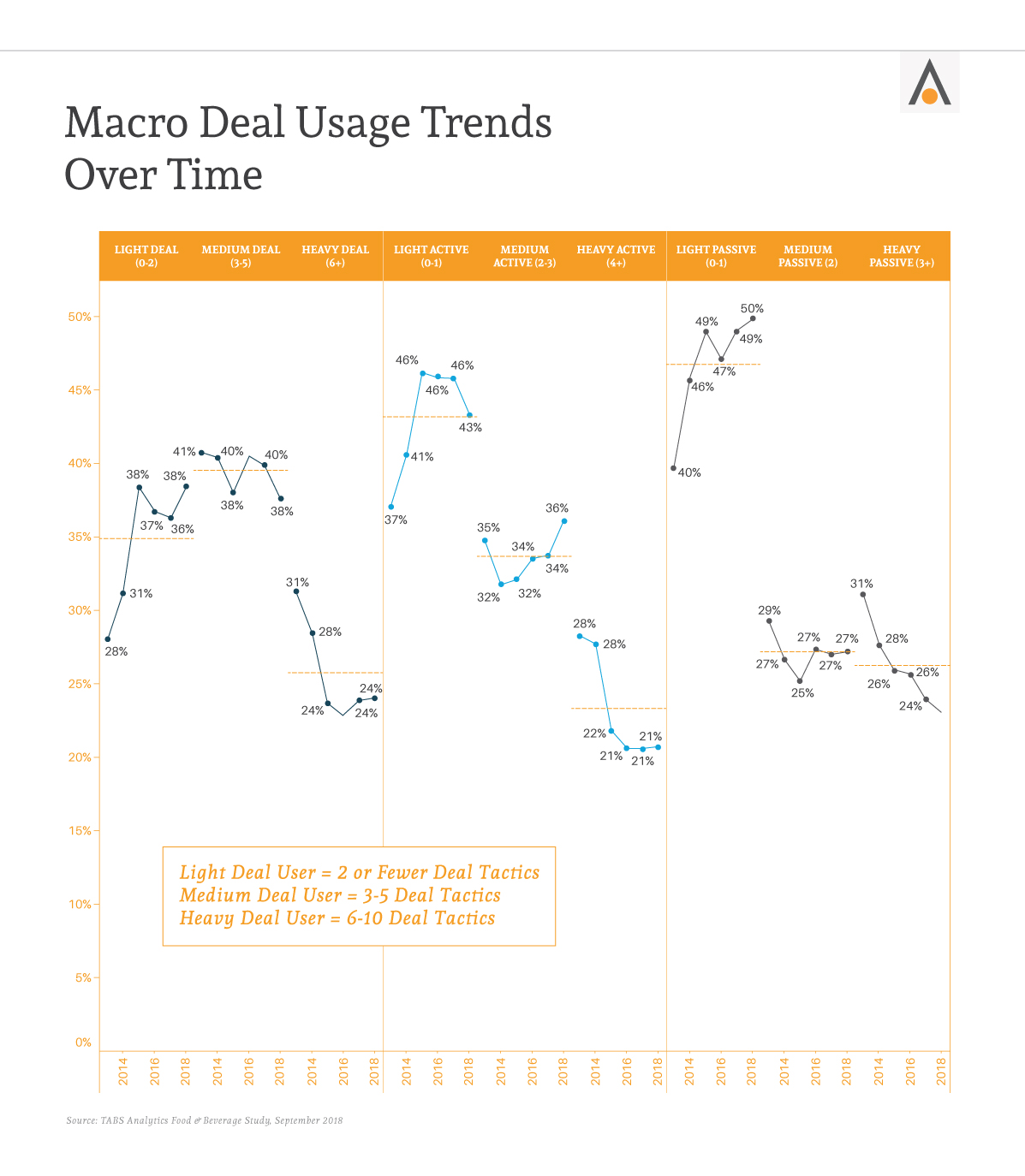 Dr. Jetta draws attention to the lack of searching for deals. "But you can see...this overall decline in the amount of places people will shop just to get a deal. And we're going to see that type of dynamic movement come through in some of the other data we look at. So that has implications also on ways retailers would generate market share gains."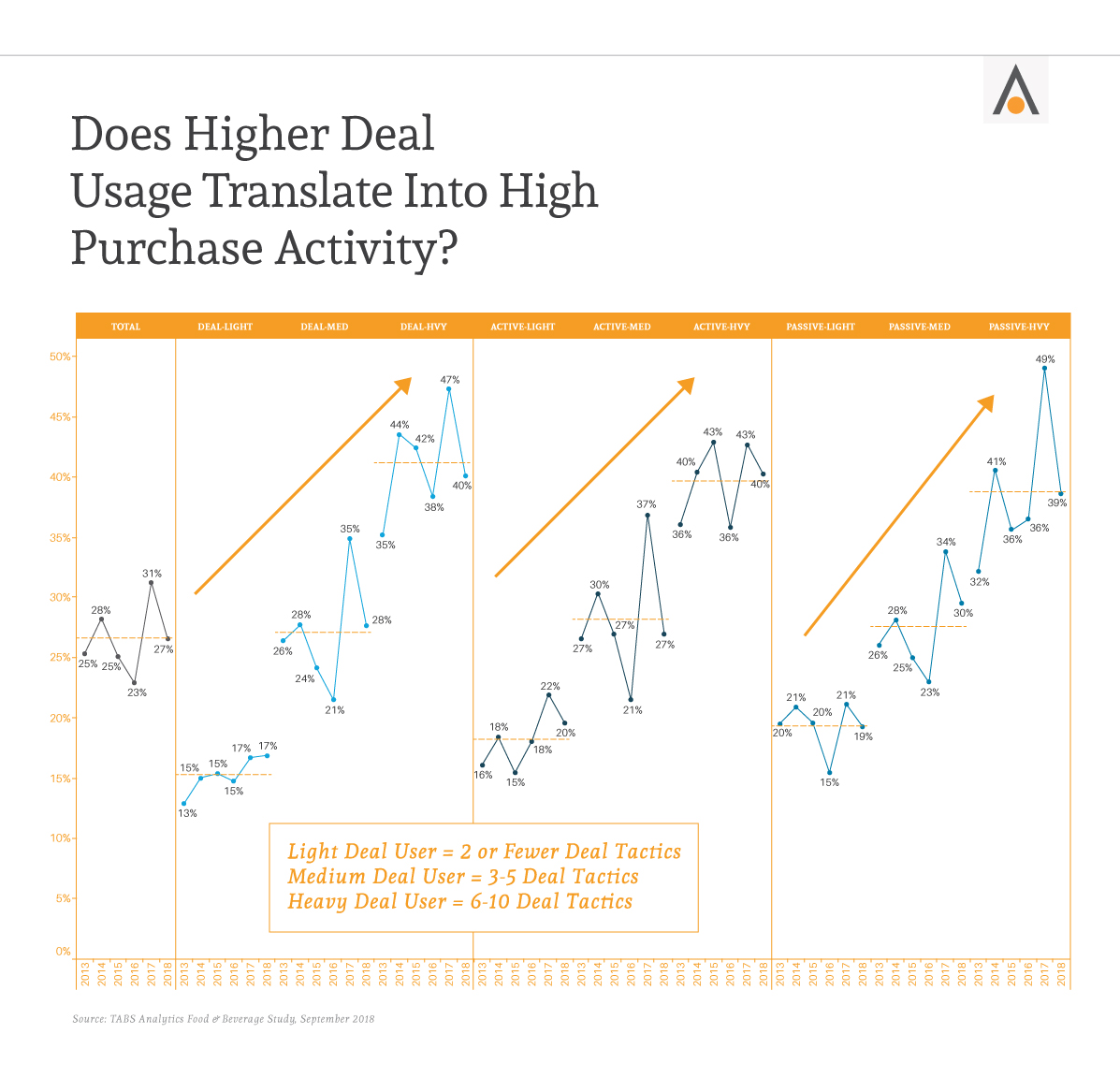 More Deals, More Purchases?
Overall, levels of deal participation are unchanged from a year ago, although passive tactics (Bonus Pack, Value Size, PVL, EDLP) are losing ground.
The biggest takeaway is that 40% — nearly half — of Heavy Deal Users are also Heavy Buyers of Food & Beverages, across both active and passive deals.
In contrast, only 28% of Medium Deal Users and 17% of Light Deal Users are also Heavy Buyers.
Now that you know who's shopping and what they're looking for, let's dive into where the shopping is.
Where are People Shopping Regularly?
Again, TABS tracked purchasing activity and consumer shopping habits across a lineup of shopping channels, including:
Traditional Grocery
Walmart
Dollar Stores
Target
CVS
Walgreens
Costco
Value Grocery
Sam's
Online Grocery
Trader Joe's
C-Stores
Whole Foods
Rite Aid
BJs
And, shopping was tracked across the five years of the study series for normalization.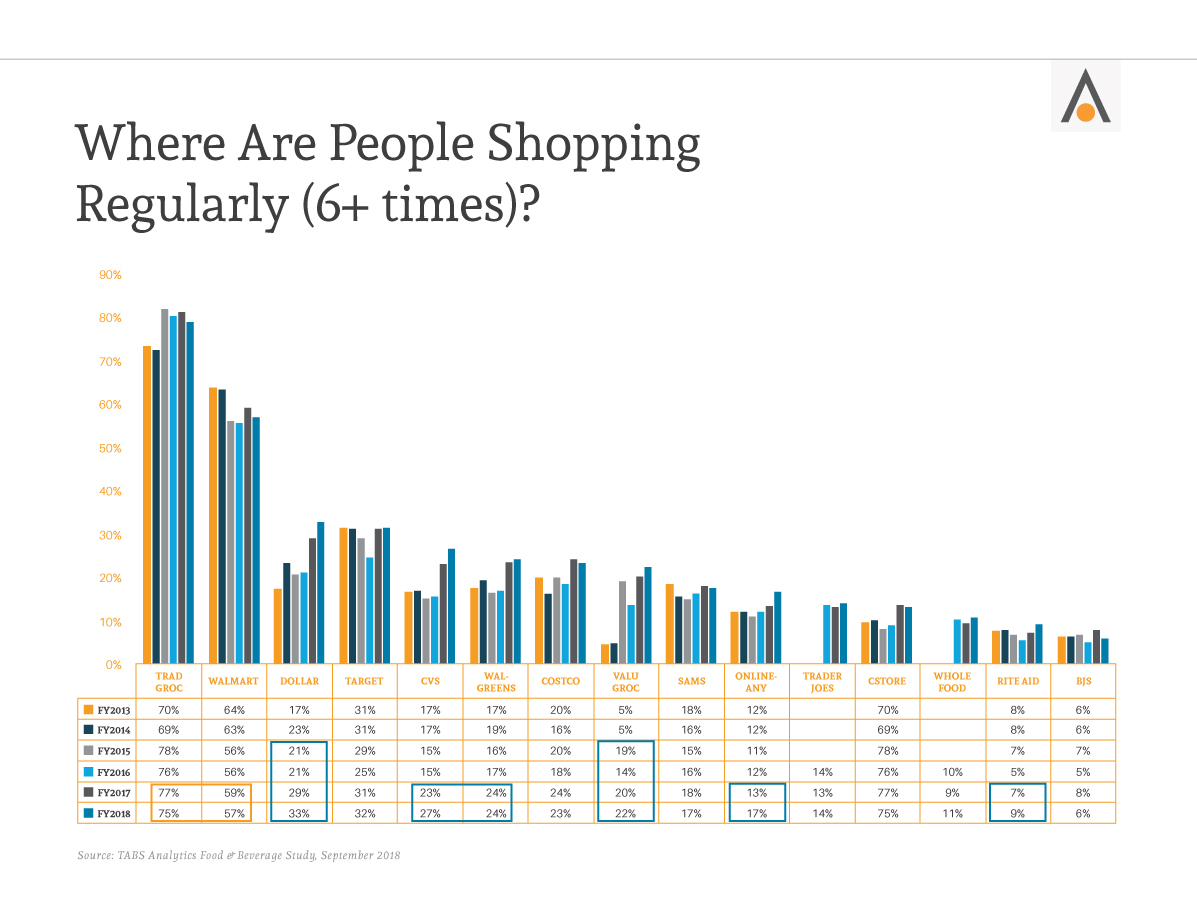 Grocery Shopping Trends Changing?
There's a subtle shift in consumer shopping habits, partly due to both grocery eCommerce trends and online grocery shopping trends, though neither of those are ready to jump in the lead.
Our survey showed Traditional Grocery Stores and Walmart (75% and 57%, respectively) holding the lead, as usual, but not without modest declines.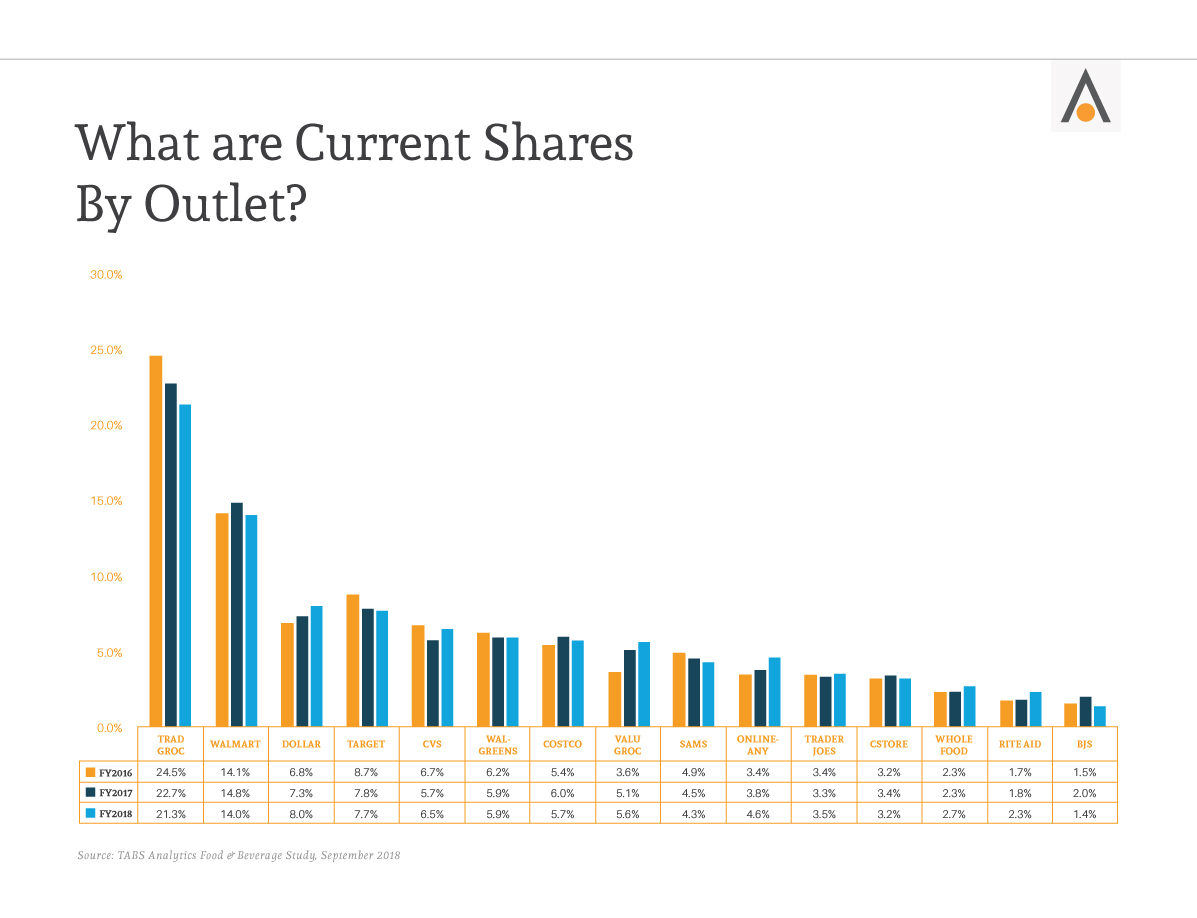 These larger format stores hold 57% outlet share, with small format outlets keeping 38% and eCommerce taking 5% of the overall market.
In the meantime, small format outlets like Drug, Value Food, and Dollar store saw substantial market gains, drawing off some of the power of larger retailers.
Online grocery purchasing is on the rise, but still well behind brick-and-mortar favorites. Consumers who use eCommerce grocery options prefer delivery to pick-up by 2:1.
Grocery eCommerce trends are the ones to watch, however, but not necessarily for the reason you imagine.
The Growth of eCommerce
While there hasn't been an explosion in online grocery trends, there is a steady move in an upward direction.
As Dr. Jetta explains, "only 17% of the people in the country purchase online regularly. So, it still has a long way to go."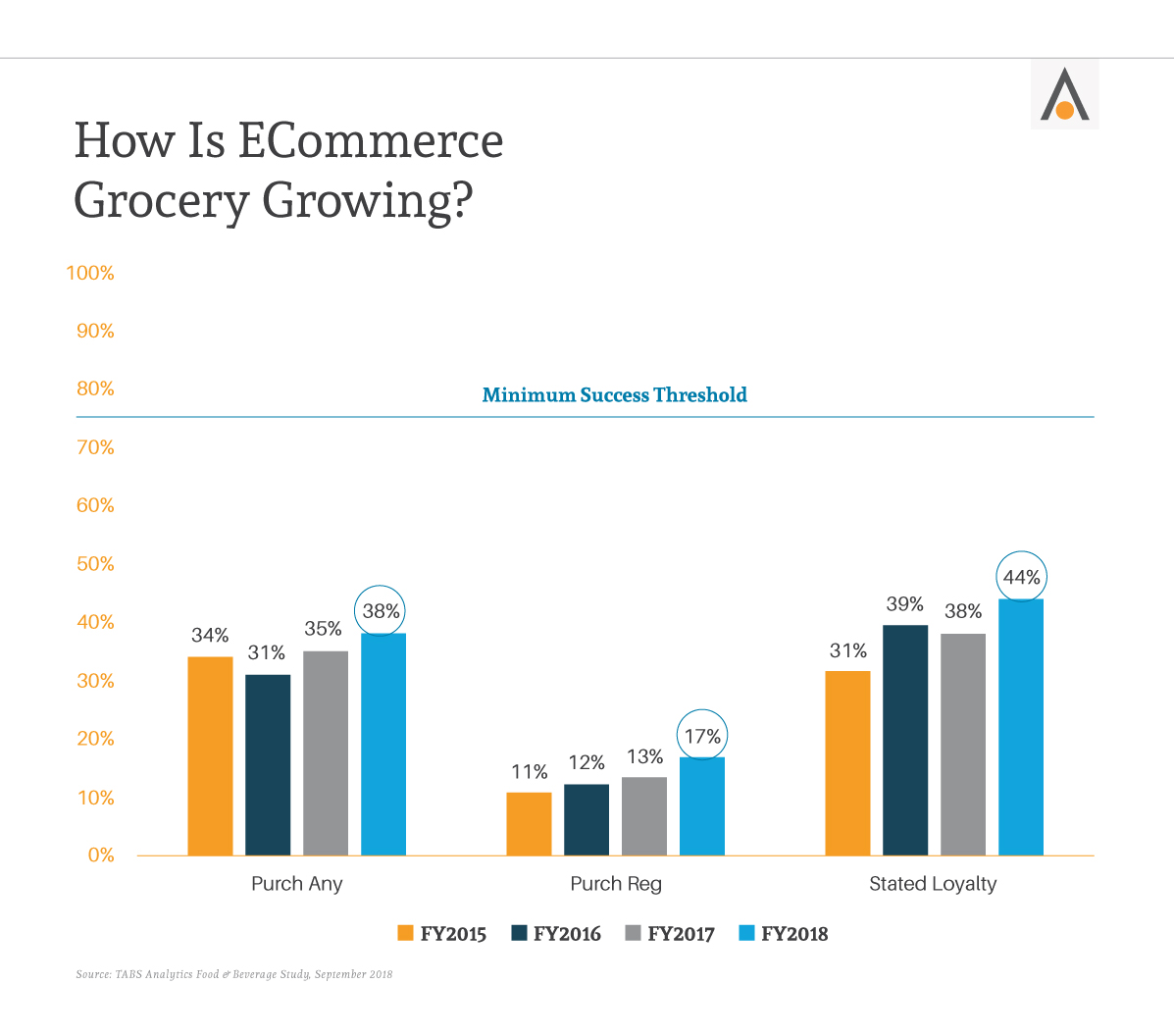 Only one in six consumers purchase online regularly, versus 99% that shop brick-and-mortar stores. Of these, 44% say they have loyalty to their online source, which is well below the minimum threshold of success (75%).
Dr. Jetta notes, "This is worst in class that we've ever measured, not best in class."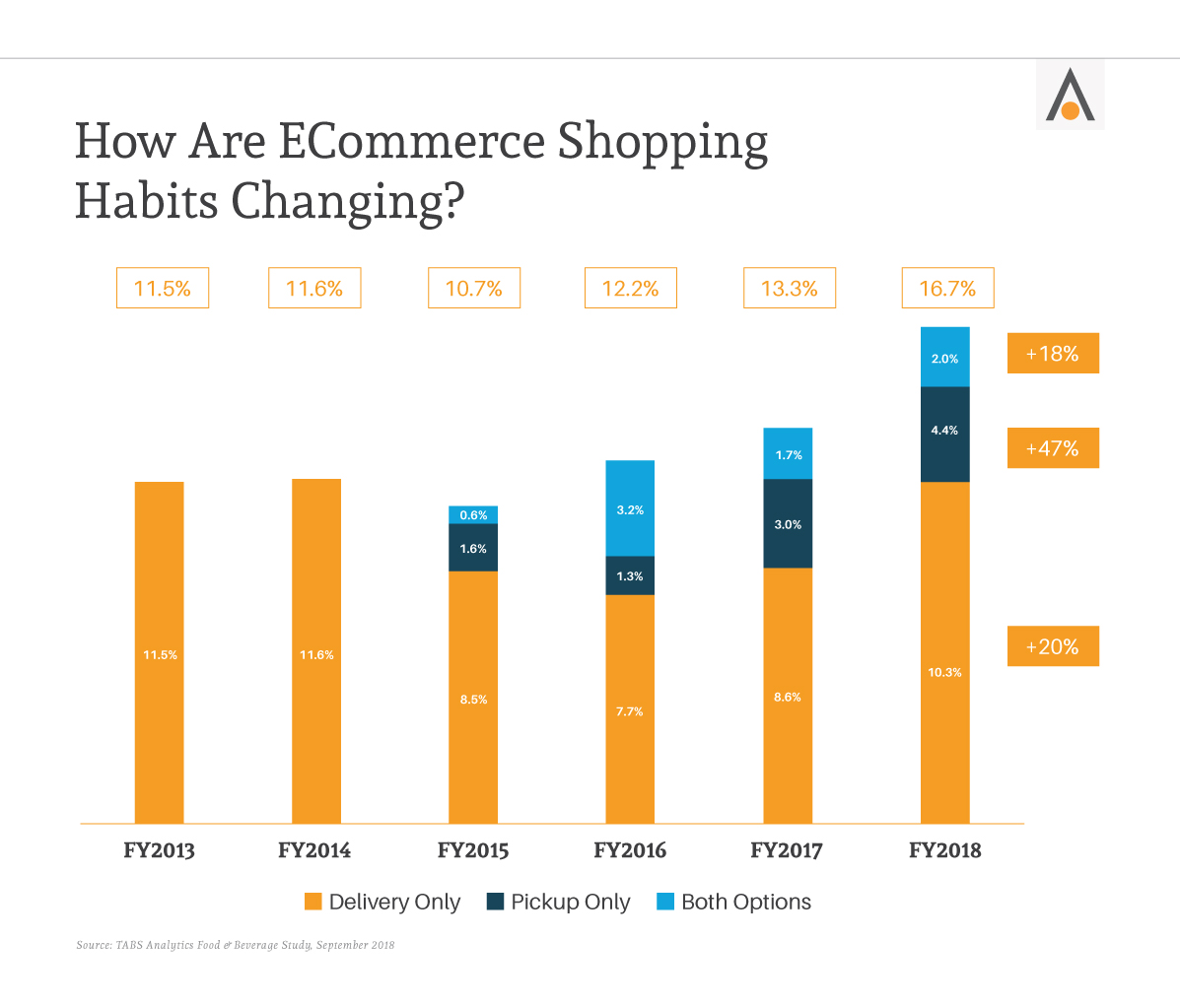 Both delivery and pick-up eCommerce options are growing, with pickup-only seeing faster growth. A critical statistic is the fact that only 12% of shoppers use both pick-up and delivery; 88% use one format or the other exclusively.
While this expands reach, it undermines efficiency.
Dr. Jetta says, "So there's all the articles about, 'Oh, pickup's becoming so ... it's dominating, it's accelerating, it's explosive.' Not happening. It's decent growth, meaningful growth, but they have a long, long, long, long way to go before they're anything materially important."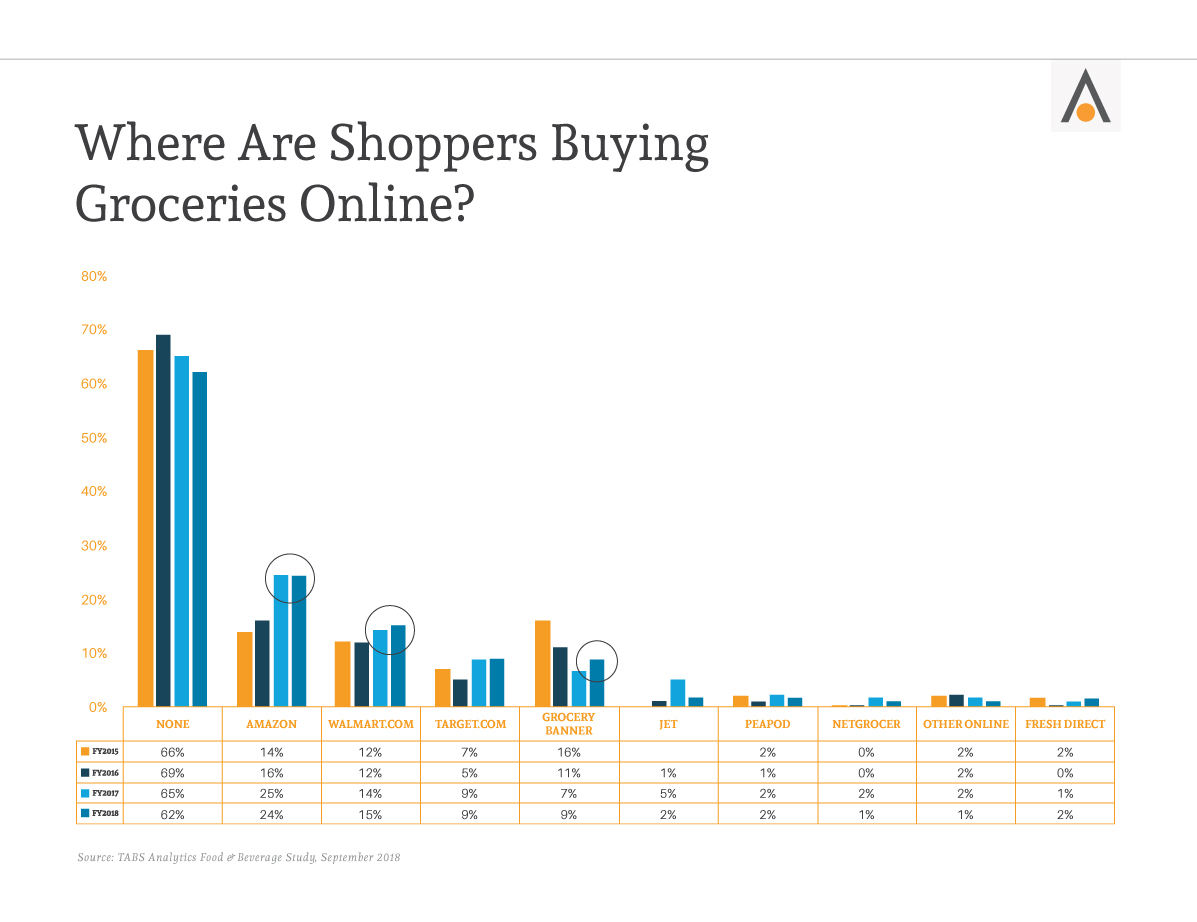 Among online grocers, Grocery Banners saw a comeback, but Amazon saw a dip in numbers, signaling that perhaps they haven't capitalized on their 2017 Whole Foods acquisition.
Organic Food Trends — Health or Hype?
Survey says... hype.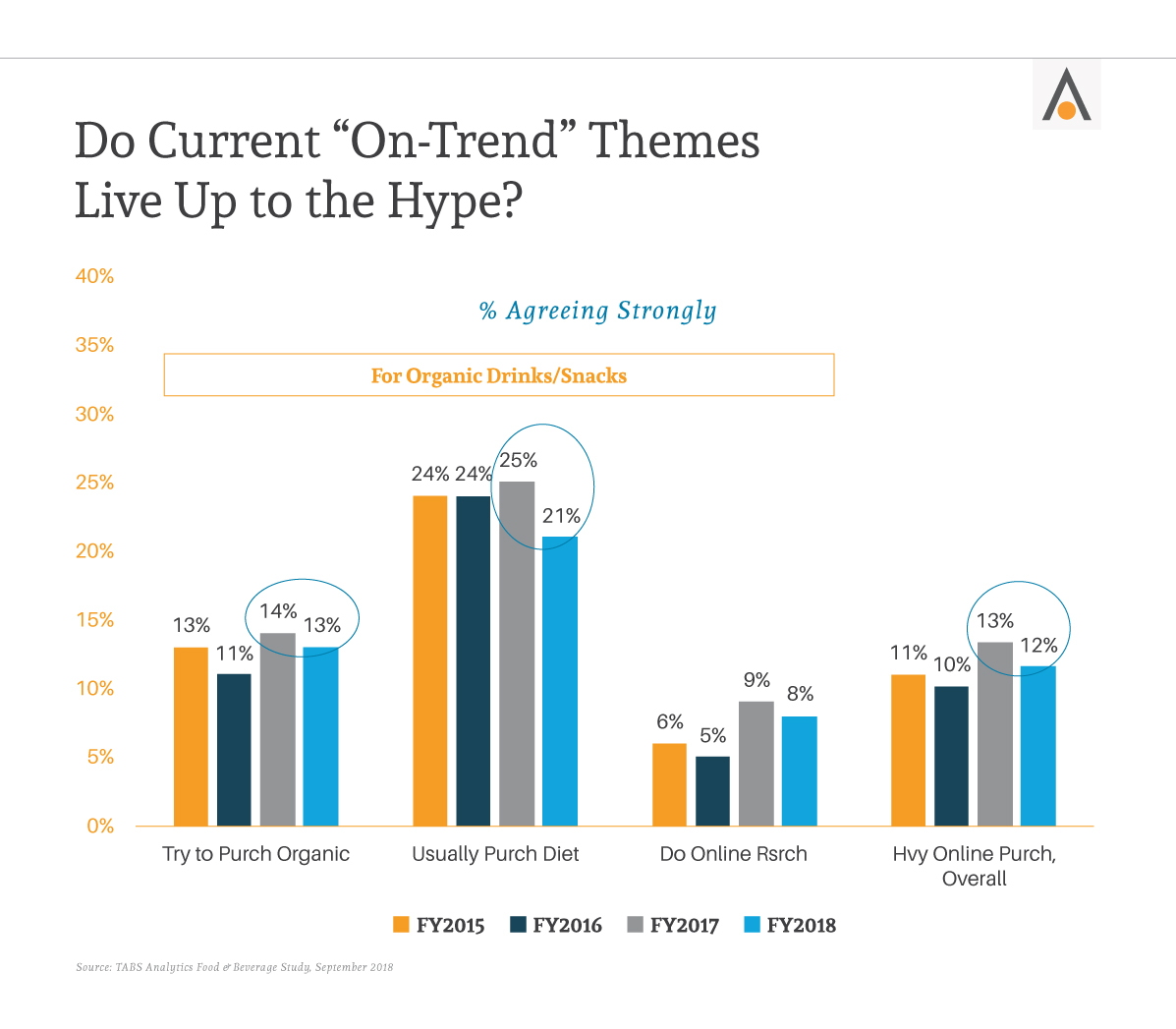 Niche trends like "Diet" and "Organic" are overrated as a means to expand into the broader consumer base, and this shows with a drop in purchasing for both Diet and Organic, with Diet taking a bigger hit.
Candy is Dandy — But Chocolate Takes the Cake
Our survey shows that Halloween is still the mecca of the candy-buying world, with Halloween chocolates exceeding purchasing of even everyday purchasing of chocolates by seven percentage points.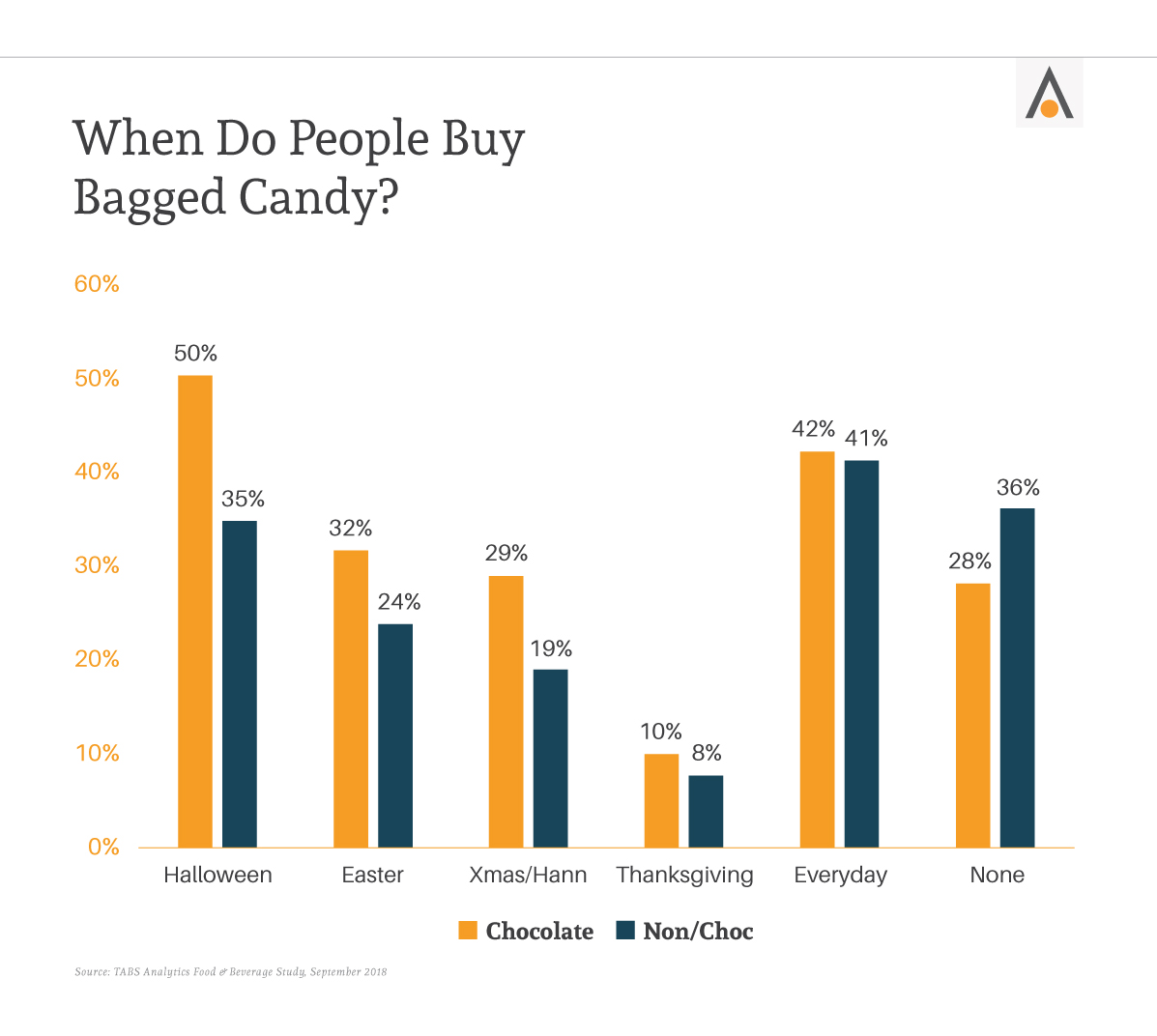 While candy purchasing across all holidays tends to be skewed in favor of Chocolate, everyday purchasing is about even for Chocolate and Non-Chocolate candy.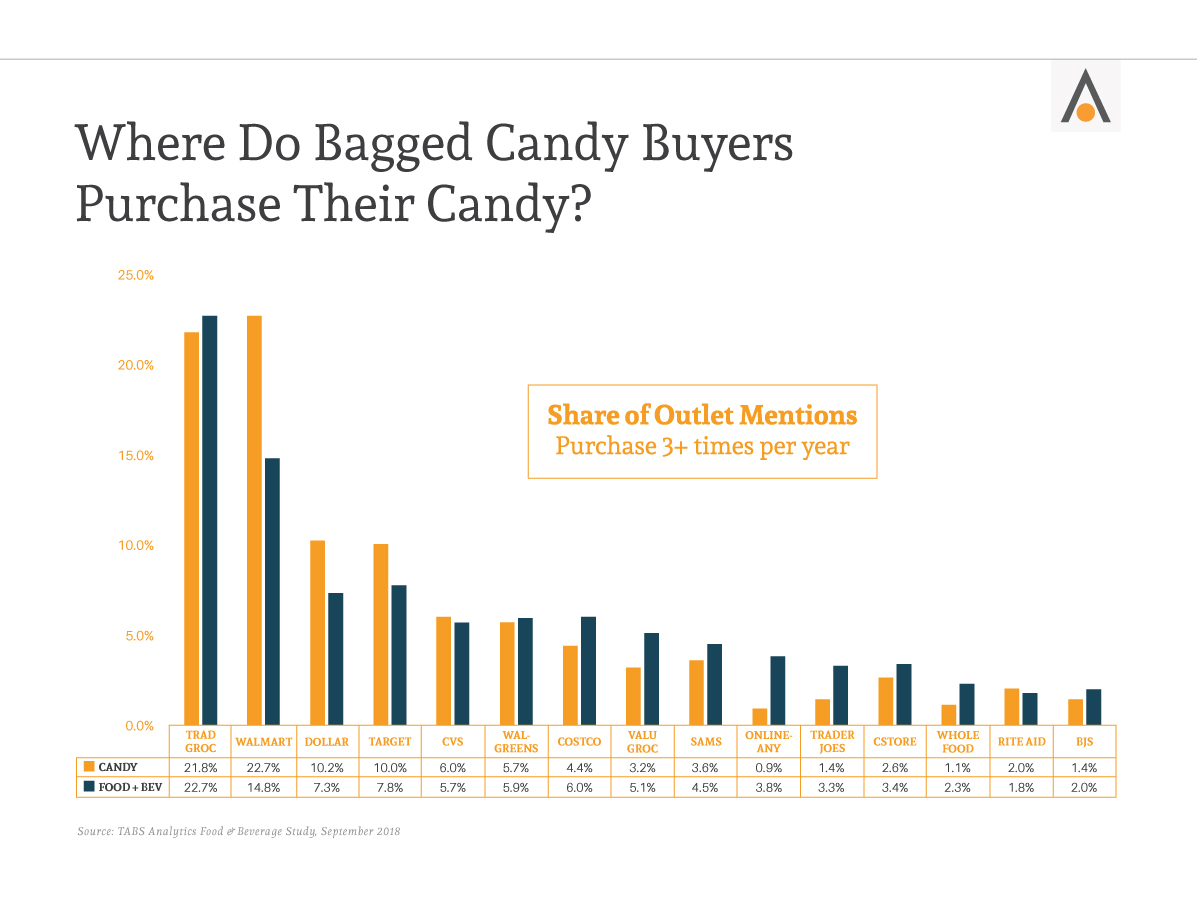 As you might expect, Walmart, Target, and Dollar stores take the lion's share of the Bagged Candy market, along with Traditional Grocery Stores for 2/3 of the total.
Small Format and Club Stores are missing out on the Bagged Candy market, with online under-performing at just 1% of Bagged Candy Transactions.
Chewing Through the Data — The Core Findings of Our Survey
This survey represents data that can serve to calculate — and follow — macro trends across the Food & Beverage industry.
Highlights include:
Consistent with the macro trends of resurgent growth in CPG retail, Consumable consumption has increased meaningfully over the past two years.
Households with Kids continue to be the most important segment in this high-reach sector. They are twice as likely to be Heavy buyers as Households ("HH's") without Kids.
Deals continue to be very important to a wide swath of shoppers (38% Use 3-5 tactics; 24% use 6+), and there is an extremely high correlation with Heavy Purchasing.
EDLP maintains its top position as the most preferred deal tactic (63% of shoppers) with Circulars leaping to the No. 2 slot with 45% of shoppers.
Deal Search behavior dropped from 46% to 41%, all due to a drop from HH's with Kids.
There is a huge gap in the usage of Free Standing Inserts ("FSI's") and Circulars from Younger shoppers (18-45) to the General Population.
Brick & Mortar Grocery still dominates with 95% of transactions and 99% of Adults purchasing there regularly.
Online purchasing gained ground for a second year in a row with regular purchasing growing from 13% to 17% and share going from 3.8% to 4.6%.
Despite online gains, however, it still has a long, LONG way to go to be considered successful. 62% of shoppers still buy zero Consumables online and the loyalty rate is still only 45% (vs. a 75% success norm).
The larger trend in grocery is a shift towards convenience. Share growth in Small Format, especially Dollar, was much greater than Online growth.
Finally, companies like GIS, CPB, and HAIN are struggling because all three have placed emphasis against Organics, which continue to be an unproductive niche in mass market – and even in the Natural Food channel, it appears.
Sources: