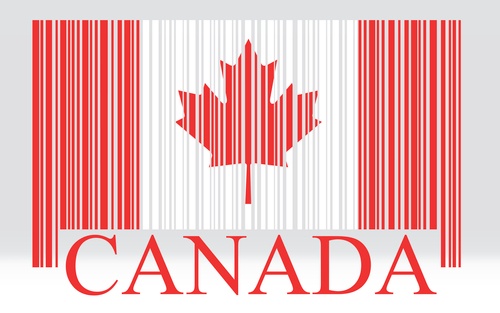 Following our previous blog post highlighting results from our September 2015 survey of Canadian consumers buying food and beverage consumables products, we wanted to dive a bit deeper into the findings and look at heavy buyers and their underlying demographics (households who buy 11 times or more per year across 15 consumables categories).
By far the biggest predictor of heavy consumption patterns is the presence or absence of children in the home. Only 13 percent of households without children reported they purchased these consumables heavily, while 45 percent of the households with kids were heavy users (a 3-fold increase!). This suggests that companies would get the best results by targeting households with children rather than the 18-to-34 year olds that many marketers believe are the most desirable target.
Households with Children Drive Heavy Food and Beverage Category Buying
In recent years, CPG food and beverage companies have focused their efforts on attracting millennials, the 18-to-34 year old demographic, on the assumption that this group spends the most on snack foods such as cookies, salty snacks, carbonated beverages, ice cream and similar foods. Interestingly, although this age group's percentage of heavy consumption is slightly above the Canadian national average, it is not because they are actually notably heavy consumers.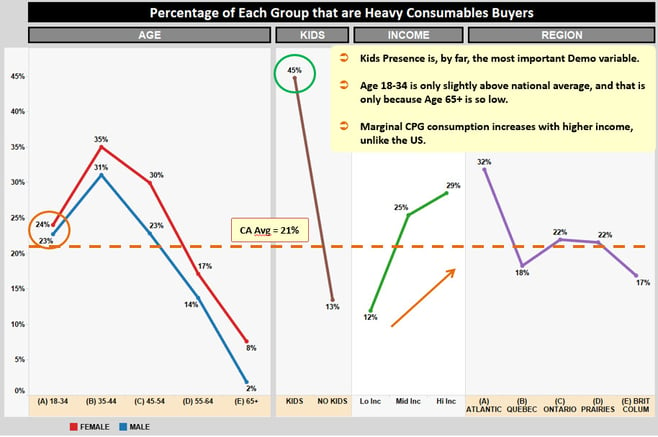 In fact, the percentage of consumers who identify as heavy consumers drops off sharply after the 45-to-54 age break. Heavy users are only about 14 percent for males and 17 percent for females in the 55-to-64 year old group. Only 2 percent of males over 65 identify as heavy consumers, and 8 percent of females over 65. If these two groups were removed from calculating the average consumption, the 18-to-34 group would have an average or below average number of heavy consumers.
The age group with the largest concentration of heavy consumers is the 35-to-44 age group, followed by the consumers between 45-and-54. This pattern holds true regardless of gender. Males report heavy consumption more often than females across all age groups. The largest gap is in the 45-to-54 group, which is 23 percent male and 30 percent female heavy users. This pattern is probably because those are the age groups most likely to have children in the household rather than being a real result of the age range. By far, the strongest predictor of heavy consumption is the presence of children in the household, with these consumers being three times more likely to be heavy buyers than households without children. These findings are consistent with the U.S. food and beverage consumer study done earlier in 2015.
Income also has an effect on heavy consumption. Only 12 percent of low income respondents identify themselves as heavy consumers, while 25 percent of middle income respondents said they were heavy buyers. High income consumers also had the highest percentage of heavy consumption at 29 percent.
For more information on the First Annual Consumer Value Study in Canada, please contact us here.