Last week, we discussed the importance of heavy buyers - in particular, households with children - to driving more sales growth in the food and beverage categories we surveyed in our TABS Group 2015 Food and Beverage Consumables study*. In today's post, we'll look at a trend we'e seen in a number of CPG categories, declining consumer participation in trade deals tactics.

The survey definitions for consumer trade deal tactics include the following:

EDLP: Every Day Low Price.
Shop for Deals: Consumers explicitly choose stores that offer the "best deals." Circular: Paper advertisements of price discounts distributed by retailers at stores or by mail.
PVL Purchases: "Private Label Purchases" – or, buying the "house" brands of retailers which are typically 20 to 30percent cheaper.
FSI: Free Standing Insert is the coupon insert that comes with the Sunday paper.
Loyalty: Loyalty cards issued by stores that provide discounts to users of the cards.
Large Sizes: Large size packages that usually yield a better "value".
Digital Coupons: Coupons distributed on the online.
Bonus Packs: Additional item(s) bundled with an existing item as a promotion incentive
Rebate: Require a consumer to mail in a coupon for redemption of the offer.
Deal Tactics Showed Across-the-Board Drops in Consumer Participation
The 2015 study looked at 10 deal tactics that consumers use (noted above). Eighty-nine percent of consumers use at least one deal tactic, with 35 percent of consumers using at least five. There was a 20 percent drop in consumers using five or more deal tactics in 2015 (35 percent versus 42 percent in 2014). This is a statistically meaningful decline in consumer deal tactic usage.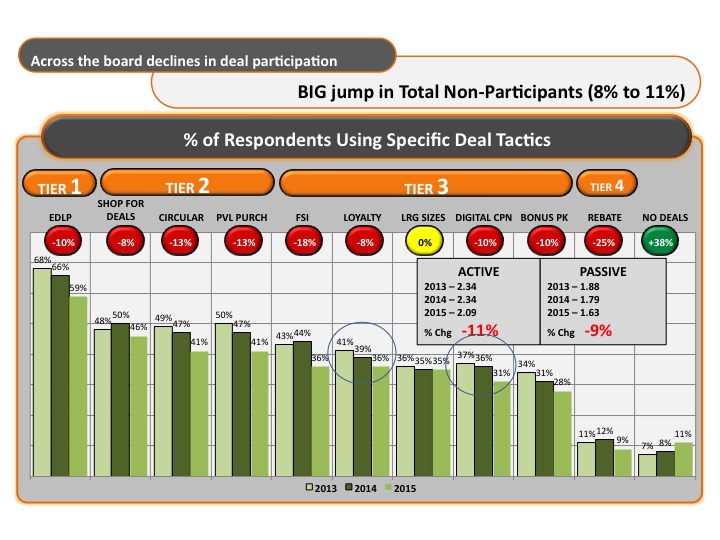 The five most popular deals used were EDLP, shop for deals, circular, private label purchases and FSI. Nine out of the 10 deal tactics declined in consumer participation with large sizes remaining flat. Rebates (-25 percent), FSI (-18 percent), circular (-13 percent), and PVL purchased (-13 percent) saw the steepest declines. Contrary to another recent industry report showing a double-digit increase in digital coupons being offered to consumers, the TABS study found that the percentage of consumers using digital coupons dropped 10 percent.
In addition, there was a big jump in the total number of consumers not participating at all in any deal tactics. These are what we refer to as "discouraged" deal seekers; they appear to have stopped participating in deals due to not being able to readily find them. In 2014, eight percent of consumers did not participate in any deal tactics and in 2015 that percentage jumped to 11 percent. As explained below, a decrease in the number of consumers who are not "participating" in deals is correlated with lower sales.
In the TABS Group Webinar "The False Hope of Loyalty Cards," it was noted that the effectiveness of trade promotions had dropped significantly in recent years as retailers placed more emphasis on promotional vehicles with less popularity and lower effectiveness, such as loyalty cards and online coupons. It was shown that the incremental sales at many retailers using these vehicles had dropped dramatically. The information that shows a surge in discouraged deal shoppers, therefore, is not surprising given the empirical observations.
Consumer Purchasing Levels Correlate to Deal Levels
In fact, this study also reinforces prior TABS Group research that found a high correlation between purchasing level and deal level. In fact, the research shows conclusively that it is more than correlation, but is actually causation, an important distinction. The survey found that just over three percent of the total population of shoppers are heavy buyers, but light deal users. Light deal users account for less than 25 percent of heavy buyers only. Conversely, 10 percent of the universe of shoppers are both heavy buyers and heavy users of deals. Said another way, a heavy buyer of consumables is three times more likely to be a heavy user of deals (six tactics or more) than a light user of deals (zero-two tactics). Even worse, if a shopper is a light user of deals, he or she is six times more likely to be a light buyer than a heavy buyer (18.6 percent versus 3.1 percent of all shoppers).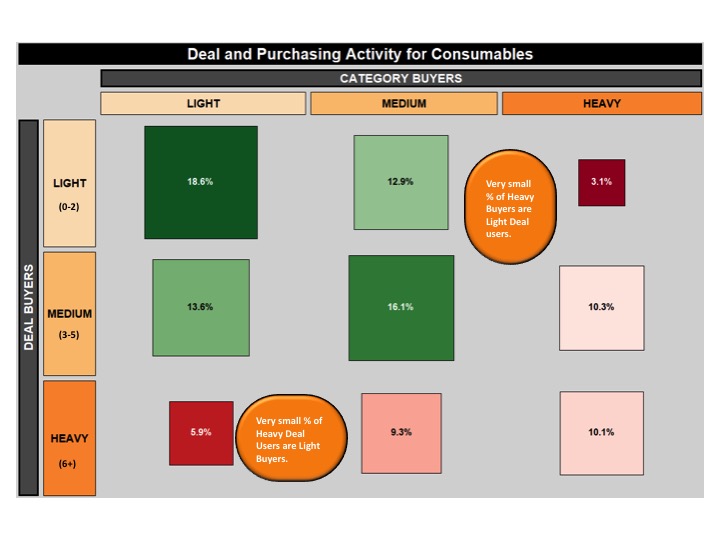 In our next blog post, we'll discuss channel/outlet shopping trends garnered from the 2015 food and beverage study, including what's happening in the Grocery (Food) channel and how Online sales measure up. Download a detailed report on the findings to learn more.
* The 15 food and beverage categories included in the survey are:
Frozen and Refrigerated: Ice cream, frozen pizza, frozen novelties, refrigerated juices and yogurt
Beverages: Carbonated beverages, water fruit juice, isotonics (sports drinks)
Snacks: Salty snacks, popcorn, candy
Baked Goods: Cookies, crackers
Grocery: Cereal