Marks Fourth year in a row that TABS Analytics has been selected for

Business Intelligence, including reporting, analytics, data mining and data warehousing
Shelton, CT – February 2, 2016 –TABS Analytics, the leading outsourced sales and marketing analytics firm in the consumer packaged goods industry, announced today that the company has been named for the fourth year in a row as one of the top business intelligence providers by Consumer Goods Technology (CGT) annual Readers' Choice Awards.
"It's quite an accomplishment for TABS Analytics to again be selected by our readers—consumer goods executives -- as one of the top business intelligence providers," said Kara Romanow, Executive Editor of CGT. "As the industry continues evolving to directly reach the shopper and consumer, TABS Analytics has been able to stay ahead of the heavy business intelligence demands of our readers by providing the necessary real-time information."
More than 50 companies around the globe are using TABS Analytics services and products for category management, trade promotion, retail price optimization, dashboards, data integration, advance marketing analytics, private equity services and global analytics.
"We are extremely pleased to be renowned for simplifying and improving sales and marketing analytics for consumer packaged goods companies by the Readers' Choice 2016 Survey," said Dr. Kurt Jetta, CEO and founder of TABS Analytics. "The award underscores the hard work of our entire team to help our customers increase sales and profit with better and faster analytics."
About the Readers' Choice 2016 Survey
This benchmark issue draws on feedback from consumer goods executives to service and solution providers in the following categories: Supply Chain Execution, Supply Chain Planning, CRM, TPM, ERP, New Product Development and Introduction, Business Intelligence, Demand Data Analytics, Product Information Management, Consulting, Customer Experience Management, Digital Commerce, Retail Execution, Mobility and Outsourcing. Results are spotlighted in the January 2016 edition of CGT magazine in print and online.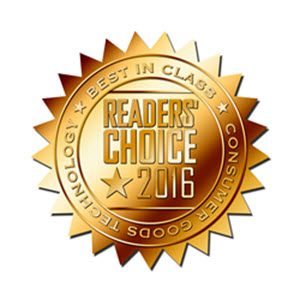 About Consumer Goods Technology (CGT)
Consumer Goods Technology (CGT) an integrated media brand, is the leading resource for consumer goods executives looking to improve business performance. Delivering content in print, online and face-to-face, CGT reaches an audience of more than 76,000 consumer goods executives ranging from managers and directors to VPs and CIOs. CGT also covers business and technology trends in all major segments of the consumer goods sector, including Food, Beverage, Packaged Goods, Consumer Electronics, OTC Pharmaceuticals, Health & Beauty Aids and Apparel/Footwear. For more information on CGT, visit www.consumergoods.com.
About TABS Analytics
Operating since 1998, TABS Analytics, formerly TABS Group, based in Shelton, Conn., is a technology-enabled analytics firm. Its mission is to simplify and improve the way analytics is conducted in the consumer packaged goods industry. Primary services are TABS CatMan Advantage™, an outsourced category management solution, TABS WorldView®, a global business intelligence tool, and TABS Promo Insight™, a cloud-based software and consulting service that helps companies measure, plan and optimize trade spending. For more information, please call Robert Baldwin on 203-446-8837, email him at robertbaldwin@tabsanalytics.com or visit www.tabsanalytics.com.
Contact Information:
For TABS Analytics
Theresa Smith
Pathway Communications
Ph: 818-704-8481