TABS Group conducted a comprehensive survey* of Consumer Packaged Goods (CPG) consumables food and beverage industry categories to uncover growth and consumer buying trends. Overall, the consumables categories surveyed showed a four percent decline in purchases, primarily driven by a lower number of heavy category buyers (buying six plus times annually) versus 2014. In most consumables categories surveyed, the actions of heavy buyers had the biggest influence on whether the purchases were up or down. Download a detailed report on the findings to learn more.
Consumables Food and Beverage Industry Trends: Declining Volume and Transactions Across Most Categories
Unlike last year which saw relatively flat purchasing, this year there was a significant decline in reported purchase transactions. In fact, consumables dropped a significant four percent versus 2014. Of the 15 categories analyzed, 11 categories had meaningful declines of three percent or more in transactions compared with 2014.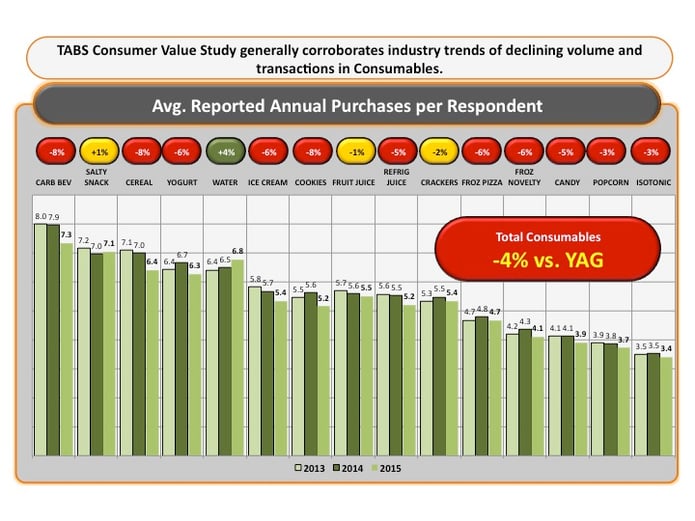 Only water saw a robust growth of four percent, providing further evidence that water will overtake carbonated beverages by 2017 as predicted by several industry experts. Carbonated beverages, cereal, and cookies saw sharp declines of eight percent. These declines corroborate recent news stories citing weakness in these categories, particularly carbonated beverages. Yogurt, ice cream and frozen pizza, all important snacks industry categories, also experienced sharp declines, sliding six percent compared with 2014. And refrigerated juices and candy had notably steep drops of five percent. Salty snacks remained flat at just one percent versus 2014.
The vast majority of the directional changes in category trends were explained by lower numbers of the heaviest category buyers purchasing consumables over the last 12 months.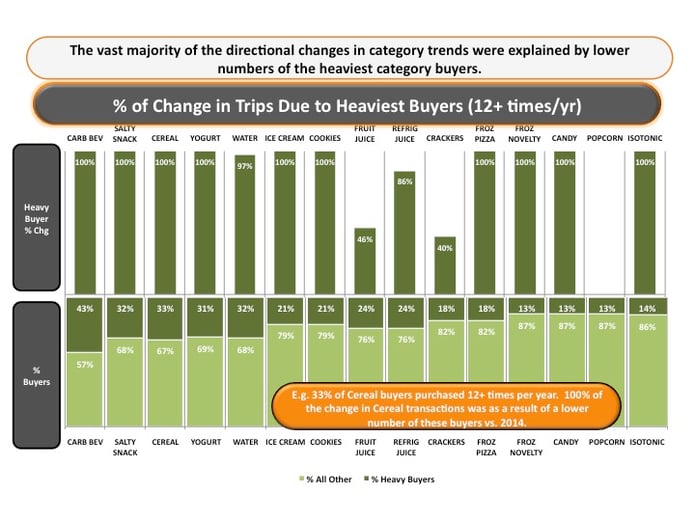 Very heavy buyers are defined as making purchases at least 12 times a year. For example, 33 percent of cereal buyers purchased cereal 12 times or more per year. The study found that 100 percent of the change in cereal transactions (eight percent drop versus 2014) was due to a lower number of very heavy buyers versus 2014. Conversely, almost a third of buyers purchase water at least once a month, and 97 percent of the increase in water in 2015 is due to more very heavy buyers of water than in 2014. In addition, the study found that in all but three categories – fruit juice, refrigerated juice and crackers – the actions of the heaviest buyers had the biggest effect on the growth or the decline of each consumable category. This is somewhat unusual because generally when categories go up and down it is due to buyer count as compared to the volume of buying. For consumables, the very heavy buyers are explaining the softness sales.
These food and beverage industry trends are important to follow and understand, particularly since these categories within the industry make up about 20% of total CPG industry sales. So, these categories, and corresponding trends, are bellwethers for CPG sales at-large.
Download a detailed report on the findings below to learn more.
* The 15 food and beverage categories included in the survey are:
Frozen and Refrigerated: Ice cream, frozen pizza, frozen novelties, refrigerated juices and yogurt
Beverages: Carbonated beverages, water fruit juice, isotonics (sports drinks)
Snacks: salty snacks, popcorn, candy
Baked Goods: cookies, crackers
Grocery: cereal