In presenting the 2016 results from TABS Analytics' annual study on Beauty (Cosmetics and Skincare), Dr. Kurt Jetta sat down with Andrea Van Dam, CEO of Women's Marketing, Inc., and discussed a number of important trends and findings. Their combined insights reflect the current state of women's buying habits of cosmetics and other beauty products.
You can view the entire presentation here, but let's quickly break down the overall trends, both for the current year as well as year-over-year.
Who's Buying?
In examining the groups who are the heaviest buyers of cosmetics, three standouts include:
Younger age groups tend to be heavier buyers, and the likelihood of being a heavy buyer rapidly declines with age. This category truly is ruled by millennials.
Higher income groups skew toward heavy buying. The most active group consists of those whose income is between $75K and $90K per year. In other words, those women who live comfortably, but are not among the wealthy, buy the most cosmetics.
There's been a sharp rise in Hispanic buying habits over the past three years. A whopping 43% of them identify as heavy buyers.
The demographic trends for skin care products are similar, if perhaps not quite as strong.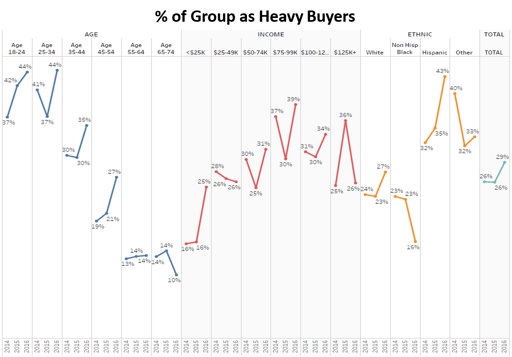 What Cosmetics Are They Buying?
From year to year, the cosmetic types that have shown significant gains are:
Most types of face cosmetics.
Mascara.
Eye liner.
Eye shadow.
Lipstick.
Nail care products, formerly a pretty hot product type, declined significantly in 2016, especially among regular buyers. In general, we've seen regular purchasing stagnate a bit, although overall purchasing has gone up. This would indicate the brand loyalty doesn't mean much in this category, as many women like to try lots of different brands before settling on one.
According to Andrea Van Dam, the customer doesn't have a problem paying a premium in exchange for something that works. But if she finds something else that's more effective (or is equally effective for less money), she'll readily switch.
What Brands Are They Buying?
TABS Analytics measured brand awareness of various cosmetic brands, those sold in mass market and specialty, ranging between legacy products and newer niche items.
In the 2016 study, we found an impressive growth in the awareness of niche brands, both in the Mass Market space (14% growth vs. YAG) with brands like Elf, NYX and Milani, and in Specialty (6% growth) in brands such as Urban Decay, Smashbox and MAC. But here's the interesting part: these brands grew without cannibalizing the awareness of established legacy brands like Cover Girl, Maybelline and Revlon, which all remained pretty stable from year to year.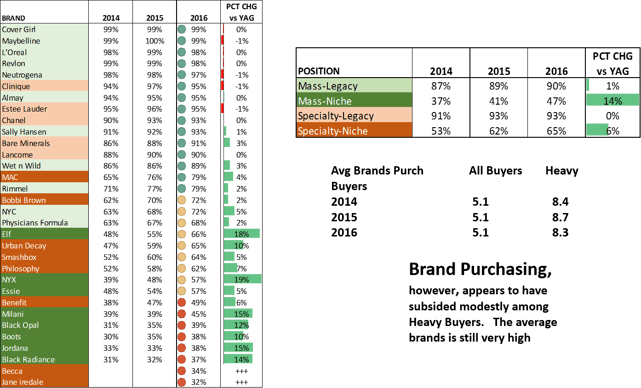 Following current trends, many of these niche brands seem to specifically target a younger, multi-cultural demographic. Most of these brands haven't yet attained what we would call "mainstream awareness," but given their current growth, it's really only a matter of time.
For skin care, brand recognition is quite high nearly across the board. It's clear that women are purchasing lots of different brands.
Where Do They Shop?
With many outlets doing rather active business, it's hard to identify a clear winner. The spectrum is a broad one, but here are the general trends:
Market share is pretty evenly split between mass markets and specialty outlets.
Walmart has worked hard to re-establish its dominance in Beauty, introducing a number of younger niche brands while still hanging onto the legacy items. Its resulting growth in the category is 16.3% over a year ago.
Sephora also gained some ground, due largely to their decision to place storefronts inside of J.C. Penney.
Dollar stores and Online retailers also experienced some modest growth. Beauty is one of the few categories that seem to find a foothold on the web.


What Are Their Usage and Attitudes Towards Beauty Products?
As the following discussion from the 2016 Beauty Study webinar demonstrates, beauty consumers had strong opinions on a number of key beauty trends, usage behaviors and brands:
Where Do They Learn About Beauty Products?
Finally, there's considerable interesting survey material pertaining to where women get their information about beauty products.
Social media is a key consideration for younger buyers. Whereas its importance has plateaued for all buyers over the past few years, for heavy buyers (which, again, heavily skew younger), social media adoption has shot up 10% in just two years. Facebook and YouTube remain the top two influencers across all buyers. The #3 slot splits by age, with Millennials and GenZ shoppers checking out Instagram, and the older folks preferring Pinterest.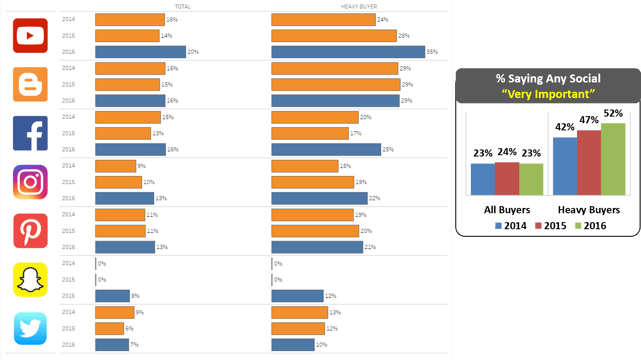 According to a 2016 study from Women's Marketing, Inc. called Unmasking the Beauty Consumer, women are moved by beauty influencers, followed by online reviews as well as family and friends. Print magazine ads and articles only seem to carry weight with older buyers, and are losing influence as time goes on. Finally, the department store beauty adviser is quickly becoming obsolete, with only heavy buyers utilizing them to any significant degree.