In September 2015, TABS Group surveyed 1,000 adults between ages 18 and 75 to determine how often they purchased various sub-categories of food and beverages. The 1,000 survey respondents live in Canada, and TABS Group used the Canadian survey results to compare and contrast differences in purchase and consumption habits between Canadian consumers and U.S. consumers.
The food and beverage categories of consumables included candy, carbonated beverages, salty snacks, ice cream, yogurt, cereal, refrigerated drinks, fruit juice, cookies and crackers. The data was tested for internal validity and external industry corroboration. Buyers were grouped based on the frequency with which they purchased specific categories.
Close Buying Frequency Correlation in Most Categories
For most categories, U.S. and Canadian buying habits were very closely correlated. Results for most categories were within a few points for both countries, resulting in an 87 percent correlation in buying frequency habits. Both countries had similar results for the average number of categories purchased: Canada respondents reported an average of 11.7 categories while U.S. buyers reported 11.8.
However, there were a few very noticeable differences in the frequency of specific categories. Buying frequency of yogurt in Canada exceeds U.S. buying frequency by 16 percent. Fruit juice was 6 percent higher, and frozen novelties were 5 percent greater for respondents in Canada.
Other categories had a markedly lower frequency for buyers in Canada compared to those in the U.S. Respondents reported a 28 percent lower frequency for sports drinks, 10 percent lower for bagged candy, 9 percent lower for popcorn and 5 percent lower for water. The remaining categories were within a few percentage points of each other, with no significant differences between countries.
Very Heavy Buyer Comparison
For purposes of this study, "very heavy buyers" were defined as those who purchase a single category 5 or more times in a single year. It should be noted that even this is a low frequency for food and beverage items, since most shoppers tend to purchase food at least bi-weekly.
Once again the buying habits in both countries were quite similar, showing an 83 percent correlation. Respondents in Canada reported very heavy purchase activity in an average of 3.2 categories, while U.S. respondents reported an average of 3.3. However, significant differences in specific categories exist.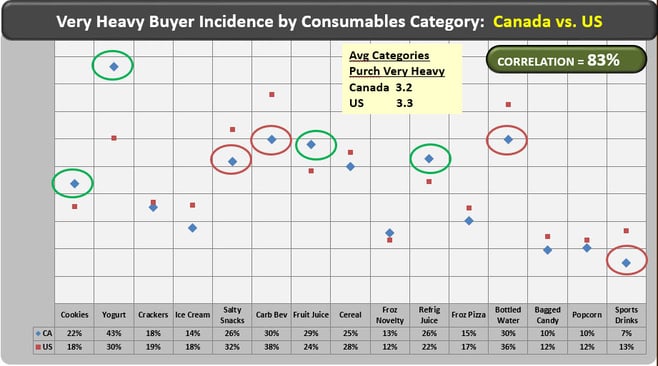 Respondents in Canada reported much more frequent purchases of yogurt. This category attracted 43 percent very heavy buyers in Canada but only 30 percent of U.S. respondents were very heavy buyers of yogurt. Respondents in Canada also reported more frequent very heavy usage of cookies at 22 percent compared to the U.S. respondent's 18 percent; fruit juice at 29 percent in Canada compared to 24 percent of U.S. respondents and refrigerated juices at 26 percent to 22 percent.
American respondents reported very heavy usage that clearly differed from Canada's responses in carbonated beverages at 38 percent compared to 30 percent from respondents in Canada. Very heavy users of bottled water and sports drinks in the U.S. survey respondents exceeded those from the panel in Canada by 6 percent and each category, suggesting strong national differences in beverage preferences. The U.S. panel also reported a significantly higher number of very heavy users for salty snacks at 32 percent compared to the Canada panel's 26 percent.
The results of the survey show that despite some minor differences in specific sub-categories, the two countries are very highly correlated in both overall buying habits and the percentage of very heavy users in each sub-category.
For more information on the First Annual Consumer Value Study in Canada, please contact us here.