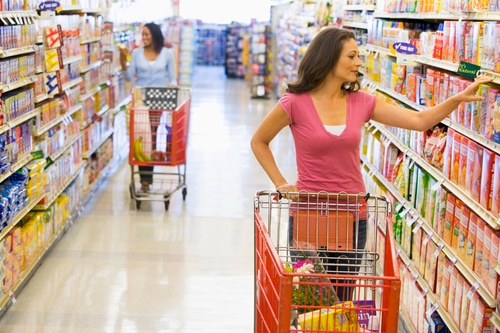 The grocery channel continues to lead all shopping channels for the second year in a row in the TABS Group Food and Beverage Consumables study*. The reported percentage of people buying consumables in the grocery channel was 78 percent. Roughly 60 percent of the gain in the buyer base was due to survey respondents explicitly identifying Meijer as a grocery outlet, which means that 40 percent of the gain was due to a true increase in regular purchasing in grocery.
Mass Channel Purchases Declined and Online Remained Flat
However, the study found a decrease in shopping trips to mass market outlets including Walmart, Target and Sam's. Discount grocery outlets, such as Aldi, were included for the first time in the study and demonstrated a significant presence. This inclusion could account for part of the decline in mass channel accounts, as discount grocers have high appeal among shoppers who use EDLP as a deal tactic. Natural foods increased from 12 percent to 17 percent, primarily because the number of stores increased. However, Fresh Market and Whole Foods, the natural foods channel bellwether chain, experienced a softening of their same-store sales growth in the last 12 months.
Online continues to be a small factor in the industry with only four percent of respondents shopping online at least six times per year. This figure has remained flat since the inception of the study in 2013.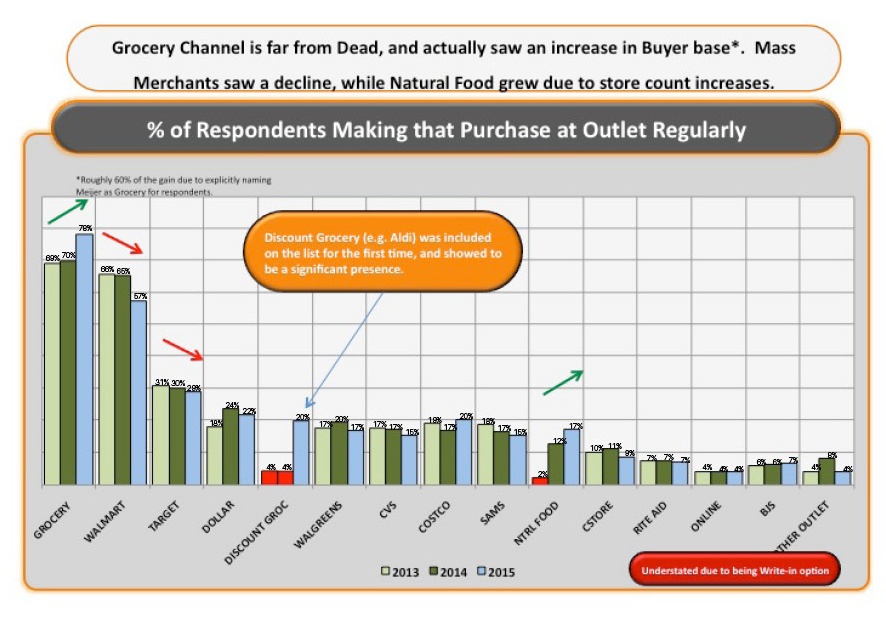 To get a directional market share, a share-of-mentions calculation is created by adding the chain/outlet percentages in each year and calculating a "share." This calculation correlates well with actual in-market shares. Based on this calculation, the grocery channel continues to have the largest share of consumables share of mentions at 24.5 percent in 2015, followed by Wal-Mart at 17.9 percent. Wal-Mart's share of mentions has declined for two consecutive years. The natural foods channel has seen a 35 percent increase in its share of mentions to 5.4 percent in 2015, most likely in part driven by more outlets (versus same- store sales). Online's share of mentions for consumables remained flat in 2015 at 1.2 percent.
The predominant outlets –Walmart and grocery – saw a significant drop in market share among heavy deal buyers, as these shoppers shop at many more outlets, often due to searching for deals. On average, heavy deal buyers shop at 4.2 outlets in search of the best deals. So these heavy buyers are the most "disloyal" buyers ("disloyal" meaning that buyers are not exclusively buying in one channel or store chain). As more outlets become available to shoppers, both grocery and Walmart lose some share. Grocery lost share in 2015 to dollar channel, discount grocery and Walgreens, primarily because of better deals in those outlets. Net, deals are very important to manufacturers as well as to retailers for growing share and sales, as seen in the consumables survey data (and consistently in other TABS Group research reports).
Download a detailed report on food and beverage industry consumables trends to learn more.
* The 15 food and beverage categories included in the survey are:
Frozen and Refrigerated: Ice cream, frozen pizza, frozen novelties, refrigerated juices and yogurt
Beverages: Carbonated beverages, water fruit juice, isotonics (sports drinks)
Snacks: Salty snacks, popcorn, candy
Baked Goods: Cookies, crackers
Grocery: Cereal