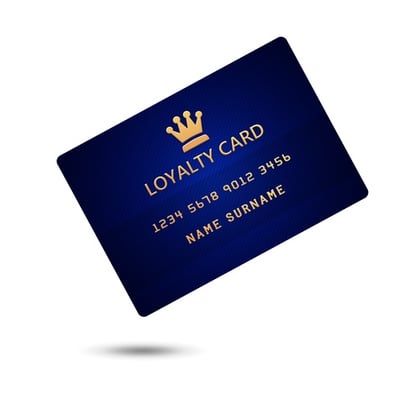 At TABS Analytics, we've done extensive research on retail and consumer loyalty card programs and how they can damage the promotional efforts of both manufacturers and retailers if not correctly managed. But what gets lost in the shuffle are such programs' effect on customers. Many Loyalty card programs are consumer-unfriendly for a number of reasons.
Intrusive and Confusing
To start, many loyalty card programs require consumers to surrender personal data in the form of contact information. This opens the way for a deluge of direct mail and electronic spam. As the offers received are rarely customized to the consumer, a lot of what is received is of questionable relevance.
These loyalty programs aren't just intrusive, they're also confusing. Seemingly simple questions such as "What is the product?" and "What is its price?" become unclear when loyalty "rules" are introduced.
A Poor Return on Effort
Additionally, the savings offered by loyalty card programs tend to be somewhat underwhelming. Most, if not all, such offers are watered down comparted to promotions from traditional vehicles.
Another disadvantage for the consumer is that such offers are frequently difficult to redeem. Within their loyalty card programs, most retailers create offers with the built-in expectation of "slippage." That is, by making it a bit more arduous to take advantage of the offer, retailers ensure that a certain percentage of users won't bother, even if they really need the product.
In addition to being confusing, a lot of loyalty offers are actually deceptive when it comes to listing prices. At times, a consumer must look carefully at a price's small print to find the actual price without a loyalty card.
"Would you like to sign up for a loyalty card? No? Fine. Go away."
Some customers may come to see such loyalty programs as exclusionary. These programs become of way of telling non-frequent customers, "You are not wanted here."
A couple of years ago, we did two surveys aimed at consumers and their preferred means of getting the most value for their money when shopping at CPG retailers: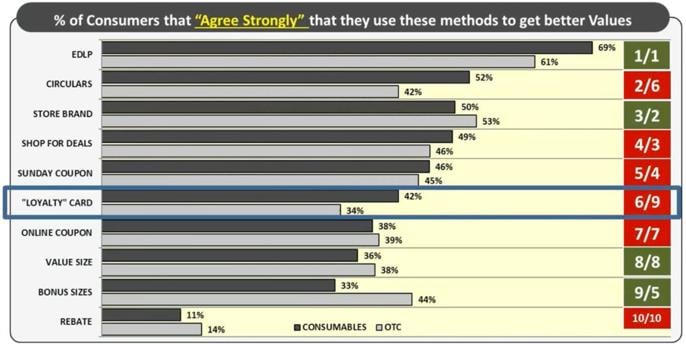 The dark gray bars represent a survey of those buying consumables, while the light grey bars are from a study conducted on over-the-counter (OTC) buyers.
As you can see, Loyalty Cards ranked comparatively low, mainly for the reasons mentioned above. The percentages of 42 percent and 34 percent, respectively, do indicate a large number of customers who leverage loyalty programs. But these percentages are nowhere near as high as other "active deal" tactics including circulars and Sunday coupons. People are also much more likely to use "passive deal" tactics including store brands and every-day low prices.
Loyalty Cards Are Better for Some Customers Than Others.
The outlook for loyalty programs isn't entirely dismal, however. Loyalty card users are still very important. The data tells us that active deal shoppers in general, and loyalty card shoppers in particular, have a tendency to buy more stuff. Look at the following graph: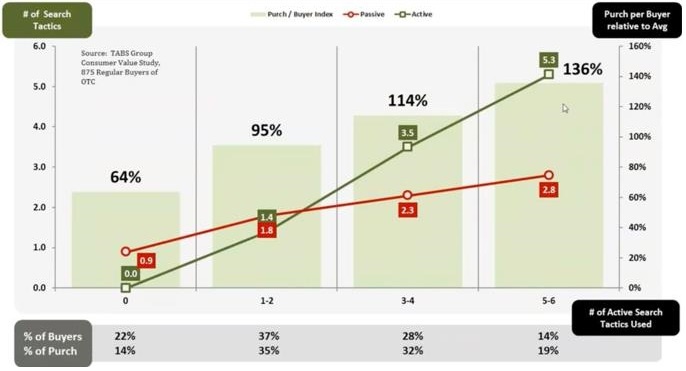 Here you can see that the people who used most or all of the available active deal tactics spent 136 percent more compared to the average shopper. They spend more than twice as much as those shoppers who employ no active search tactics at all. The trend is consistent and demonstrates a strong correlation between deal-getting tactics and the overall spend per trip.
As you increase the number of deals offered, you increase the amount that those engaged consumers spend, which is good news for all concerned.
Loyalty Card Programs - Worst Practices
In our 2014 webinar on loyalty card programs, we did a deep dive on our findings of what works and doesn't work. Let us look at a few real-world examples of how these programs can confuse customers. Take a look at the following ad: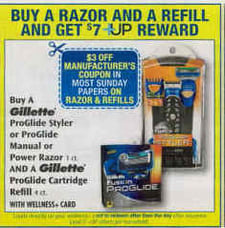 Can you tell at first (or even third) glance what is being offered here? It's a confusing offer.
In essence, you have to buy one of the three listed razors and a ProGlide cartridge refill while presenting a card. In return for all that, you get a $7 reward that you cannot use immediately, but it expires after three weeks, so you would need to return soon. Oh, and you get can get an extra $3 off if you pick up a Sunday paper and get to work clipping coupons. This places an incredibly heavy burden on the consumer, and seems to be designed with slippage in mind.
Next comes an ad that, if possible, ramps up the confusion factor even more: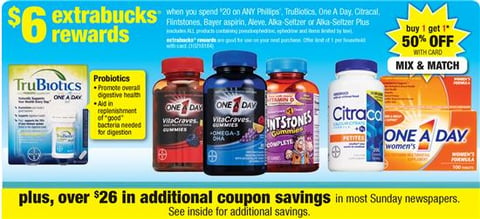 You can get a $6 reward (again, you'll have to come back later to spend the money) if you spend $20 on a combination of the listed products. There's also a buy-one-get-50 deal, so you'll have to buy a significant amount of product to cross that $20 threshold.
Loyalty program deals are notorious for burying deal-killing clauses in the fine print. Take a look at this ad for Mucinex: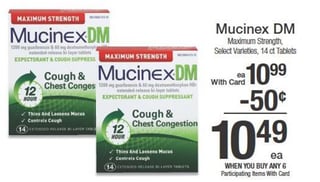 With your card, you'll be able to save 50 cents on an $11product. Already, that's not particularly compelling. But then in the fine print, we learn that you'll need to buy six of them in order to qualify for the deal. Even for those who know and regularly use the brand, that's a rather weak incentive.
In all three of the above cases, you'll need to present a loyalty card in addition to meeting the retailer's draconian requirements. Our final example, while not requiring a loyalty card, exemplifies the lackluster, underwhelming nature of the other offers.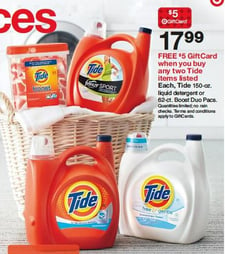 In this ad, you are offered a $5 gift card. However, to get the money, you'll need to buy two of the listed Tide products at $17.99 each. Is $17.99 for one of these products a good deal in the first place? Even if it is, it seems a hard sell to lay out $36 for laundry soap in order to get a $5 card you can't even use right away.
As we can see, these loyalty programs have a tendency to build within a rather difficult infrastructure that makes it hard for consumers to participate with confidence in the offers. Reporting data tends to show disappointing revenue from most loyalty programs, one of the reasons for which is this shell game retailers are playing with the promised savings. Make customers jump through too many hoops, and they'll ultimately decide that it simply isn't worth the effort.
So, What Can Be Done to Make Loyalty Card Programs Better
If loyalty card programs are executed properly, there is certainly a place for them in the promotional mix. Several key things to consider include:
Eliminate offers that make consumers jump through a lot of hoops. Be clear about what they get and give it to them then and there
Use loyalty cards to enhance your core deals to consumers, not replace these deals
Manufacturers should partner with retailers to split loyalty program costs to make them effective.
Click on the button below to download our deep-dive report that goes into more details on loyalty card programs.