Wells Fargo Trade Promotion Insights

This article is a summary of one that was published by Wells Fargo Securities, LLC in an April 2016 Food Equity Research Report.
Reduced trade promotion is a leading cause of soft CPG sales
Causation has been found to exist between trade promotion and retail sales, benefitting the baseline and driving incremental purchases. What's seemingly a straightforward approach in appealing to consumers' fundamental need for deals has been overcome by an increasing focus on full revenue sales by manufacturers. The reduction in trade promotion has been associated with a fall-off of incremental sales and softer baselines. Net, it may be in the manufacturer's best interest to promote more, rather than less, given the positive correlation with sales, the ability for trade promo to act as a barrier to entry, and to preserve share of shelf as a cost of doing business with retailers.
From the retailer's perspective, the shift to loyalty cards has been met with muted incremental sales on deal. By contrast, the traditional approaches such as "everyday low prices" (EDLP) and circulars remain most effective in driving conversion. Dr. Jetta advocates for a renewed emphasis on traditional promotions and often, a larger promo spend rate, as helpful to end the five-year sales malaise having affected the consumables industry.

Increasing trade promotion may be essential due to slowed CPG sales growth
During 2012-14, CPG consumption growth decelerated by 100 basis points (bps) relative to the 2009-2012 compound annual growth rate (CAGR), and growth slowed by a sharper 250 bps for food and beverage. TABS has found that all consumables categories are highly elastic and sales grow exponentially with an increase in discounts. On average, sales tend to increase by 20% when on deal and it crystallizes the phenomenon that deals are an integral component of the CPG industry. The largest CPG firms make up the bulk of trade promotion spending and with promo spending being dialed back in recent years, the aforementioned softening of sales appears to be partially self-inflicted (macroeconomic issues explain the other variable).

Exhibit 1. U.S. Consumer Packaged Goods Growth has Slowed; Smaller Firms Outperform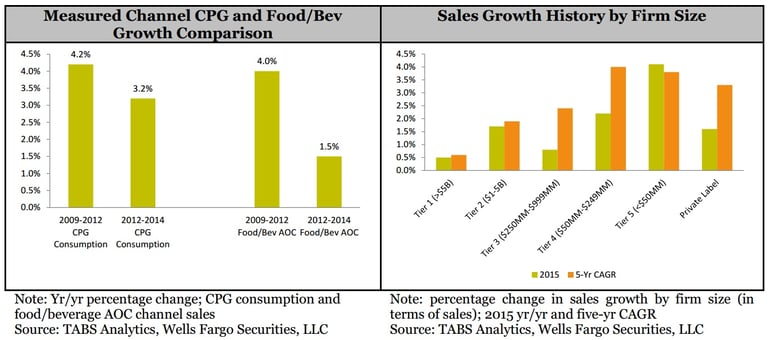 TABS' research has found that traditional trade promo methods remain the most effective
This has triggered a "discouraged deal shopper" phenomenon wherein a noticeably higher percentage of consumers are not participating in any deal (11% in 2015 vs. 7% in 2013). EDLP resonates best with onsumers (59% of survey respondents), and this is followed by shopping for deals (46%) and usage of the circular (41%). Even in the case of EDLP, however, promotion is required to meet the deal seeking that is a fundamental human behavior. This dynamic is demonstrated by the strong positive correlation (0.9) between the number of "active" deal tactics used by consumers and the share of total purchases by a given buying group. "Active" deals are those that require some degree of activity by the consumer to claim the deal (coupon clipping, etc.). Overall, 14% of consumers drive 31% of consumables purchases and the capture of such heavy users is essential for driving consumables growth.

Yet "new age" programs don't resonate as well. Loyalty card users are regarded as among the least loyal
consumers to shop in a given store and Dr. Jetta has observed a "desert of despair," in which muted
promotional lifts have emerged at retailers having shifted exclusively to loyalty card-only programs. In terms of
digital couponing, the smaller degree of effectiveness can be viewed as a result of low e-commerce penetration (1.3% share). Only one-third of adults shop online for groceries and only 4% do so with regularity.

Net, Dr. Jetta views existing e-commerce grocery initiatives a low potential distraction
Ecommerce features a low 12% loyalty and it's approximately one-fifth of even the lowest-rated bricks and mortar grocery retailer (66%). Net, the grocery industry may be better served by concentrating more focus, energy, and trade promo on traditional bricks and mortar, at least until the e-commerce demand pull from consumers increases.

Exhibit 2. Traditional Promo Methods Remain Best; Heaviest Buyers Are Active on Deal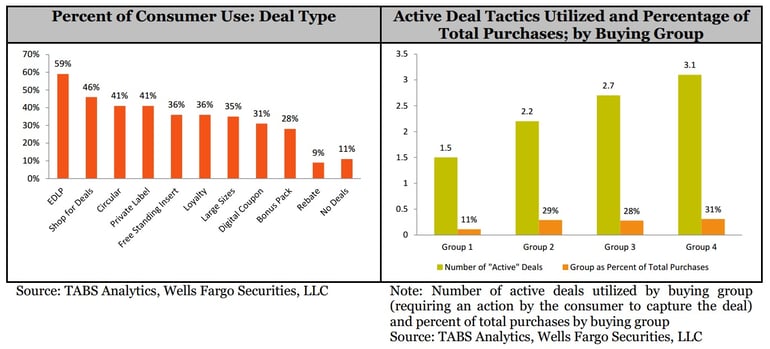 Promo is a barrier to entry that CPG execution doesn't leverage
Larger companies possess the resources to be much more efficient around trade spending and analytics. In addition, the trade promo hurdle rate is inversely related with average weekly revenue; and once that hurdle rate is cleared for lift on promo, it locks in a riskless profit for the manufacturer. As smaller companies lack the scale to appropriately compete, trade promo can be wielded as a barrier to entry, in addition to benefiting the baseline and incremental sales of the manufacturer deploying it.
What's disturbing to us is that this approach is contrary to that which is currently employed and, as such, the largest Tier One CPG manufacturers are reducing or ignoring an otherwise impactful barrier to entry. Current practice entails manufacturers seeking to lift sales by minimizing the degree of subsidies to base sales, but at lower discounts, there are also lower lifts. Absent the enforcement of the promo barrier to entry, CPG winners are dictated by those who can innovate the quickest and by those who are the most nimble. These are areas in which Tier 1 firms have been far out-executed by small- and midsize firms, in our view.
Trade promotion is viewed as a necessary cost of doing business
As retailers own the real estate and shelf space, they also maintain the leverage and particularly in an environment where consumers are actively seeking alternatives to branded leaders (niche manufacturers, natural/organic private label, etc.). Given the strong correlation/causation between trade promo and sales, a reduction in trade promo that results in lower baseline sales renders the product vulnerable to discontinuation or shelf space reduction to other competitors more willing to promote.
Download a copy of the full report here.