TABS Analytics' second annual U.S. Cosmetics Study found that millennial women (ages 18 to 34) are the heaviest buyers of beauty products in the $13 billion cosmetics market (market size excludes skin care and hair care products). Millennials are twice as likely to be heavy buyers (defined as purchasing 10+ types of products a year) and account for 47 percent of all heavy buyers. This compares to to the average heavy buyer percentage of 29 percent for the cosmetics industry. Demographics are a key challenge for CPG marketers.
Cosmetics & Beauty Trends Influenced by Millennials
Unlike in the majority of consumer packaged goods categories, where women 35 to 54 years old are the core target market, millennial women not only are the heaviest buyers in the cosmetics category, but their habits are transforming the industry. This transformation can be seen in areas such as brand preferences, outlet preferences and methods for gathering information. In general, heavy buying declines among older age groups.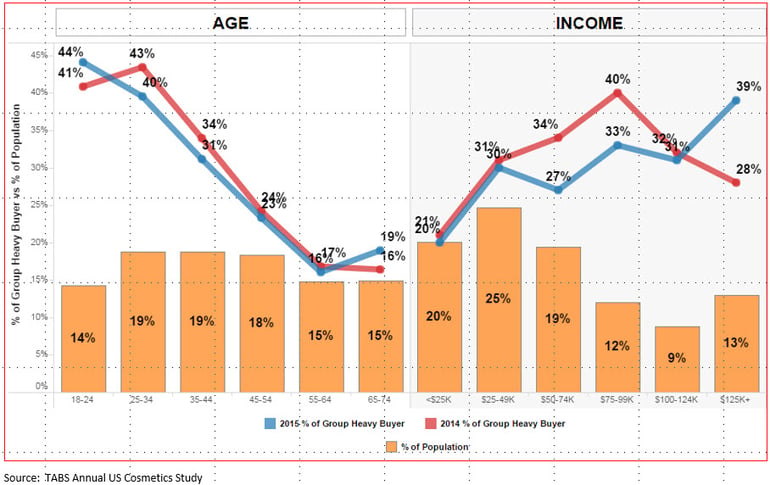 The TABS study also found that higher income correlated to a likelihood of being a heavy cosmetics buyer. Of the 13 percent of the population with incomes of $125,000 or more per year, 39 percent of that group are heavy buyers. This represents a shift from the 2014 study, which showed a decline in heavy buying among those with higher incomes.
Interestingly, millennials are helping to drive sales in the specialty beauty channel. The TABS study found that penetration (consumers buying at least once per year) and purchase rates for Sephora and Ulta, in particular, are up double digits compared to 2014. A good example of what Sephora is doing to attract millennial consumers, including customizing the shopping experience and having the right brand selection, is detailed in this article from Millennial Marketing.
Millennials Rely on Beauty Blogs and YouTube
Trends in social media usage help explain why consumers are buying cosmetics, particularly among millennial heavy users. Beauty blogs and YouTube are proving to be significant consumer communication vehicles for heavy cosmetic buyers.
Twenty-nine percent of heavy buyers report that blogs are very important in helping to determine which cosmetics to buy. YouTube is very important to 28 percent of heavy buyers in determining which cosmetics to buy. However, when looking at all buyers, the importance of blogs and YouTube when determining which cosmetics to buy drops to 16 percent.
For highlights of the 2015 study, please see our infographic. Please click on the banner below to get your copy of the full report 2015 cosmetics study.