Baby Category is Big Business
TABS Analytics completed its first Baby and Infant Needs Study in March 2016 to better understand buying and outlet trends in the $30 billion baby category. The survey queried 2000 adults (18-75) and covered five baby segments, and 28 different types within the segments:
Baby seat and safety products (i.e. car seats, strollers, baby monitoring devices)
Baby feeding needs (i.e. cups, bottles, plates)
Diapers and accessories
Baby formula, food and drinks
Baby care (i.e. powders, ointments, lotions)
TABS has developed a reliable survey methodology to analyze hard-to-get data, such as non-tracked sales channels. Data in these channels is often incomplete, inconsistent or both. One particularly difficult channel to analyze and model is online sales. Specialty outlets for baby products (like Toys"R"Us) can also be challenging. Using our proprietary algorithms, we've found a very reliable way to track both online and specialty channel sales. Importantly, we corroborate our survey results with panel and syndicated data.
Who's Buying? – It's Not Entirely Who You Think It Is!
The largest buying group in the baby category is households with young children age 0-5. This group has a 73 percent incidence rate (they buy at least one time per year) compared to households without young children having a incidence rate of 22 percent. Of the segments included, diapers and feeding have the highest incidence rates.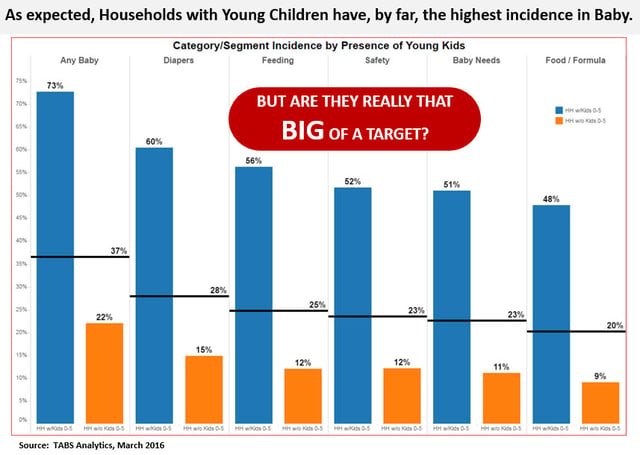 However, between 32 and 43 percent of purchases are coming from households without young children. As the chart below shows, even though households with young children are heavy buyers, purchasing on average 8.5 types of baby products compared to 1.6 types for households without young kids, households without young children are also important buyers.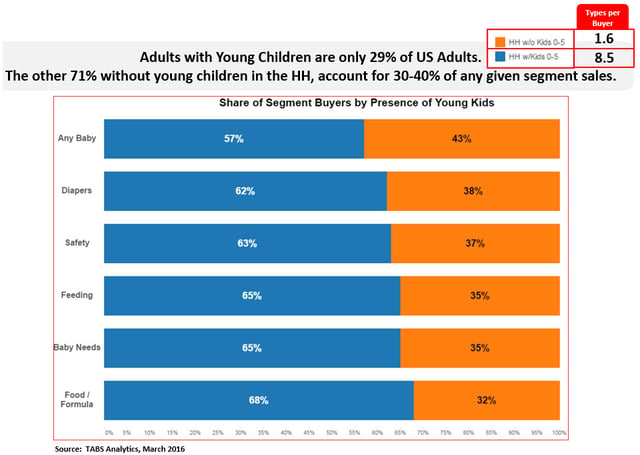 The explanation for this is not entirely clear from our research and further analysis is needed. But, it could be because of factors like: gift giving, single parents, relatives and friends buying for families with children, cross usage of products (baby needs, food, etc.) by non-infant households, etc. The important takeaway is that households with children aren't the only target group for baby products, so strategies and tactics need to be in place to also cover consumers in households without young children.
E-comm is A Contender
Although brick and mortar incidence still dominates in baby segments (as it does in most consumer packaged goods categories), e-comm is growing every year and now makes up on average 27 percent of incidence. This trend bodes particularly well for brick and mortar players who have an e-comm presence. As the chart below notes, online only incidence is still relatively low for baby, with the only segment above 10 percent penetration being safety (expensive ring car seats, etc.).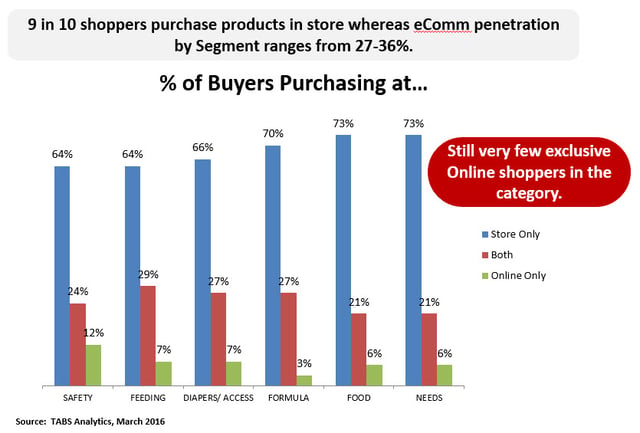 That said, a look at share of mentions (a measure that is highly correlated to actual market share) shows that online shares run between 18 and 20 percent of total baby sales. The chart below shows sales estimates for diapers – the highest online share of all the segments.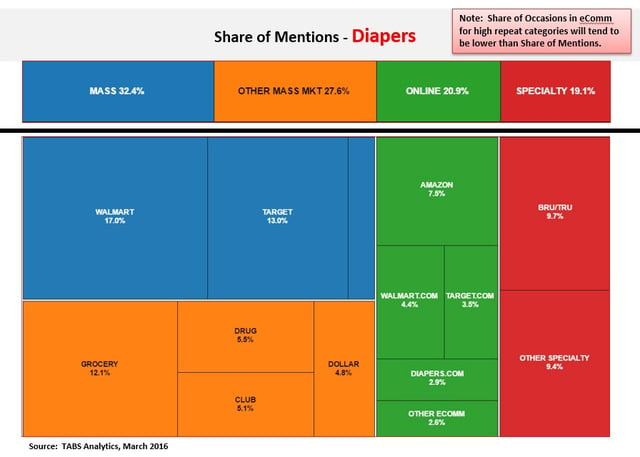 Note that the Walmart, Target and Toys"R"US/Babies"R"Us brick and mortar shares account for about 50 percent of the total diaper segment sales (and baby category sales too). But, e-comm is definitely the highest it has been for any of the TABS surveys. Target and Walmart are close in online sales since Target usually appeals to higher income consumers who, in this case, are buying baby products online (as we'll see below).
In general, shares are split roughly 60 percent compared to 40 percent between FDMCD (Food, Drug, Mass, Club, Dollar Channels) and non-FDMCD channels (online and specialty channels).
Price and Online Sales – A Strong Correlation?
As you can see from the chart below, price and purchase frequency are strongly correlated to e-comm sales. The segment with the highest online share and lowest purchase frequency is safety (seats, monitors, etc.) which is in the lower right quadrant. Contrasting that with baby food products in the top left and you'll see that they have low share online but high purchase frequency.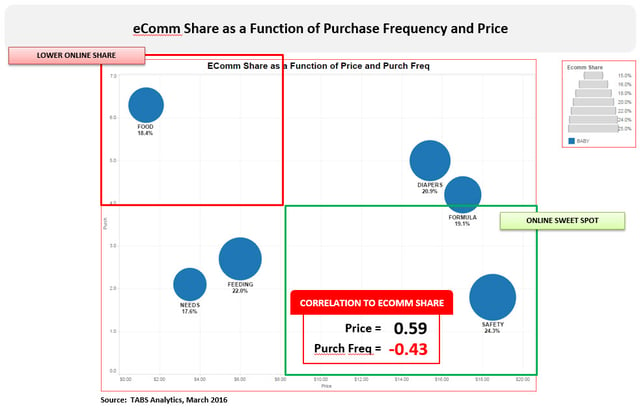 These findings are further corroborated when you look at other categories next to baby. You can see the low food and beverage consumables online sales (upper left quadrant) compared to higher priced categories like cosmetics, vitamins and then baby products that drive online sales. This correlation and pattern also helps explain why Walmart does not have high online penetration in general since 70 percent of its sales are food and beverage consumables and packaged goods.
Implications for Manufacturers and Retailers
First, we need to think beyond young moms. Up to 40 percent of buyers don't have young children in the household – they're caregivers, buying gifts, separated parents, etc. For retailers in particular, the baby category should be thought of as a more "mainstream" category and not a specialty niche since overall incidence is 37 percent. Second, upper-income buyers drive more sales as they over-index in purchases. For retailers like Target, this higher-income skew bodes well. So, if Walmart wants to widen the gap between itself and Target, Walmart will need to crack the code on attracting more affluent consumers. Third, the safety segment is the biggest driver in online sales. Fourth, both Walmart.com and Target.com are significant players on their own independent of their respective brick and mortar counterparts (Walmart and Target stores).
Recommendations:
Develop ways of communicating to 40% of consumers who don't have young children.
Conduct further research into baby segments via surveys in order to understand what the drivers are.
Try and understand what is driving the income skew?
Don't overemphasize the big three: Walmart/target/TRU-BRU – they account for about 50-60 percent but that leaves the balance elsewhere for more sales opportunities.
Use survey data like the findings presented in this post for business and volume planning quickly and cost-effectively. Understand brand awareness, favorability and regular purchasing behavior to complete the buying picture.
It is important from an e-comm perspective to consider having a separate strategy for the online arm of the big three retailers. For example, don't treat Walmart stores just like Walmart.com.
For brick and mortar retailers with e-comm aspiratons, start with baby and vitamins. It's imperative to get these right first since this is where the e-comm sales volumes are.