Even though eCommerce still only accounts for a small portion of sales in the food and beverage market, the ability for consumers to purchase items on the web and then pick them up at a local retailer has been driving online shopping growth in the U.S. during the past year. While U.S. online sales increased by 13 percent since 2016, this channel is still just a drop in the bucket compared to the predominance of brick-and-mortar retailers. And it has a long way to go before it can be considered a success – like eCommerce is in the U.K. – based on established retail loyalty norms.
That's just one of the findings that TABS CEO Dr. Kurt Jetta shared last month when releasing the results of the TABS Analytics 5th Annual Food and Beverage Consumables Study, which for the first time expanded to include analysis of the U.S. and U.K markets. The study looked at similarities and differences that exist between the two countries, and if any U.K. trends could potentially foreshadow things to come in the U.S.
The most marked difference was the eCommerce channel, which is more robust in the U.K., and elicits greater customer loyalty (61 percent - closing in on the 70 percent benchmark that has become a threshold for success), compared to the U.S. (38 percent). Some of the reasons for eCommerce success in the U.K. can be attributed to fewer store format options, said Dr. Jetta, noting the limited number of club, mass merchandise, natural foods and dollar stores in the U.K. Discount grocery in the U.K, however, accounted for nearly three times as many trips than in the U.S., because of the prominence of retailers like Aldi and Lidl.
And even though consumers in both countries love to save money, U.K. shoppers use fewer active deal tactics, like coupons, circulars and rebates. Instead they favor private label merchandise, likely because these products account for a greater percentage of items on the shelves compared to the U.S.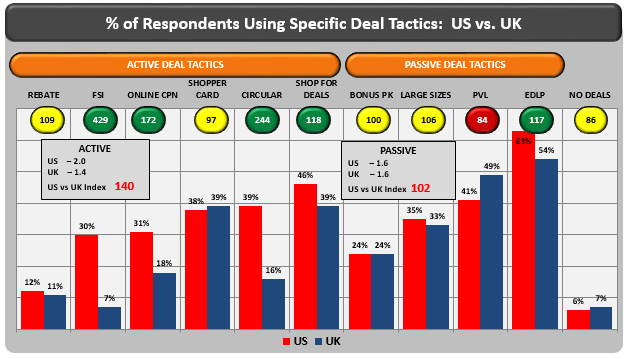 Overall in the U.S. though, consumers are cutting the coupon habit, eschewing the newspaper-delivered circulars and free-standing inserts for retailers that offer every day low prices. And the heaviest deal users are also the heaviest buyers. Dr. Jetta pointed out that heavy deal users rose to 47 percent, from 38 percent in 2016, and that points to a strong opportunity for retailers to boost sales by increasing the deals they offer their most frequent/loyal shoppers.
Other key findings from the 2017 Food & Beverage Study included:
Reversing past years of decline, there was growth in all consumables categories - candy, carbonated beverages, cereal, cookies, crackers, frozen pizza, ice cream, juice (refrigerated), juice (shelf), frozen novelties, popcorn, salty snacks, sports drinks, water and yogurt.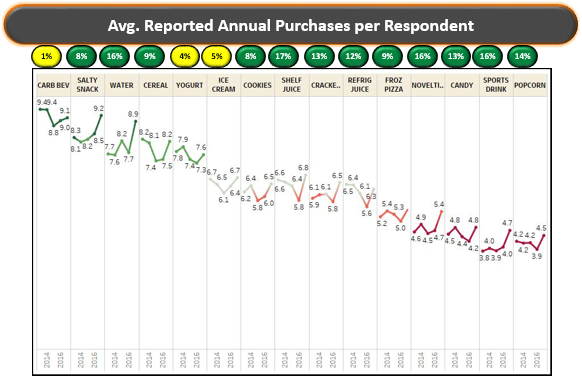 Amazon, Walmart and Target all saw gains in consumers purchasing food and beverages from their online channels, while traditional grocery stores' online sales dropped considerably.
Households with kids were heavy buyers across virtually all 15 categories of products examined. Dr. Jetta said that households with kids accounted for 51 percent of heavy buyers, while those with no kids came in around 24 percent.
Shoppers are continuing to purchase organic and diet/low-calorie products. Dr. Jetta noted that 14 percent of respondents (up from 11 percent last year) said they try to buy organic drinks and snacks, with the largest groups being households with kids and consumers ages 18-34. While diet/low-cal product sales remained relatively consistent, the demographics changed dramatically. Last year these products skewed toward older consumers, with those 65 and older reaching 36 percent; this year it dropped to 24 percent. The difference was made up in ages 35-44 and 45-54, which grew 5 and 9 percentage points, respectively, year-over-year.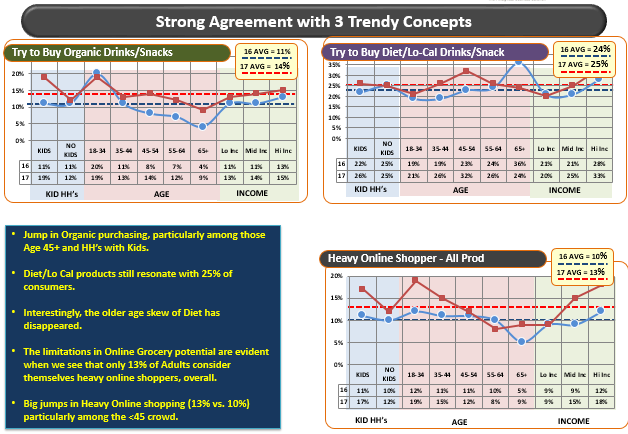 If you'd like to learn more about Dr. Jetta's insights on the food and beverages consumables market, you can listen to the webinar or download the white paper below.