When consumer packaged goods (CPG) brands make changes to their packaging, they want to improve perceptions about certain product features, such as taste, health or other trending characteristics. The goal of making these significant and visible changes is typically to enhance brand equity, not to increase sales. But at the same time, you need to be aware that there's a real possibility the new packaging will harm sales or cause the product to lose shelf presence.
TABS Analytics' sister company, Decision Insight (DI), has extensive packaging research experience. Read on to learn more about strategies for making packaging research work for your brand.
The Research Hierarchy & Methodology
We all know changing package design can be risky. There's a real potential that you could do more harm than good. When developing new packaging, it is important to test it on the shelf in the context of a full competitive set. One of the most effective ways to do that is virtual shopping.
Let's look at the methodology for testing new packaging. First there's the test hierarchy, shown here in order of importance:
Sales
Shelf presence
Brand perceptions
Aesthetic appeal
Once that's established, you'll need to follow this methodology:
Qualify category shoppers.
Introduce shoppers to the virtual aisle and ask them to shop as if the category were on their shopping list. Can the package deliver sales in a competitive context?
After shopping, ask the consumer which brands they recall seeing on the shelf.
Ask shoppers to rate the product and packaging to measure impact on brand perceptions.
Send them back to the aisle with a mission to find the client's product as quickly as possible, measuring the degree to which the product stands out on the shelf.
Ask shoppers to tell us what they like – and don't like – about the package from an aesthetic viewpoint.
The Reality - Key Findings from the DI Database
Following this methodology, DI has conducted dozens of package tests over the past three years. One in ten packaging changes had a statistically positive impact on a volumetric measure (incidence or units per buyer), yet nearly half had a statistically meaningful negative impact on sales. More than half of the tests had no impact on volumetrics, but roughly half of those did have a positive impact on the more qualitative measures, such as average time to find and shelf presence perceptions.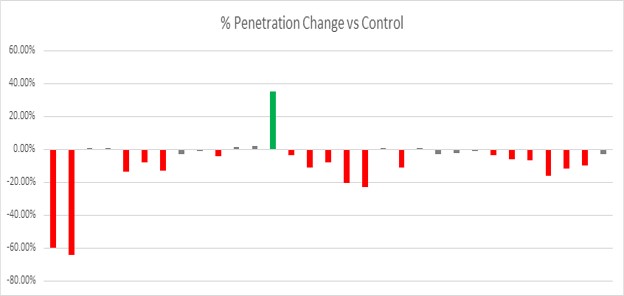 Source: Decision Insight Packaging Studies (2016 to 2018)
Let's look closer at the results of our packaging studies:
Of the new packages DI tested over the three-year period, only one showed a meaningful increase in penetration (sales increase) versus the current package among category shoppers.
On average, new packages achieve 8% less penetration, 5% less shelf impact (recall), and take 4% longer to find on the aisle compared to the current package among category shoppers. (Note: This average tosses out a couple of turkeys that were tested that tanked sales by over 50%):

41% decreased sales by 5% or more
28% had a positive qualitative impact, but not on sales
28% had no effect qualitatively or quantitatively

The average sales change across all tests: 3% decline.
DI's findings are directionally consistent with in-market results of package changes tracked by TABS: 25% of observed package changes (5 of 20) resulted in a decrease in sales of 10% or more, while only 5% (1 of 20) delivered an increase.
Why Virtual Shopping is Critical to Packaging Testing
The problem with most packaging research is that it ignores the fact that environment and competitive set impact what consumers buy. A package's shelf impact can be effectively tested by placing it on a virtual shelf surrounded with competitive products.
Virtual shopping testing provides some of the most important insights, including how the package impacts what shoppers buy. DI's Virtual Package Testing solution was specifically developed to include context within the store environment. Our solution looks at several key metrics, including:
Sales – Which packaging is most likely to persuade shoppers to choose your products? We measure sales impact for each packaging design based on virtual shopping, placing the current and test packages in the context of the store and shelf. The key output from shopping is an understanding of how each design impacts sales (volume/units sold, dollars) and penetration/purchase incidence (% of people buying).
Shelf Presence – Which packaging helps the line break through the shelf clutter and makes it easy to find your products? The #1 reason new packaging fails is because it loses shelf presence. A product that can't be found can't be purchased. We look at recall and findability exercises to assess how new packaging stacks up in terms of shelf presence.
Brand Equity – Which packaging most effectively communicates key benefits and maximizes product perceptions? New packaging must enhance brand perceptions. We include post-shopping ratings where respondents rate the products on key attributes to the brand and the intended communication.
Aesthetics – Which package do shoppers like best? We include an exercise to evaluate what they like, dislike, and find confusing about each design, to help improve the offer.
Changing a package design can be quite risky. It's clear from our research, that you need to be prepared to lose a small percentage of your sales since it's harder for the shopper to find your product on the shelf. To help minimize the risk and position new package designs for success, it is important to test them with shoppers, in the context of the store and shelf, before going to market.
The economics are clear: You can protect your business through optimized packaging execution with a relatively minor investment in packaging testing. DI packaging tests are quick – with turnarounds typically in four weeks – and cost effective, on average $12,000 per cell.
Is your brand – and your job – worth more than that?
To learn more about Decision Insight's packaging testing capabilities, please contact Leslie Downie.