When you need household care products - cleaning supplies, paper towels, garbage bags, dishwasher detergent, air fresheners and mops/brooms - you probably have them on your shopping list for Walmart, your neighborhood grocery store or maybe club stores, like Costco, if you want to seriously stock up. You may not automatically think about going to your local home improvement store for these products, but chances are you may have picked up one or more of them while you were buying paint to freshen up your living room, new fixtures for the kitchen, or a replacement toilet for your bathroom. Home improvement stores are significant competitors for retail sales of household products across 15 categories of products analyzed in the first TABS Analytics Household Care Study.
In a TABS survey conducted in September 2017 (period = 12 previous months), 35 percent of U.S. adults (age 18+) said they purchase household products three or more times from home improvement stores, making these retailers fourth out the 17 channels examined in the study. The only outlets ranking higher were Walmart (62 percent), traditional food stores (56 percent) and dollar stores (36 percent). In comparison, when combined, club stores (Sams, Costco and BJs) totaled around 44 percent.

The amount of household care product sales from home improvement stores is impressive, given that this is one of the most competitive market segments, with a wider array of outlets than any of the others (vitamins, personal care products, cosmetics, baby products, and food and beverage) that TABS analyzes.
Home improvement stores see the opportunity and are beginning to leverage these products to boost their sales. A Hardware Retailing magazine article published on January 30 called out the trend of home improvement/hardware stores expanding their product offerings to include more cleaning supplies.
"One niche within the housewares category that could offer opportunities for growth and allow you to establish a unique offering within your market is cleaning supplies," the article said. "While some hardware retailers may shy away from cleaning supplies because there is so much competition, other retailers have embraced the opportunity head-on and have found ways to turn it into a lucrative niche. Cleaning goods make for easy add-on sales, and can attract a wide audience of customers, from the DIYer to the industrial pro."
Hardware store retailers interviewed for the article noted that the cleaning category specifically "provides an opportunity to grab add-on sales, which make a difference in growing the average transaction size." One True Value store owner even noted that his stores "would be at a disadvantage, missing sales from DIYers and professionals who need cleaning products to finish project, if [the store] didn't carry a line of well known and unique items."
The TABS study corroborates this viewpoint. "Household care products are the classic definition of traffic drivers, with high penetration, high repeat purchases and, perhaps most importantly, high transaction sizes," said Dr. Kurt Jetta, TABS Analytics' CEO and founder. The household care sector "has 12 out of 15 categories in which shoppers purchase more than four products per buyer, which is high for the CPG market. By contrast, only three out of 16 personal care categories had a purchases-per-buyer rate higher than four."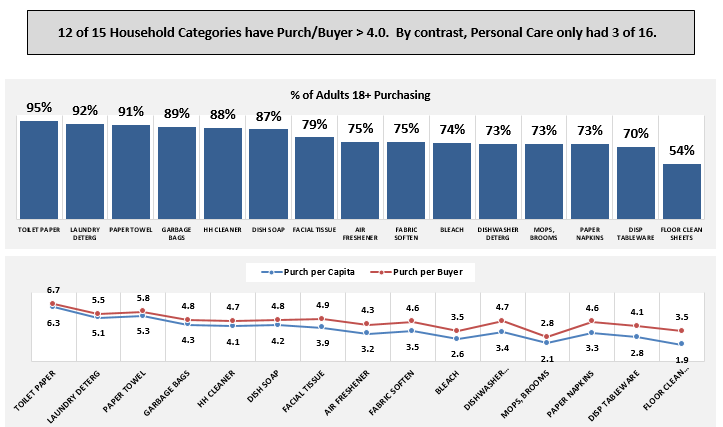 Dr. Jetta noted that "given this high rate of purchase, household care products are magnets that retailers should leverage to draw in customers, since these consumers shop often and spend a lot of money."
For more insights into the household care products markets – including insights on organics and eCommerce, listen to this TABS webinar or download the 2017 report below.
Source: TABS Analytics Household Care Study Survey; Sept 2017. 1,000 Adults 18+, 12 mos. usage.