YouTube, Facebook, beauty blogs and other social media channels are increasingly important to women when they are deciding which cosmetics to purchase, according to the 2017 Cosmetics Study survey released by TABS Analytics. The TABS study is seeing social media's impact on brands grow since the inception of the survey four years ago. Among all buyers, 39 percent said that social media is very important – up from 27 percent in 2014.
More significant, perhaps, was social media's influence on heavy buyers (those who purchase 10+ types of products per year). Now, 58 percent rely on social media, up from 42 percent just four years ago.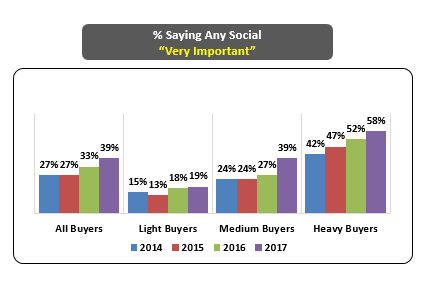 Of the social media channels, YouTube wins hands down. The video platform was cited as very important by 27 percent of all buyers, spiking up 7 percent year-over-year, while 58 percent of heavy buyers indicated YouTube as a preference, up from 52 percent in 2016. Facebook came in second, with 22 percent of all buyers and 44 percent of heavy buyers citing it as important. Beauty blogs, which ranked third, did not grow as dramatically year-over-year.
"While every platform has continued to grow, YouTube stands out as the social media platform of choice for cosmetics consumers," said Dr. Kurt Jetta, TABS Analytics' CEO and founder. "It's clear that consumers prefer to see these products and how they are used, rather than simply read about them. Beauty blogs can continue to remain relevant and grow by incorporating more videos and demonstrations."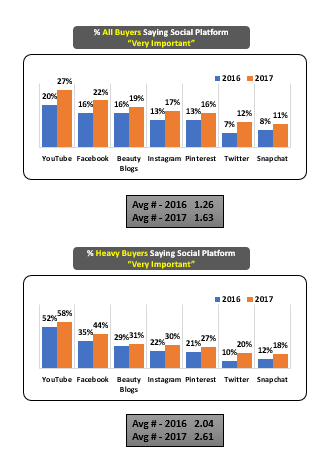 Information – not only from social media platforms, but from influential reviews and their own personal research – also played a significant role in purchasing decisions of the heaviest buyers.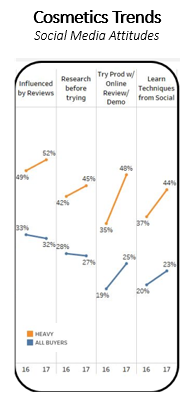 In fact, heavy buyers noted that the information they could get about products was more important than shopping where they could find the best deals. Information platforms are becoming more important in the decision hierarchy for Heavy Buyers, replacing "offering good deals" as the most important factor in influencing purchase decisions. Social media is becoming a critical component of how consumers gain information. Any brand, large or small, with high aspirations cannot ignore these platforms going forward.
For more details about the study results and to hear Dr. Jetta's insights into the color cosmetics market, you can listen to the webinar and download the cosmetics study white paper below.
Data Source: TABS Analytics Cosmetics Study Survey; Oct. 2017. 1,000 Women,18+