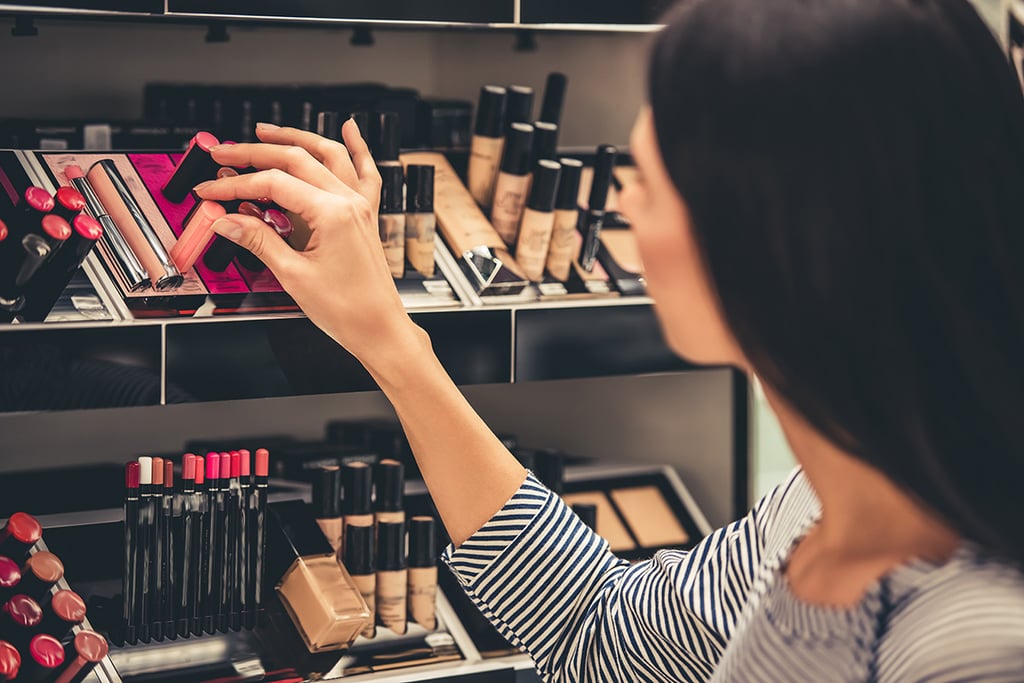 TABS Analytics conducted its second annual U.S. Cosmetics Study in November 2015 to analyze key trends and drivers for the $13 billion cosmetics market (market size excludes skin care and hair care products).
Within the general market – Food, Drug, Mass, Club and Dollar stores (FDMCD) – there were modest gains in penetration (households buying at least one time per year) and regular purchases (households buying at least twice a year), with Target being the primary recipient. Target's penetration increased 11 percent over 2014, and "purchased regularly" frequency increased by 23 percent.
Although mass retailers such as Walmart and Target remain the most popular outlets for cosmetic buyers overall (59 percent penetration), the survey found that the fastest-growing cosmetics retail channel is specialty beauty outlets, which showed an 8 percent increase in penetration to 41 percent and a 19 percent increase in regular buyer purchases to 25 percent compared with 2014.
Cosmetics Sales Shifting to Specialty Channel
Specifically, Ulta had a 41 percent increase in buyer penetration and regular buyer purchases compared with 2014. Ulta excels in having both mainstream and specialty brands in its stores. Sephora also saw sharp gains, with a 25 percent increase in buyer penetration and a 32 percent increase in regular buyer purchases over 2014.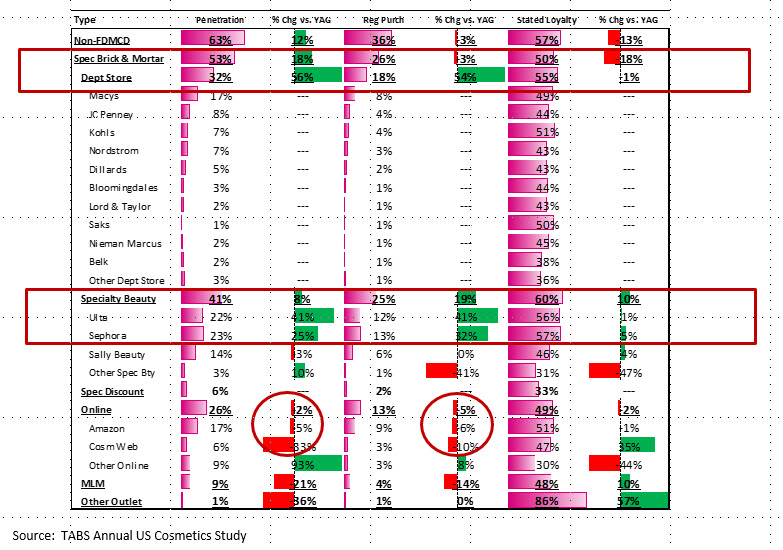 Unlike category leaders Ulta and Sephora, Sally Beauty had a 3 percent drop in penetration and remained flat in regular buyer purchases compared with 2014.
Directionally, the TABS 2015 study found that there is also strong growth in the department store channel. TABS estimates department stores had a 32 percent penetration rate along with an 18 percent rate of regular purchases. However, since this was the first year that department store banners were broken out on the survey, the overall changes vs. 2014 are higher since more people are identifying with banners. We expect this statistic to normalize in the 2016 survey.
Online Losing Share
Online sales lost penetration share compared with 2014. Regular purchases for the entire online channel decreased by 5 percent to 13 percent, and penetration decreased by 2 percent to 26 percent. Amazon had a drop of 5 percent for buyer penetration and a 6 percent decrease in regular purchases. Cosmetics specialty websites had a sharp 33 percent drop in penetration and a 10 percent drop in regular purchases. Online sales are estimated at 8.3 percent of all transactions and approximately 10 percent of total dollars spent on cosmetics. This is the third consecutive TABS study in which online sales of consumer packaged goods have been flat or actually decreased from the previous year (TABS 2015 Vitamin and Sports Nutrition Study, TABS 2015 Consumer Value Study – Consumables).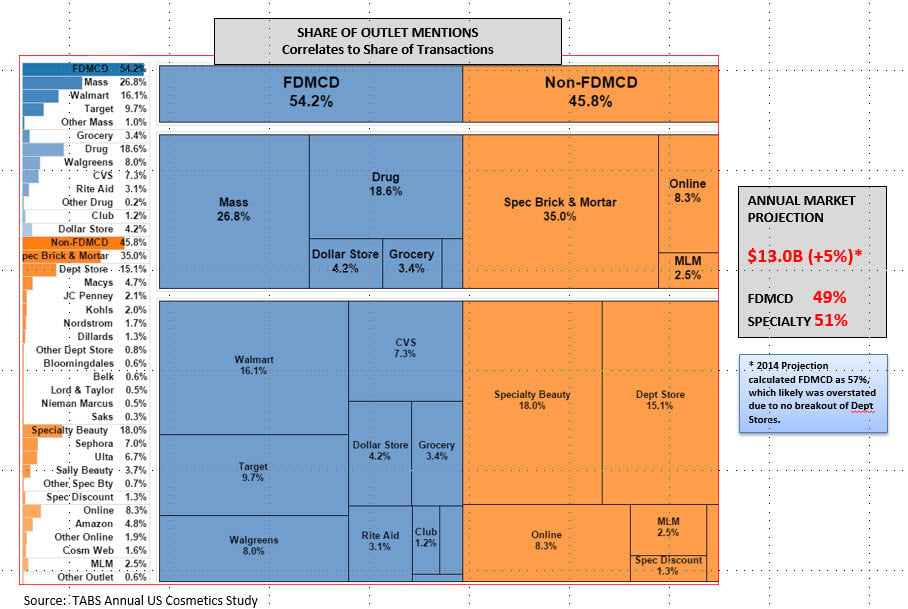 Category sales are estimated at $13 billion, up 5 percent from 2014. Although the specialty channel share (estimated based on outlet mentions) is about 46 percent, the channel accounts for 51 percent of category sales due to higher pricing and transaction sizes, in part driven by the success of specialty beauty outlet stores (Ulta, Sephora). Overall, the category remains fragmented, with significant retailer competition and consumers choosing between chains and outlets and buying many different brands. The shift among consumers from general market toward specialty is notable and important, as it will likely continue.
Please click on the banner below to get your copy of the full report 2015 cosmetics study.