In June 2018, TABS Analytics conducted a comprehensive survey to figure out shopping patterns and opinions within the wine and liquor ("BevAlc") categories. Specifically, TABS sought to uncover 2018 wine trends and liquor trends that would be helpful to manufacturers, distributors and retailers in the BevAlc industry.
For the 2018 BevAlc study, we looked at consumer purchasing trends in the wine industry and liquor categories, including:
Purchasing Insights on wine and liquor types
Preferred purchase locations
Consumer attitudes on wine, liquor, and even cannabis
In addition, we've partnered with Nielsen to bring you BevAlc (Beer, Wine & Spirits) category data that you can analyze with the QuickTABS Connect™ platform. This is invaluable for BevAlc professionals in sales, marketing and general management positions.
So, for a brief overview of the state of the wine and liquor market, just read on.
The Experts in Consumer Analytics®
Founded by Dr. Kurt Jetta in 1998, TABS Analytics is a technology-enabled analytics firm aimed at simplifying and improving the way analytics for consumer products are conducted.
We do this through analytical innovation, which gives our clients a strong, competitive advantage.
TABS is a leading outsourced sales and marketing analytics firm in the consumer-packaged goods (CPG) industry.
Taking It Step-by-Step for Trend Accuracy
We delved deep into the wine and liquor categories, gathering data from over 1900 adults surveyed - ages 21 and over - to understand their purchasing behaviors.
Below is a recording of the June 2018 webinar where we presented the findings in detail:
Here's an overview of the types of wine and liquor we asked consumers about:
A Bottle of Red or White?
What's Your Tipple?
A Little Something More?
And we even included cannabis, to see if attitudes on legalization would affect sales of wine or liquor.
What We Found Was Surprising
Our research was performed across regions and demographics, making it a comprehensive look at how adults in the United States purchase and consume wine and alcohol.
While we found some things we expected, like a purchasing peak for alcohol of between ages 30 to 39, our survey also uncovered some surprising data.
Let's briefly review our most critical findings.
1. Good News! A Majority of Adults Enjoy — and Purchase — Wine or Liquor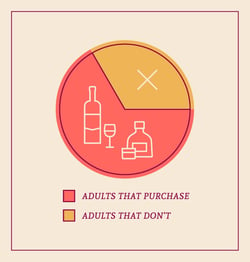 In fact, a full two-thirds of adults ages 21 and older report purchasing alcohol products, with both men and
women purchasing wine at an equal rate.
An important note for liquor sellers and manufacturers is the fact that men purchase more liquor than women and, while liquor consumption declines with age, wine continues to be enjoyed at a steady rate. Purchases for both types of beverages peak at ages 30 to 39.
2. The Strongest Factor in Purchase Levels — Income, Not Education or Ethnicity
While many people associate education level with alcohol purchasing, it may actually be income level (bolstered by education) that is most predictive.
As you can see from the chart, nearly 70 percent of adults making over $250,000 are wine purchasers, and 42 percent of them also purchase liquor.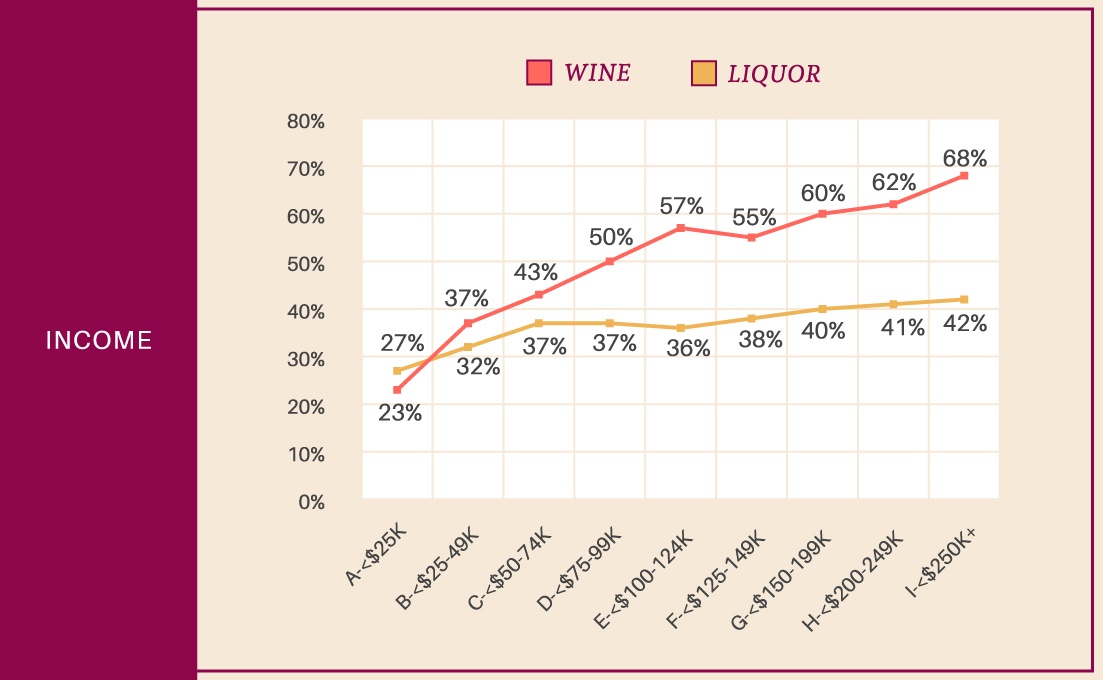 Source: TABS Analytics Wine & Liquor Survey, May-June 2018
Following this trajectory, you can see the percentage of wine purchasers increase steadily from 55 percent of those with income of $125,000- $149,000 to 68 percent of those with income of $250,000 or more.
Liquor's climb is less dramatic, but still indicative of a connection between income level and purchasing tendency, growing from 38 percent to 42 percent.
Liquor Is More Static Across Demographics
While those with higher education – college graduates and those with post-graduate degrees – clearly purchase more often than their less-educated peers, this may, in fact, be due to a higher income level determined by advanced education.

Source: TABS Analytics Wine & Liquor Survey, May-June 2018
Ethnicity is less of a predictor, with purchasing habits more evenly spread across ethnicities.
As the data reveals, however, non-Hispanic whites tend to purchase more wine than other ethnicities, while non-Hispanic blacks and Asians indicate they purchase liquor at greater levels.
3. Surprising Statistics About BevAlc Popularity by Region
Conventional wisdom might make you think that the wine regions of California, Oregon, and Washington state would have the highest wine purchase penetration levels in the country (e.g. buy at least once during the year.)
But, you'd be wrong.
Our research shows that the Northeast had the highest level of wine purchase penetration, topping out at 53 percent, as the figure below indicates.

Source: TABS Analytics Wine & Liquor Survey, May-June 2018
Surprisingly, This Trend Is Corroborated by Our Earlier Data
The areas of the Northeast tend to have a greater concentration of highly-educated, higher income households, while the West Coast presents a population with more educational and economic diversity.
Liquor purchasing, seen in the orange line of the top chart, is nearly flat at 35 percent across all regions.

Source: TABS Analytics Wine & Liquor Survey, May-June 2018
When liquor purchasing data was broken down into census regions, though, you can see that the mid-South trends higher than other regions.
While there are a number of whiskey and bourbon distilleries in the area that could drive purchasing, our data showed that above-average sales of all types of liquor is the reason for the upswing.
4. Top States for Wine and Liquor Purchasing — New Jersey for the Win!
For even more detail about alcoholic beverage industry trends, we calculated numbers across the nation to come up with the top 13 states for wine and liquor purchasing.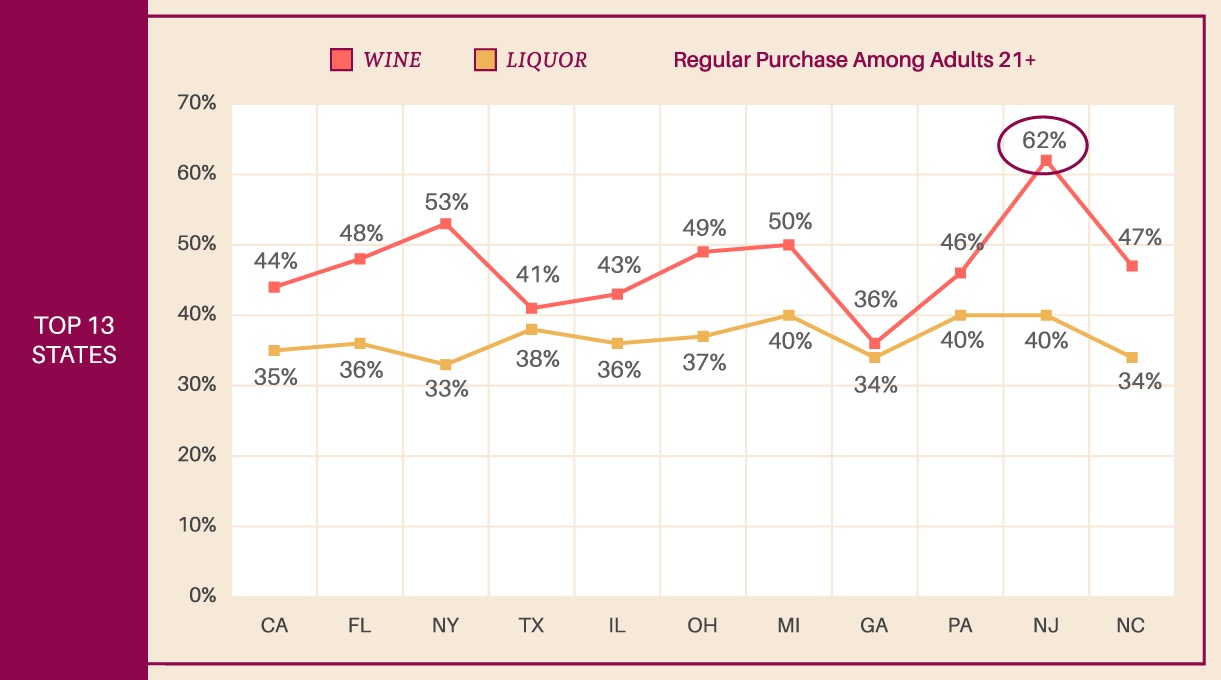 Source: TABS Analytics Wine & Liquor Survey, May-June 2018
New Jersey tops the wine and liquor purchasing penetration charts at 62 percent and 40 percent, respectively.
New York is a close second in wine purchasing penetration at 53 percent, while Michigan and Pennsylvania are neck-and-neck with New Jersey for liquor purchases at 40 percent each.
5. Purchasing Is Highly Divided Across Types of Wine and Liquor
There's more than just one kind of wine and liquor, so we included 12 wine varieties and 9 liquor varieties in our survey.
The results create a picture of a highly fragmented purchasing pattern, with at least 10 types of wine supporting 20 percent or higher of the stated purchasing. This is important news for companies marketing to BevAlc consumers.
Choices, Choices, Everywhere
Wine offers consumers thousands of choices and variations making this the type of fragmentation seen in our charts unsurprising.
However, Merlot still took the lead by a significant percentage, followed by Chardonnay and Cabernet.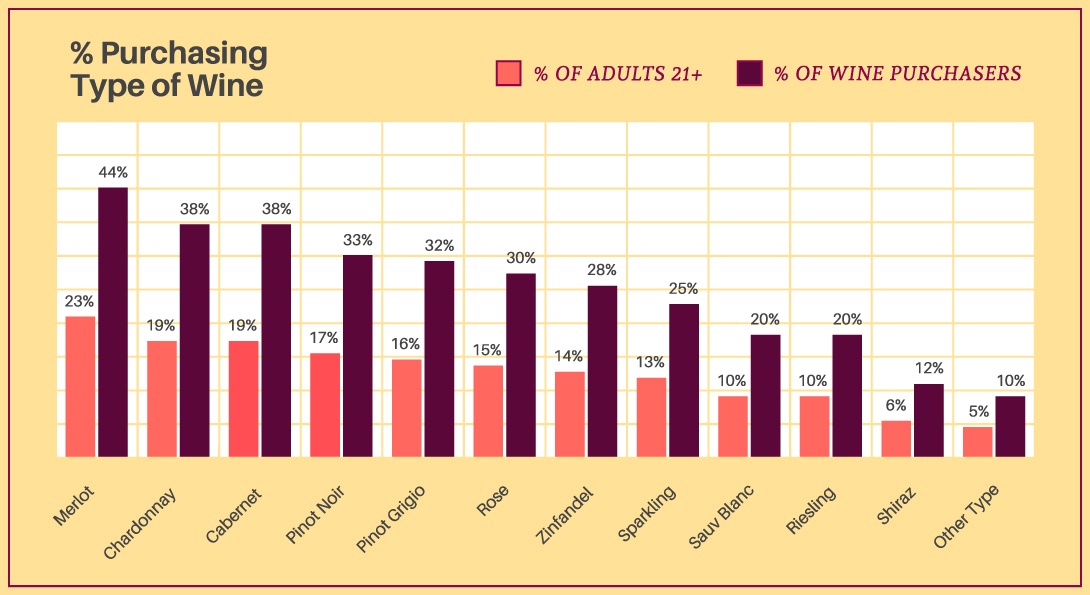 Source: TABS Analytics Wine & Liquor Survey, May-June 2018
Vodka — A Clear Winner
Liquor purchasing numbers were more defined across type categories, with vodka taking the lead at 61 percent.
Whiskey was another clear favorite at 45 percent, with rum and tequila still showing substantial purchasing trends at 36 and 35 percent, respectively.
Other liquor types are niche products with sharply targeted audiences, so their numbers reflected this.

Source: TABS Analytics Wine & Liquor Survey, May-June 2018
Trends Control Liquor's Popularity
As a note, we'd expect to see this chart fluctuate widely over time, as the popularity of liquor is closely tied to current drink-mixing fads and trends.
6. Will Alcohol Sales Go to Pot?
Cannabis is now legal, or becoming legalized, in many states across the nation. In fact, it's currently legal in nine states, and decriminalized in another 13.
With legalization and decriminalization comes greater access, and TABS wondered if cannabis could in any way impact the sale of wine and liquors.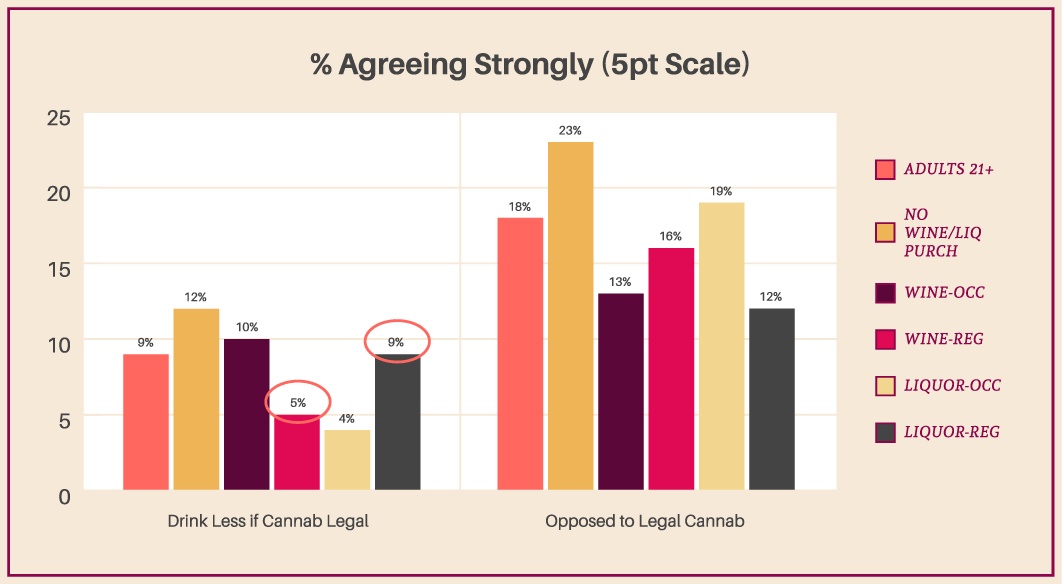 Source: TABS Analytics Wine & Liquor Survey, May-June 2018
Our Survey Says - No
With only 5 percent of regular wine purchasers and 9 percent of regular liquor purchasers strongly agreeing that they'd cut back on their alcohol purchases in favor of cannabis, we feel it's safe to say that cannabis use is a non-issue for purveyors of wine and liquor.
7. Brand Power Distilled in Purchasing Decisions
We leave no stone unturned — or survey unconducted — when it comes to finding out how consumers react to promotional deals and incentives in the marketplace.
Trends in Consumer Products Versus Trends in BevAlc
When we conducted surveys on other consumer product categories like vitamins and baby products, we found that consumers are prone to look for deals and incentives when considering a purchase of these items.
In fact, 40 percent or more of the TABS 2018 baby survey participants agreed that they would purchase a specific brand from a specific retailer in response to a deal.
Surprisingly, this pattern does not hold true for the alcoholic beverage industry, as you can see from the following chart.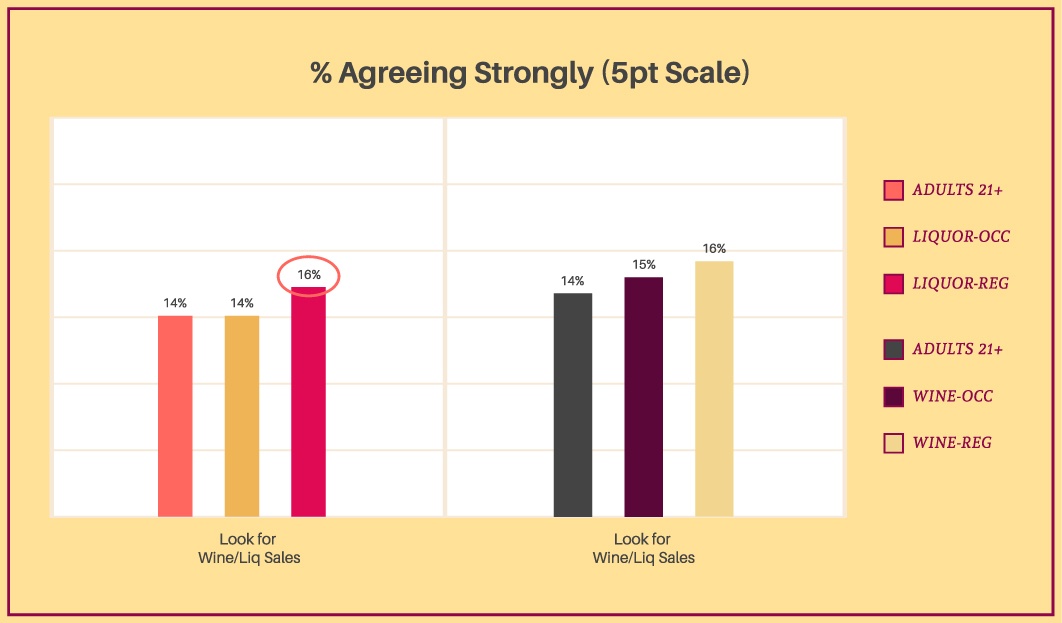 Source: TABS Analytics Wine & Liquor Survey, May-June 2018
Top box scores show that only 16% of regular wine and liquor buyers look for deals when shopping, less than half of the rate of baby category shoppers noted above.
Brand Awareness Is Weak
Less than 20 percent of regular wine purchasers say they are familiar with wine brands, and fewer – 16 percent – say they look for deals when purchasing wine.
Brand awareness is a bit stronger – 27 percent – for liquor among regular purchasers, but, as with wine, only 16 percent respond to deals when making a purchase.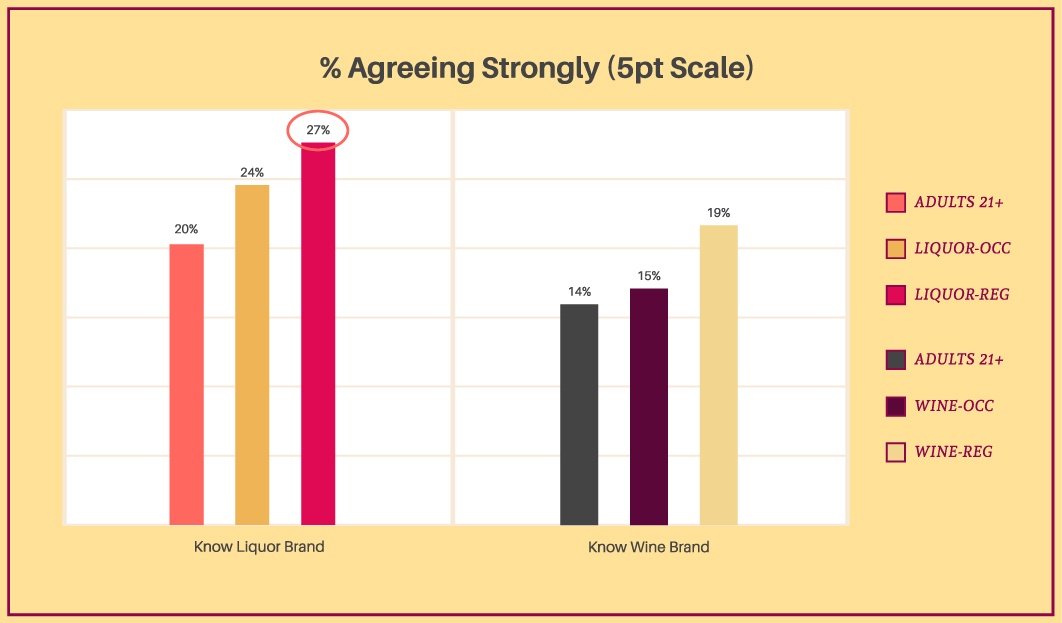 Source: TABS Analytics Wine & Liquor Survey, May-June 2018
This lack of brand power causes fragmentation among plentiful competitors, as show previously, and consumer behavior trends toward making spur-of-the-moment point-of-purchase sales of alcoholic packaged goods.
8. ECommerce Market Watered-Down — Walmart and Specialty Lead
While eCommerce may be a burgeoning market for some products, for both wine and liquor, benefits remain insignificant.
This may be largely due to the impact of state and federal regulations on the sale of alcoholic beverages.
For wine, the primary choice of outlet for purchasing is Walmart, with Costco and other specialty stores coming in second and third.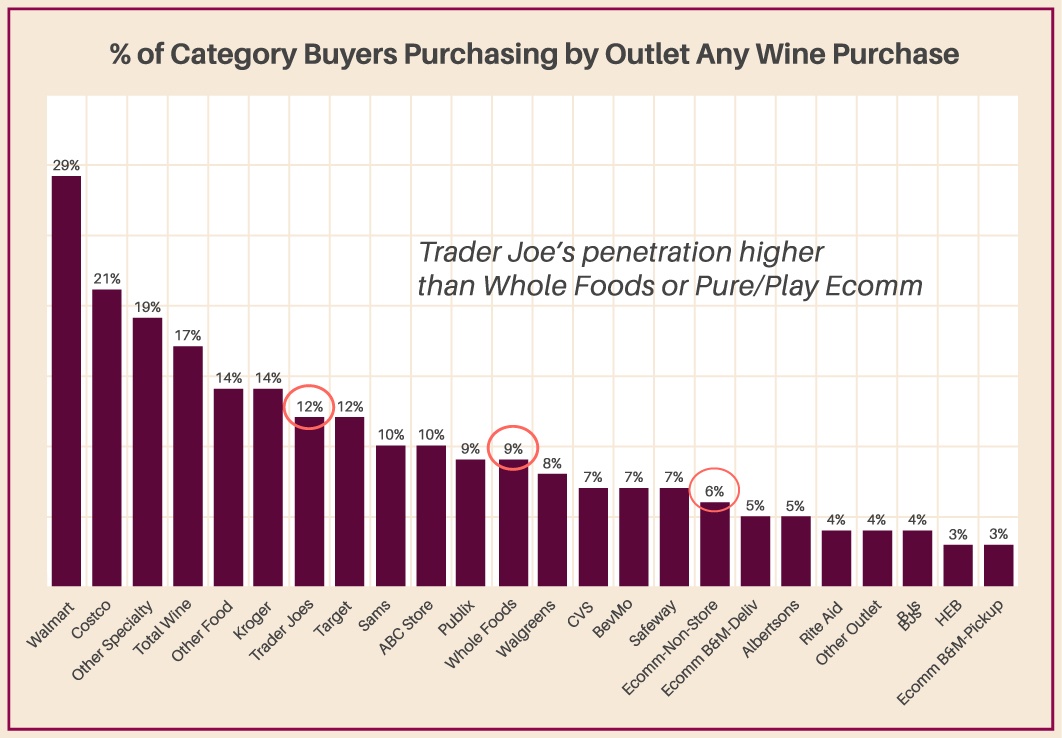 Source: TABS Analytics Wine & Liquor Survey, May-June 2018
For liquor, specialty retailers, like mom-and-pop wine stores, corner liquor stores, and ABC stores in the South, are getting up to one-quarter of the buyers purchasing, with Walmart making a strong showing in second place.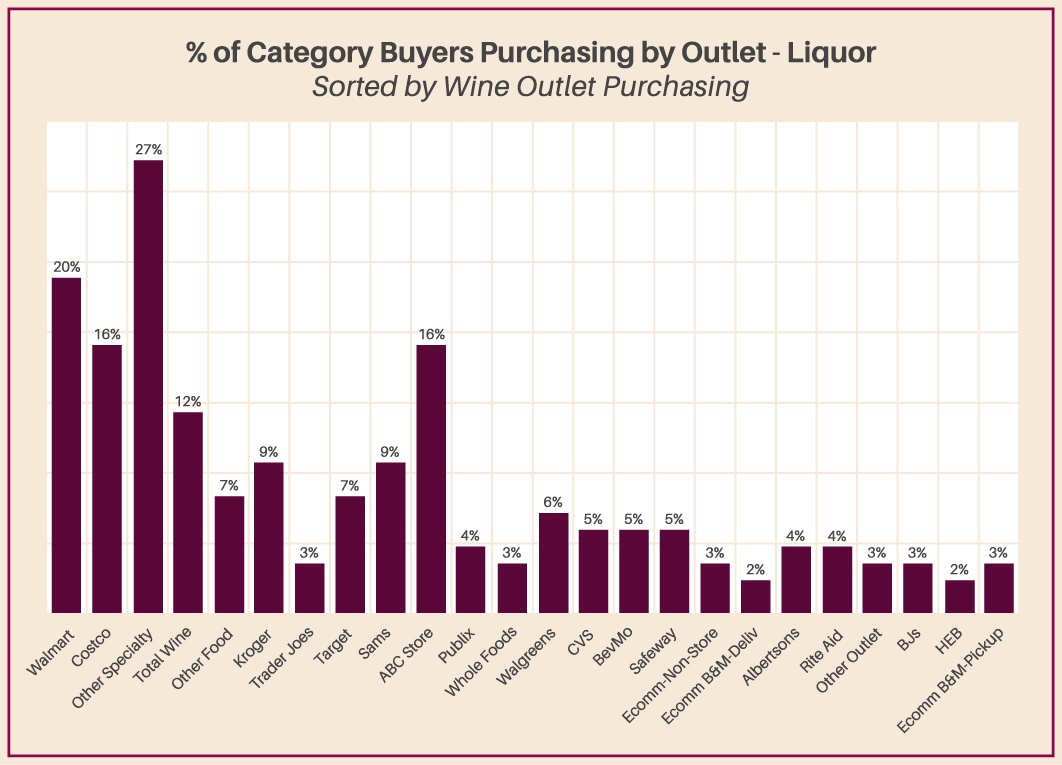 Source: TABS Analytics Wine & Liquor Survey, May-June 2018
Distilling the Data — The High Points of Our Survey
Our first survey of this fluid sector gives a successful snapshot of purchasing activities for both the wine industry and liquor industry.
In a nutshell, results included the following data points:
Our survey of wine and liquor purchasing patterns showed that wine buyers are aged 30 and older, affluent, well-educated, white and from the Northeastern U.S.
Liquor drinkers are younger and slightly more affluent. They typically hail from the mid-South and represent a mix of ethnicities.
While the wine market is fragmented, with 10 types of wine purchased by at least 20 percent of category buyers at any given time, the liquor market is more concentrated, with vodka as the leader.
Regional purchasing was an unexpected surprise, with most wine purchasing occurring in the Northeast, away from typical wine-producing regions of the U.S.
Additionally, whiskey did not drive mid-South liquor purchasing, but rather it was the above average sales of all types of liquor.
Alcohol distribution regulations create more fragmentation and make eCommerce a diluted market for wine and liquor purchasing. Regulatory structure also impacts the market and customer attitude toward the product.
Outlets like Walmart and Costco top buyers' lists, while specialty retailers compete for the rest of the market. Brick-and-mortar sales tactics are critical (do you mean as compared to online purchases? Usually we say "brick and mortar" sales vs. eComm when comparing the two types of outlets), as customer behaviors pivot quickly in step with trends.
Finally, cannabis, another product under strict regulation, will not have an impact on the wine and liquor market in the foreseeable future.
Strategizing Your Future in Beer, Wine & Spirits
Our proprietary research and custom analytics platform, QuickTABS Connect™, will provide you with a competitive advantage by delivering data-driven, practical insights that you can use immediately.
Learn more about our partnership with Nielsen to provide beer, wine and spirits data, plus our QuickTABS Connect analytics platform, in the video above.
We offer a free 30-day trial with no obligation so you can try before you buy.
Sources:
http://webinars.tabsanalytics.com/video/276100160
https://www.tabsanalytics.com/pivotstream/bevalc
https://news.gallup.com/poll/184358/drinking-highest-among-educated-upper-income-americans.aspx
https://en.wikipedia.org/wiki/Legality_of_cannabis_by_U.S._jurisdiction