Early Results of TABS Analytics 5th Annual Food and Beverage Survey Show
Differences between Online and Brick and Mortar Shoppers at Retailers including Target and Walmart
Shelton, CT – August 17, 2017 – TABS Analytics today shared early results from its forthcoming Annual Food and Beverage Consumables Study that showed that some of the strongest support for President Donald Trump comes from online shoppers. Target.com and Walmart.com shoppers, in particular, were more favorable of the President than those who shop at other grocery outlets, including the brick and mortar stores of those retailers.
"Donald Trump has shown an affinity for playing to his base, so, given the support he has from online shoppers, he may want to back off his push on the internet tax issue," said Dr. Kurt Jetta, CEO and founder of TABS Analytics. "The people that use Amazon and other online platforms for groceries are much more favorable to Trump than the national average."
The exhibit attached shows the favorability of President Trump by grocery shoppers at each retailer in TABS Analytics' recent survey of more than 1,000 consumers who visit an outlet 6+ times annually.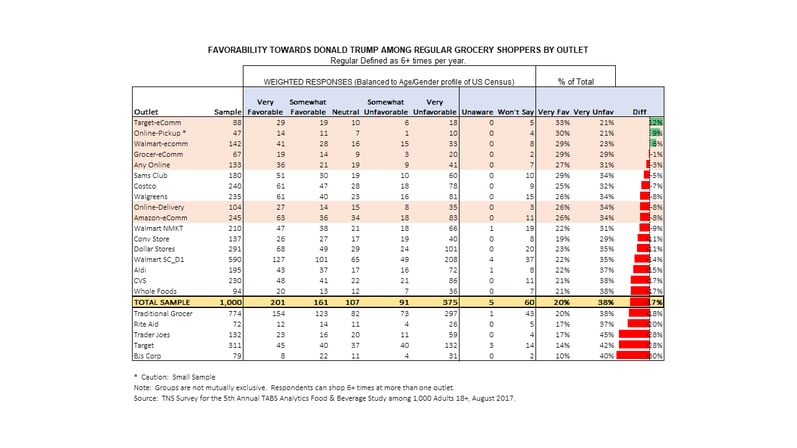 The full 5th Annual Food and Beverage Consumables Study will be issued on September 13, 2017, accompanied by a webinar discussing the results. Register for the webinar here.
About TABS Analytics
Operating since 1998, TABS Analytics, based in Shelton, Conn., is a technology-enabled analytics firm. Its mission is to simplify and improve the way analytics are conducted in the consumer products industry. TABS offers cloud-based software analytics and applications solutions, including TABS Insight® and TABS Total Insights™, for CPG manufacturers that integrate, harmonize, and analyze sales and marketing data. Additional services include TABS CatMan Advantage™, an outsourced category management solution, TABS WorldView™, a global business intelligence tool, and TABS Promo Insight™, a cloud-based software and consulting service that helps companies measure, plan and optimize trade spending. For more information, please call 203-446-8837, email robertbaldwin (at) tabsanalytics (dot) com or visit www.tabsanalytics.com