TABS Analytics has added a new study – household products – to its arsenal of consumer packaged goods sector analyses. Conducted in September, the first-ever household care study examined trends, demographics, deal preferences and shopping patterns related to 15 categories in the $75 billion household goods sector: toilet paper, laundry detergent, paper towels, garbage bags, household cleaner, dish soap, facial tissue, air fresheners, fabric softeners, bleach, dishwasher detergent, mops/brooms, paper napkins, disposable tableware and floor-cleaning sheets.
"Household products are a bellwether sector for the macro dynamics in the CPG industry," TABS CEO Dr. Kurt Jetta said during a webinar announcing the survey results. "These products are the classic definition of traffic drivers, with high penetration, high repeat purchases and, perhaps most importantly, high transaction sizes. The survey gave us a lot of great initial insights in terms of the size and magnitude of the category, and a baseline from which to identify trends in the years to come."
Household products are the most frequently purchased CPG items, with 12 out of the 15 categories reaching a purchase per buyer of greater than 4.0. This is extremely high; consider that in the personal care sector, only three out of 16 products reached the same level.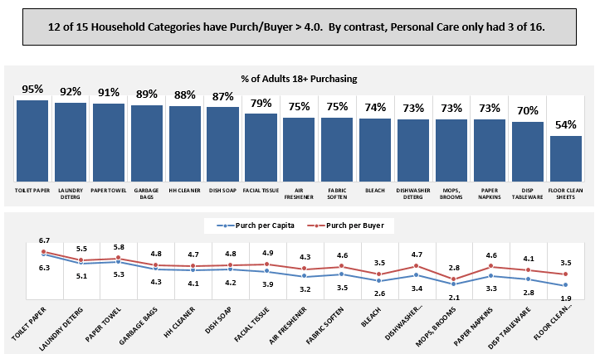 As expected, some of the heaviest buyers of household products included large households (comprised of 5 or more members) and households with kids. Looking at other demographics, black and Hispanics tended to be heavier buyers compared with other races, and there was a very small gender gap, with 34 percent of women being heavy buyers and 28 percent of men. All told, 31 percent of survey respondents accounted for more than 60 percent of all transactions.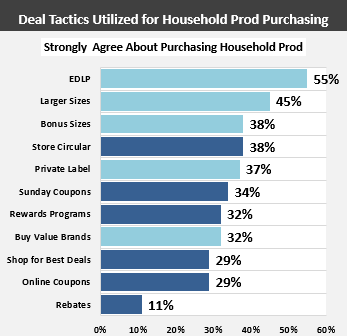 Buyers of household products also appreciate a good deal; 91 percent of consumers use at least one deal tactic, with 65 percent saying they use three or more. Household product shoppers tend to be more oriented toward passive tactics, with every day low price (EDLP), larger sizes and bonus sizes being preferred more than in other sectors.
For household products, there is probably more channel competition than any other sector. Walmart reigns supreme, with 16.4 percent share of mentions and 62 percent of adults purchasing household products there at least three times annually. Dollar stores and club retailers each account for nearly 10 percent of household product transactions. And unlike other sectors, home improvement retailers are also a big channel, accounting for just over 9 percent of sales.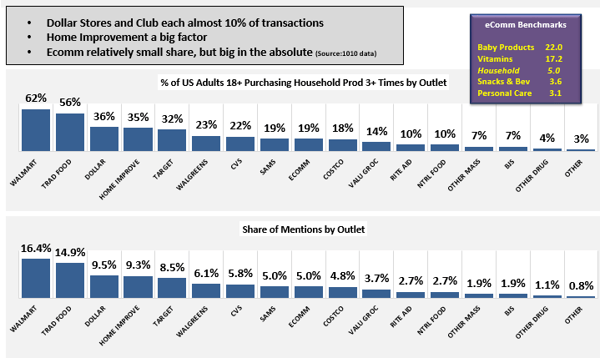 Ecommerce is less of a factor in household good purchases, with only a 5 share. This makes sense, when you look at the factors that drive greater online sales – high transaction size and less frequency – which is more common in baby products (22 share) and vitamins (17.2 share). On the high end, eCommerce accounts for only about $4 billion of household product sales and is dominated by the big three: Amazon, Walmart.com and Target.com.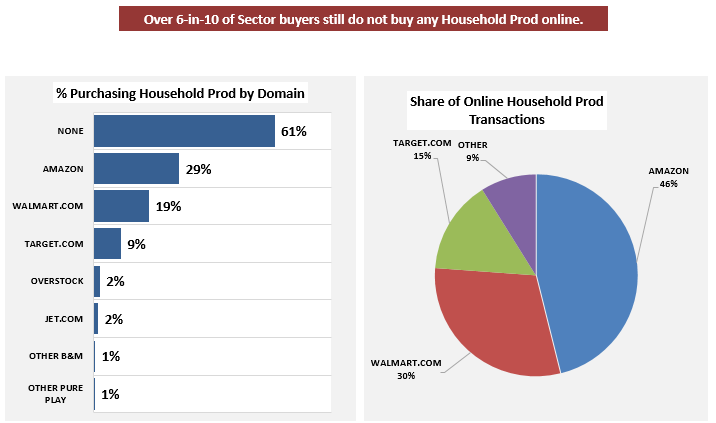 For more details about the study results and to hear Dr. Jetta's insights into the household products market, you can listen to the webinar and download the white paper below.
Data Source: TABS Analytics Household Care Study Survey; Sept 2017. 1,000 Adults 18+