As we enter 2020, let's take a look at how some key grocery retailers have performed in 2019 through their first three fiscal quarters. I want to share my thoughts on what I think has worked – and hasn't worked – for several prominent players. Below are sales and profit results from the top 4 grocery chains in the US plus Walmart Global for comparison (60% of their sales are grocery/consumables) for 2018 and the first three quarters of 2019.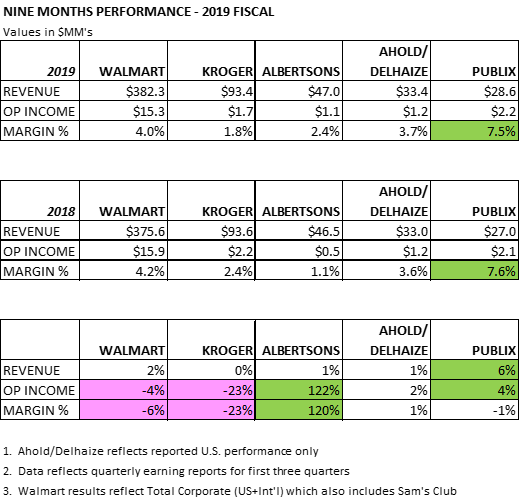 Given these results, here are some thoughts on the state of major grocery retail:
Publix destroys everyone in terms of sales and profit growth and overall profitability. Its operating margins (7.5%) are 2-4x the pure grocers and well above Walmart's 4.0%.
Publix is the only one to show meaningful growth of +6%. As much as Wall Street has gone nuts over Walmart's impressive 40%+ gains in eComm, its topline growth is still a modest +2%.
Walmart's +2%, however, is better than the others, which were flat or just up slightly (+1%).
What a disaster for Kroger! Their operating margins are now below Albertson's. Kroger had always been fairly low profit (around 3.0% operating margins), but they have fallen below that and Wall Street has taken notice.
What's really curious about Kroger is that they are so dominant in so many of their markets, particularly the Midwest. Also, I never hear commentary about them being poorly run. There are two major weaknesses in their structure, it appears: 1) they are spread out across the country, so they are likely paying higher logistics costs than regional chains, and 2) their well-documented investments in eCommerce have been a major financial drain.
Also, we shouldn't put too much credence in Albertson's dramatic improvements in operating margins. After all, their income went up more than their revenue.
Common denominator for all but Publix: they have all dumped big bucks and applied managerial focus behind online grocery, and all evidence points to these efforts being a major profit drain. Here's some empirical evidence to support our prior articles about eComm not making any money. The two retailers with the largest eComm investments are the ones that got hit the most profit-wise.
Kroger and Albertson's loyalty marketing programs don't appear to be faring well, as topline growth rates came in at 0-1%, despite their highly targeted frequent shopper program. The whole point of the rewards programs is to make heavy shoppers buy more, and they clearly have not. It's not clear whether the shortfall is in the analytics or the execution. My guess is in execution, as TABS has tracked a general decline in offer values from these two retailers over the last several years.
What makes Publix so great? Here's a few things, but it isn't comprehensive:
BOGO Promotions. Not only does Publix do them frequently, but they are a pillar of their marketing campaign.
Stores just the right size. They aren't too big to dissuade older shoppers, but they aren't too small that they can't have a broad, compelling assortment. They are juuuuuussssst right.
Strong alcohol assortment. Publix allocates a considerable amount of space to beer and wine, and those categories, traditionally, have been the strongest and highest growth for retailers that can have them.
Great customer service. People in the Southeast LOVE Publix (iheartpublix.com). The employees are usually very helpful and knowledgeable, the bakery and delis avoid long lines and their checkouts are fairly quick.
TABS' research has found that Publix outperforms other grocers on perceptions of the perimeter section, particularly bakery.
Focus on Brick & Mortar. Publix doesn't obsess over eComm, and the results show that they don't need the +40% juice in that sector to post strong same-store-sales results.