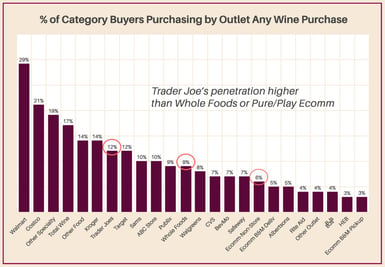 In June 2018, TABS Analytics conducted a comprehensive survey to figure out shopping patterns and opinions within the wine and liquor ("BevAlc") categories. Specifically, TABS sought to uncover 2018 wine trends and liquor trends that would be helpful to manufacturers, distributors and retailers in the BevAlc industry.
For the 2018 BevAlc study, we looked at consumer purchasing trends in the wine industry and liquor categories, including:
Purchasing Insights on wine and liquor types
Preferred purchase locations
Consumer attitudes on wine, liquor, and even cannabis
In addition, we've partnered with Nielsen to bring you BevAlc (Beer, Wine & Spirits) category data that you can analyze with the QuickTABS Connect™ platform. This is invaluable for BevAlc professionals in sales, marketing and general management positions.
So, for a brief overview of the state of the wine and liquor market, just read on.
The Experts in Consumer Analytics®
Founded by Dr. Kurt Jetta in 1998, TABS Analytics is a technology-enabled analytics firm aimed at simplifying and improving the way analytics for consumer products are conducted.
We do this through analytical innovation, which gives our clients a strong, competitive advantage.
TABS is a leading outsourced sales and marketing analytics firm in the consumer-packaged goods (CPG) industry.