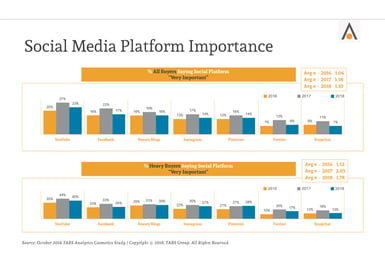 In November of 2018, TABS Analytics conducted the fifth annual survey of purchase trends affecting the U.S. cosmetics market.
TABS, founded by Dr. Kurt Jetta in 1998, is a leader in consumer-packaged goods (CPG) industry for outsourced sales and marketing analytics.
We provide sales and marketing professionals with detailed CPG analytics to give them a competitive advantage when determining their sales, marketing and business strategies.
TABS Takes on the Cosmetic Market
As we have done for the past five years, we applied our survey analytics methodology to the cosmetics market in the U.S.to measure all-outlet trends across a broad spectrum of color cosmetics segments.
Our analysis focuses on information related to consumers who make regular purchases of cosmetics. To this end, we survey 1,000 women ages 18 to 75 at the same time each year to avoid seasonality conflicts.
One of the goals of our annual survey is to provide a cosmetic market analysis report that will help businesses develop a more targeted marketing strategy for cosmetic products.
Our assessment of the cosmetics market for 2018 included the following touch points:
What types of cosmetics products consumers are buying
Which outlets consumers are choosing for regular purchases
What factors influence cosmetic purchase decision
How behavior has changed from year to year
For an overview of the highlights of our cosmetic market analysis with insights from Dr. Jetta, read on.