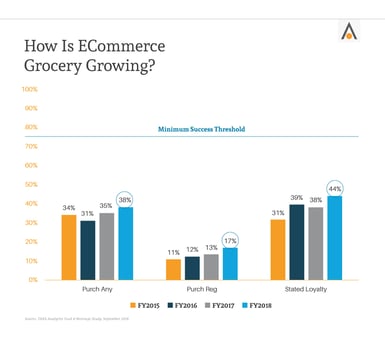 In August 2018, TABS Analytics rounded up comprehensive data to delve into specific food and beverage industry trends as they relate to consumables.
This information outlines shopping patterns and trends, including online grocery trends, snack food trends, organic food trends and other highly detailed statistics specific to the food and beverage industry.
The Experts in Consumer Analytics®
Since 1998, marketers in the food and beverage industry have relied on the detailed analytics of TABS research, founded by Dr. Kurt Jetta in 1998, to track consumer shopping habits and trends.
Our technology-enabled analytics firm aims to simplify and improve the way analytics for consumer products are conducted through innovation to provide our clients with a strong, competitive advantage.
And our techniques get results — TABS is a leading outsourced sales and marketing analytics firm in the consumer-packaged goods (CPG) industry.
As we do each year, we recently took our innovative analytics techniques and applied them to our survey on 2018 food and beverage industry trends, including:
Food & Beverage category purchase frequency
General Food & Beverage category trends
Demographic profiles and deal preferences
Outlet shopping patterns, with a focus on emerging channels and eCommerce
Consumer attitudes towards "on-trend" concepts
Additional content on candy trends
For a brief overview of the state of the food and beverage industry trends for 2018, however, just read on.