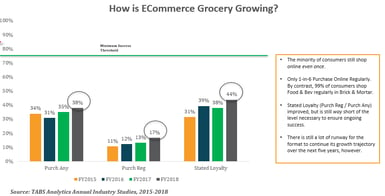 Chances are that when it comes to eCommerce, one of the biggest trends you may be hearing about is the rise of online grocery. Some of the biggest names in grocery retailing are adopting online services, and many others in consumer-packaged goods (CPG) are considering branching their operations into this area of eComm. However, much of the data that TABS Analytics has collected suggests that online grocery not only doesn't have the explosive future potential that some may believe, it is also inherently economically flawed. Yes, some retailers may be making money off of it now, but for the vast majority of them, online grocery will never work.
With so much buzz - and misinformation - about the world of online grocery, it is a prime subject to which TABS can apply its analytical approach and weigh in on the matter, as we did in our April 2019 webinar, Online Grocery, Are We There Yet?. As an industry leader in outsourced CPG analytics and consulting, our goal is to give our clients and the industry at-large analyses to drive fact-based, effective decisions.
Read on to learn about our findings in online grocery.