While everyone is focusing on pure play online giant Amazon, what they are likely missing is how brick and mortar retailers are driving eCommerce sales growth. And, nowhere is this more apparent than in the vitamins, minerals and supplements (VMS) market.
The TABS Analytics 10th Vitamin and Minerals Study revealed that online sales by traditional brick and mortar retailers propelled the market to an all-time high, growing an estimated 6 percent in the last year to reach $13.5 billion in annual sales.
Walmart.com, specifically, had a breakout year for VMS sales, much like it did in the baby products category, TABS President Dr. Kurt Jetta noted during a webinar presenting the VMS study results. Though second in eCommerce, Walmart.com doubled its online share of mentions, growing to 9.1 percent in 2017. These results are corroborated by Walmart's recent earnings report, which showed its total online sales rising 63 percent in the first fiscal quarter – likely as a result the Jet.com acquisition and leveraging its eCommerce expertise, according to Dr. Jetta.
VMS, as well as baby products, are the top categories in which online strategies are meeting with success, with overall eCommerce share now approaching 20 percent for VMS. Amazon continued to lead in online share, but it saw a drop from 36 percent in 2016 to 26 percent this year. Overall, the share of eCommerce VMS transactions grew considerably among brick and mortar retailers – nearly doubling to 39.9 percent, while pure play online retailers – such as Amazon, Puritans, Vitacost and Drugstore.com – saw their share drop nearly 19 percent to 60.1 percent in 2017.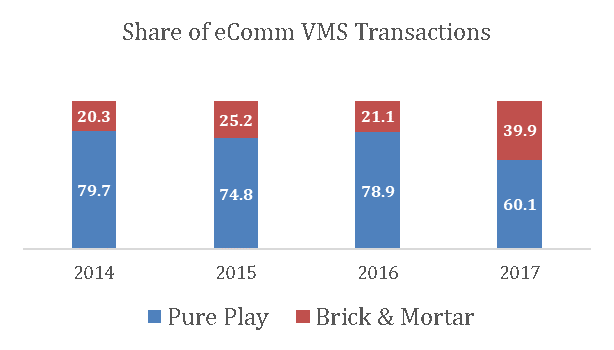 Other highlights of the VMS study included:
Brick and Mortar Stores VMS Sales Continue Upward Trajectory
Even though online sales by brick and mortar retailers were the big story, mass market stores continued to post strong results. In the 10 years that the survey has been conducted, mass market has grown from 59 percent of total sales in 2005 to 68 percent this year, with Costco seeing significant share gains in 2017. However, not all brick and mortar retailers are seeking upticks; CVS and food retailers both lost share over the last year.
Additionally, the mass market saw increases among all buyers – from causal buyers who purchase only one or two types of VMS products, to heavier buyers purchasing 3 or more products.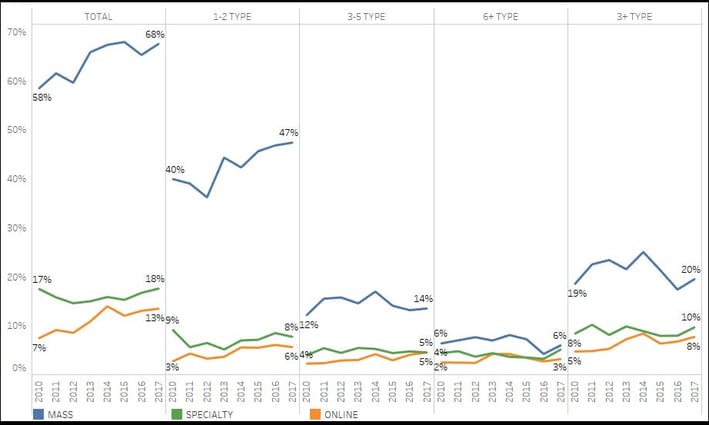 VMS Sales Reach All-Time High, Shows Signs of Maturity
Over the past three years, VMS sales exhibited flat growth, staying in the 75 percent to 76 percent range. However sales volume surged to 78 percent – an all-time high for the TABS Study. Driving this sales growth was increases in purchases by heavy buyers, as well as a higher penetration of individuals who purchased one or two products on a regular basis.
Additionally Dr. Jetta noted that the VMS category is showing signs of maturity and becoming more mainstream, as the channel shifts from specialty outlets to mass market and online. Another factor in market maturity is that there is a greater contribution to sales from light buyers, compared to heavy buyers who tend to dominate growing markets.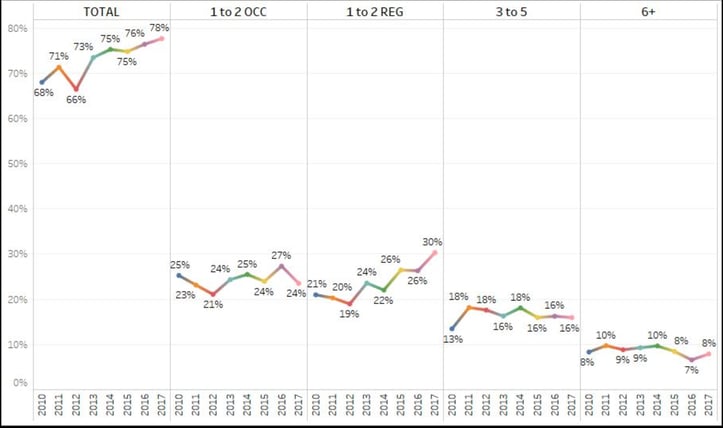 Heavy Buyers, Younger Adults and Women Spur Momentum
Looking at specific segments of buyers, three key groups played a significant role in the increase in sales volume:
Very heavy buyers (those purchasing 6 or more products), who accounted for almost 8 percent of adults, up from 6.6 percent last year.
Ages 18-45, which grew 4 percentage points to a total of 30 percent of the market.
Women, reversing a decline over the past five years, their heavy purchasing grew to 34 percent after hitting a low of 32 percent last year.
Income Has Little Bearing on VMS Purchasing
In our 2017 Baby Products Study and other CPG categories we track, TABS studies have increasingly seen a bifurcation of the market, with affluent customers (income of $150,000+) being the only ones to show increases in penetration. However, that's not the case in the VMS category, where there was minimal difference in penetration or heavy buying based on income. Only those with the lowest incomes (under $30,000) reported a decline in penetration.
For more insights and analysis of the 2017 VMS Study, you can view the webinar or download the white paper.