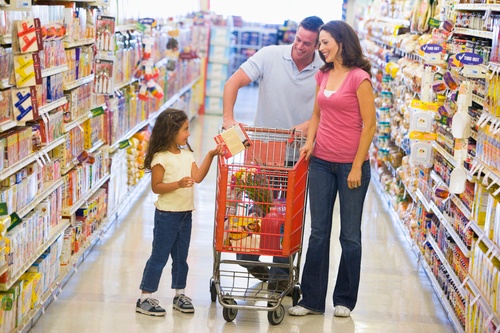 Following up our blog post introducing TABS Group's Consumer Packaged Goods (CPG) consumables* food and beverage industry survey, we wanted to dive deeper into the fact that in most consumables categories surveyed, the actions of heavy buyers/heavy users had the biggest influence on whether the purchases were up or down.
TABS Group created a measure to define light, medium and heavy consumables buyers. There was a consistent scoring system of each buyer over the three years that is a function of high purchase frequency across several categories. In 2015 heavy buyers accounted for roughly 25 percent of buyers and 50 percent of transactions. This was lower than 2014, when heavy buyers accounted for 30 percent of buyers and over 57 percent of transactions.
Households with Children Predict Heaviest Purchasing
The most important demographic variable for predicting heavy purchasing and finding heavy users is the presence of children in the household. This fact is seen across all 15 categories. Thirty-eight percent of the households with children account for heavy consumables buyers versus just 20 percent of the households without children - an index of 190. This buying group should definitely be a key target consumer bulleye for CPG manufacturers.
Perhaps not surprisingly, carbonated beverages, ice cream and cookies drove the trend of the overall category. In households with children, both carbonated beverages and ice cream saw a seven percent drop, and cookies saw a nine percent drop among heavy buyers.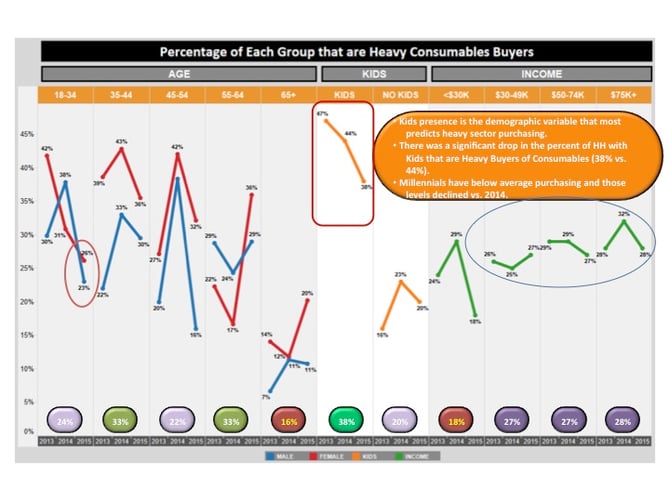 Last year the key demographic news was the big drop (11 percentage points from 42 to 31) in heavy buyers among millennial women. In 2015 that trend continued. Millennials have below average purchasing and those levels declined compared with 2014. Thirty-one percent of millennial women were heavy buyers in 2014 and that number dropped to 26 percent in 2015. Millennial men plummeted from 38 percent of heavy buyers in 2014 to just 23 percent in 2015. Last year saw a big jump in the demographic, which ran contrary to the macroeconomic trends of younger consumers having higher unemployment, living at home longer and shifting their purchasing preference to personal electronics. The 2015 figure of 23 percent is well below even 2013, and is more consistent with the trend we see among younger women.
Alarmingly, households with children saw a second straight decline in reported heavy buyers, dropping 6 percentage points from 44 percent in 2014 to 38 percent in 2015. These households continue to represent the highest concentration of heavy consumables buyers. In fact, households with children are 90% more likely to be heavy buyers than households without. Two age groups that had sharp increases in heavy consumables buyers are 55-64 year old adults and adults over 65. The study found women 55-64 years old increased their heavy buying from 24 percent to 29 percent, whereas the men in the same age group jumped from 17 percent to 36 percent in 2015. A possible reason for this trend is that these older consumers have to buy for more people in their households as their children are remaining at home longer. Households with women 65 years of age and older also increased their heavy consumable buying from 12 percent in 2014 to 20 percent in 2015 whereas the heavy consumable buying for men remained relatively flat.
In our next blog post, we'll discuss the importance of deals for consumers in influencing their shopping and buying preferences. Download a detailed report on the findings below to learn more.
* The 15 food and beverage categories included in the survey are:
Frozen and Refrigerated: Ice cream, frozen pizza, frozen novelties, refrigerated juices and yogurt
Beverages: Carbonated beverages, water fruit juice, isotonics (sports drinks)
Snacks: Salty snacks, popcorn, candy
Baked Goods: Cookies, crackers
Grocery: Cereal