Dive deeper. Evaluate faster. Hone your competitive edge.
"Our partnership with with TABS Group has been very fruitful for Univerlever USA. Their cutting edge analytics and consulting have allowed us to provide best in class support and guidance to our retail partners and compete more effecitvely with using data-driven insights."
Regina Bailey, Sr. Director of Marketing to Shoppers, Unilever.
Accepting the status quo is no longer an option
Competition is tough. Consumers are more demanding than ever and retailers expect you to help them meet those demands.
You're under constant pressure to spot gaps, sense trends and act at pace. And you need deeper insights to make those quicker, fact-based decisions.
But how do you drive this transformation? How do you continually adapt on the fly while proving yourself a trusted voice? It's clear, accepting how things have always been done is no longer an option.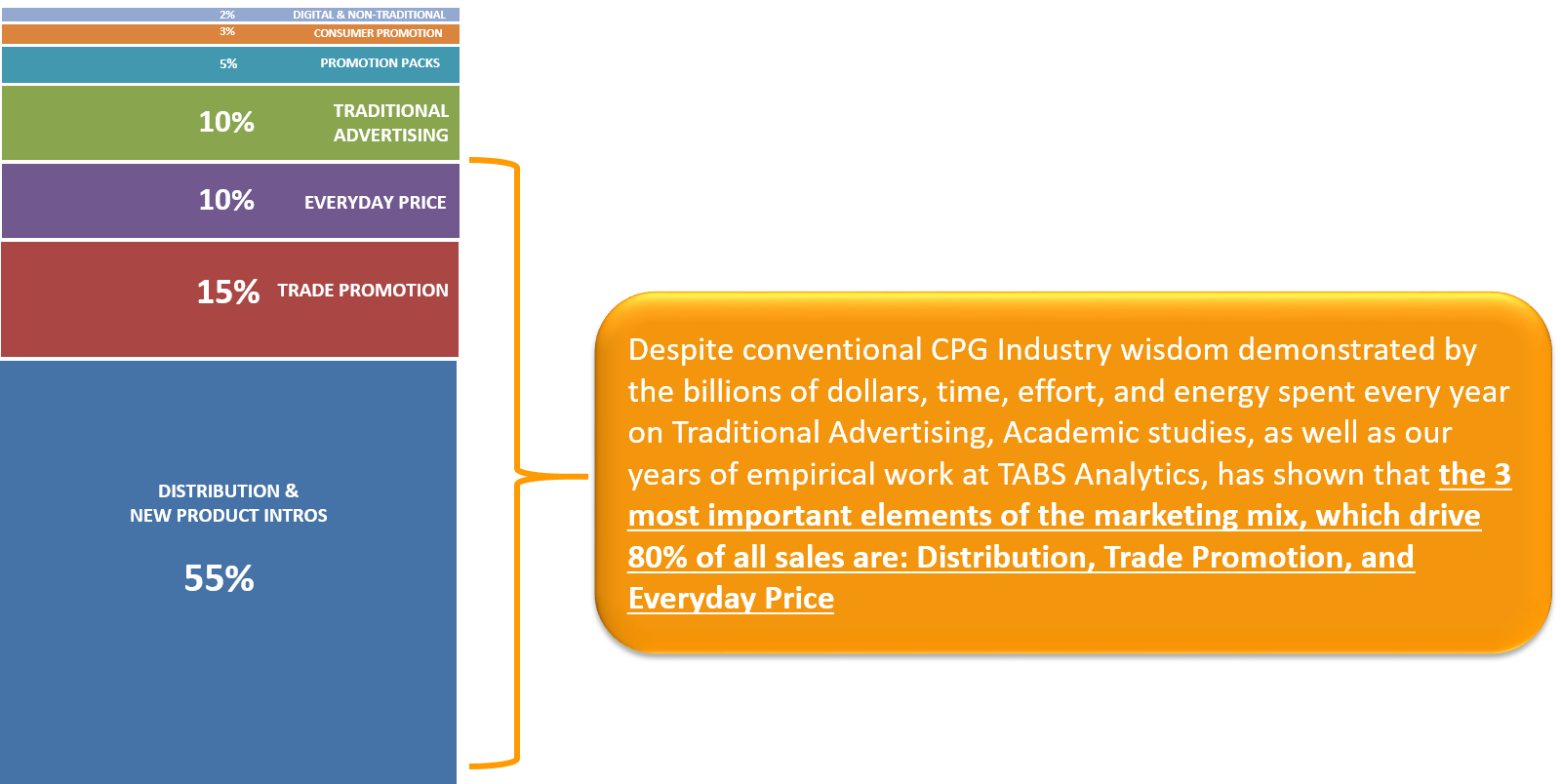 Reinvigorate your approach to category management
The answer lies in: distribution-based analytics—an innovative process where sales results are adjusted according to the distribution levels of the products analyzed.
And it's been proven time and time again—by academic research and years of empiral work—to be the most important variable in the marketing mix.
Harnessing distribution-based analytics gives you:
Greater accuracy when predicting future sales trends
A better window into current market dynamics
A deeper understanding of consumer preferences
A powerful tool to evaluate distribution gaps at any geographic level
Lightning-fast insights into overall sales trends -- a first-level diagnostic on "why" something is occurring.
You become a trusted source for meaningful and relevant category insights—a partner retailers want by their sides.
Plus, within your organisation you're seen as an expert, able to draw deeper insights to make quicker fact-based decisions.
All to say, distribution-based analytics helps you accelerate your company's journey from insight to action.
Grow and scale your business with advanced technologies
With TABS Analytics, you can by bypass the inefficient processes of the past with our proprietary next-gen tools.
Each tool is powerful and portable. And it harnesses database harmonization and distribution-based analytics. So you can home your competitive edge and align your practices with retailers' visions.
A supremely user-friendly, analytics and reporting tool based in Microsoft Excel
QuickTabs allows anyone in your team to access information in an instant, without the need for an internet connection or IT support.
It's a simple, accessible and intuitive solution that puts the power of advanced analytics at your fingertips.
A suite of services to seamlessly support all your CPG category management initiatives
TABS CatMan allows you to quickly and easily take the first step toward maximizing retail sales and profits.
Database customization and harmonization, business analysis, help with fact-based selling—in one comprehensive package.
Delivering trade promotion, plan-o-gram and shopper analytics, too
As part of CatMan Advantage, we provide a powerful cloud-based reporting tool, TABS Insight Pro, which has advanced analytics, delivered in a powerful management dashboard.
TABS CatMan Advantage, plus a dedicated consultant to help you
Analytics Outsourcing gives you everything outlined in TABS CatMan Advantage plus exert support in delivering all of your category management analytics.
(1) Source: Ataman, Berk, Carl Mela and Harald van Heerde (2008), "Building Brands," Marketing Science, Volume 27, no. 6.