What Is Data Harmonization?
As a way to integrate data, data harmonization brings disparate data sources, various file formats, and multiple naming conventions into a single database. Then it goes a step further by reorganizing data into a single schema. In other words, the data is gathered and visible in a single, comprehensive data view.
Data harmonization is customized to your specific business model and provides a true view of your business's performance. Generally, data harmonization gathers information from:
Market performance
Consumer research
Trade and revenue trends
Store-level information
Keep reading here to learn more about data harmonization.
---
Benefits of Data Harmonization
So, how exactly does data harmonization help CPG companies? The goal of data harmonization is to make business data "analysis-ready".
This delivers several key payoffs:
Centralized data
More accurate reporting
Lower expenses
Savings through efficiency
Data governance
Watch this video to learn the efficiency your company can gain with data harmonization.
---
Data Harmonization and eCommerce
CPGs that have both a brick-and-mortar and an online presence need an omnichannel strategy, which puts an even greater premium on data than before. Here are some key areas where data harmonization plays an important role:
With the ever-growing importance of eCommerce in CPG strategy planning, manufacturers need harmonized eCommerce data to make holistic brand plans.
Syndicated brick-and-mortar datasets need to be paired with eCommerce datasets to better understand the shifts occurring between the two channels.
Varied datasets across online and brick-and-mortar stores make data harmonization an absolute necessity to fully understand your all-outlet sales trends.
Keep reading here to understand the importance of data harmonization in eCommerce.
---
Why You Need Data Harmonization
Over the course of your company's lifetime, it's been accumulating data, and it might seem like there is almost too much data to sort through sometimes. But in the right hands, with the right tools, that data can be all powerful. It can teach you things about your business and your customers that you'd never thought possible. And the good news is, everyday now, every company on earth is accumulating more data faster than it was the day before. But first, in order to make sense of all that data, you need to harmonize it.
The most important reason you need data harmonization is to create confidence in your data across your organization. When you know where your data is coming from, when you know it's all aligned and can be interpreted with confidence because you know it's uniform, then you can be more confident in your decision making.
Learn the ins and outs of data harmonization and discover why your company needs it here.
---
Implementing Data Harmonization
When the data harmonization process actually begins, the first step, is to move everything into a common database. This is the three step data integration process:
Extraction reads the data in the original data set
Transformation converts the format
Loading writes it into your new database
Then the data is centralized into one, key location. While data integration gets things physically in one place, centralization blends all the information together. This is generally accomplished with machine learning.
Learn the entire implementation process here.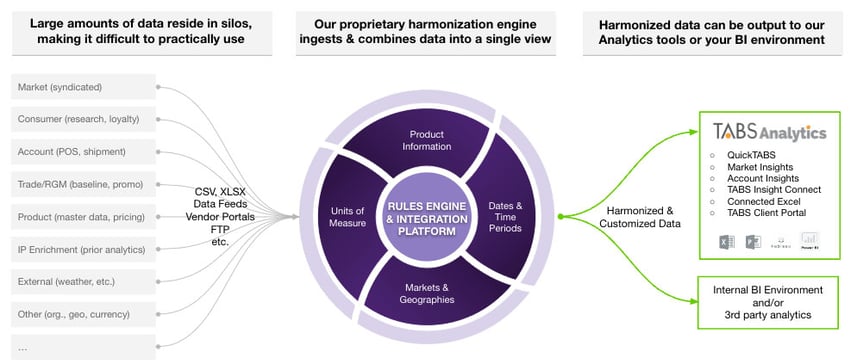 ---
Data Harmonization Dashboards
Business decisions should be based on a holistic view of market performance, but that is often difficult to achieve without a cohesive data set in the consumer packaged goods (CPG) industry. Our data dashboard suites solve this problem by offering the following key benefits:
Fully cleansed and harmonized data set built into a dashboard platform using Tableau® technology
Customizable and flexible reporting, with advanced drill-down capabilities and big data analytics
Accessible anywhere, anytime, across multiple platforms and devices
See our full list of CPG industry premier business analytics solutions here.
---
Data Harmonization and Strategic Selling
It all starts with syndicated data, which begins at the point of sale at hundreds of retailers across thousands of store locations, scanning universal product codes (UPCs) at the register. Data suppliers such as IRI, Nielsen, and SPINS collect this UPC-level data and go through a rigorous process to extrapolate that data over the total U.S. population, retailers, regions, competitive markets, and other geographies.
Consumer packaged goods (CPG) manufacturers then purchase this data and use it internally or engage partners such as TABS Analytics to help provide analysis with the goal of selling new and existing items into distribution with retailers.
Check out this video series to see how data harmonization leads to strategic selling:
---
Case Study: Tracking Amazon and Brick & Mortar Sales
In the new post COVID19 era, understanding sales from all outlets, including eComm, is critical for CPG brands as sales continue to shift online. However, integrating eComm and brick-and-mortar sales data for reporting is extremely difficult.
The Challenge: A major CPG manufacturer recently asked: How can we best adapt to COVID19 category changes and develop a cohesive strategy across Amazon/eComm and brick-and-mortar?
While the manufacturer's sales at Amazon increased at a double-digit rate over the past several years, sales data was analyzed separately from brick-and-mortar, making meaningful analysis slow and challenging.
The Solution: TABS Analytics integrated Amazon's syndicated scanner data with the client's brick-and-mortar syndicated data to provide a holistic view of how category performance and the key drivers behind channel shifts between brick-and-mortar and Amazon.
TABS leveraged its data harmonization capabilities – combining both machine learning and "human intervention" – to build out a master item database harmonized across all geographies, products, time periods and measures. From there, TABS deployed both Excel® (QuickTABS®) and cloud-based (Market Insights PRO™ and Account Insights™) deliverables so the manufacturer could analyze the harmonized data across all key business dimensions. Proprietary distribution-based analytics provided further clarity to show "why and where" growth was coming from: distribution, organic velocity and price/mix.
Key Learning: With a harmonized data set for analysis, understanding the growth between channels and the drivers behind them became possible to drive business strategy and decision making.
---