Data Harmonization and Dashboards


Data Integration: See How Your Business Truly Performs.
We believe in the power of accurate, accessible, harmonized data -- and our industry-leading products reflect that commitment. At TABS Analytics, we've eliminated the need to jump from one data source to the next; or the need for your team to integrate various data sources into a single view. Instead, we use machine learning harmonize and integrate your data to bring insights and opportunities directly to you.
See Your Total Business Using Syndicated And Account Data
At TABS Analytics, we're proud to offer one of the industry's premier business analytics solutions that leverages our data harmonization expertise: TABS Account Insights™.
TABS Account Insights™ provides companies with an integrated and harmonized view of Retailer POS data, shipments, and financial budgets. The result? Instant access to key internal and TABS proprietary business metrics that empower you to make risk management, and investment decisions that lead to improved performance. Weekly updates and unlimited user access promote internal collaboration and the ability to make effective changes in a timely manner.
Dashboards: See The Data; Find The Insights
Business decisions should be based on a holistic view of market performance, but that is often difficult to achieve without a cohesive data set in the consumer packaged goods (CPG) industry. Our data dashboard suites solve this problem by offering the following key benefits:
Fully cleansed and harmonized data set built into a dashboard platform using Tableau® technology
Customizable and flexible reporting, with advanced drill-down capabilities and big data analytics
Accessible anywhere, anytime, across multiple platforms and devices
Identify Opportunities Faster With Our Dashboards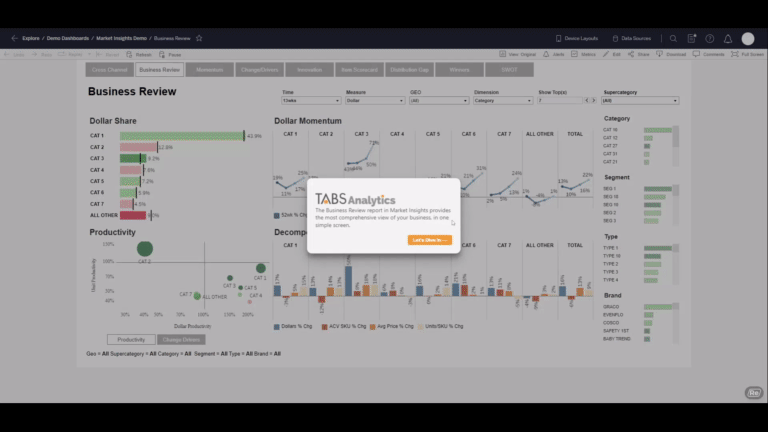 Click through an insider view of TABS Market InsightsTM by taking a quick product tour.
At TABS Analytics, we're proud to offer some of the CPG industry's premier business analytics solutions that leverages our data dashboard expertise:
TABS Market Insights™ provides a top-level overview of your business with the ability to drill down into key drivers.
TABS Market Insights PRO™ a more advanced platform that allows a deeper dive into promotion and pricing.
TABS Total Insights™ our newest and most advanced dashboard suite that integrates all data sources and analysis into one portal for a fully integrated, wholistic look at your business.