Category Review How To
TABS Analytics Market Insights PRO™ allows you to conduct an in-depth analysis of the entire category with prebuilt data visualization charts.
Answer questions such as:
Is my brand winning in the category?
How are my competitors performing?
What are the growth or decline trends for the category?
Who is the share leader? Are they growing?
Where is the growth in the category coming from?
Which brands and products are productive for the category?
What key items are missing from the category?
Are there items in the category that deserve more distribution?
Market Insights PRO is great for those that want to see pre-populated charts, while also providing the opportunity to dig deeper to understand trends across markets.
Business Review
(Video time 4:04)
Let's imagine we are a category manager who has to regularly report on the business and provide information to sales, marketing and leadership teams. We will start with the fan-favorite, Business Review, which pictured below is focused on women's urinary health brand AZO.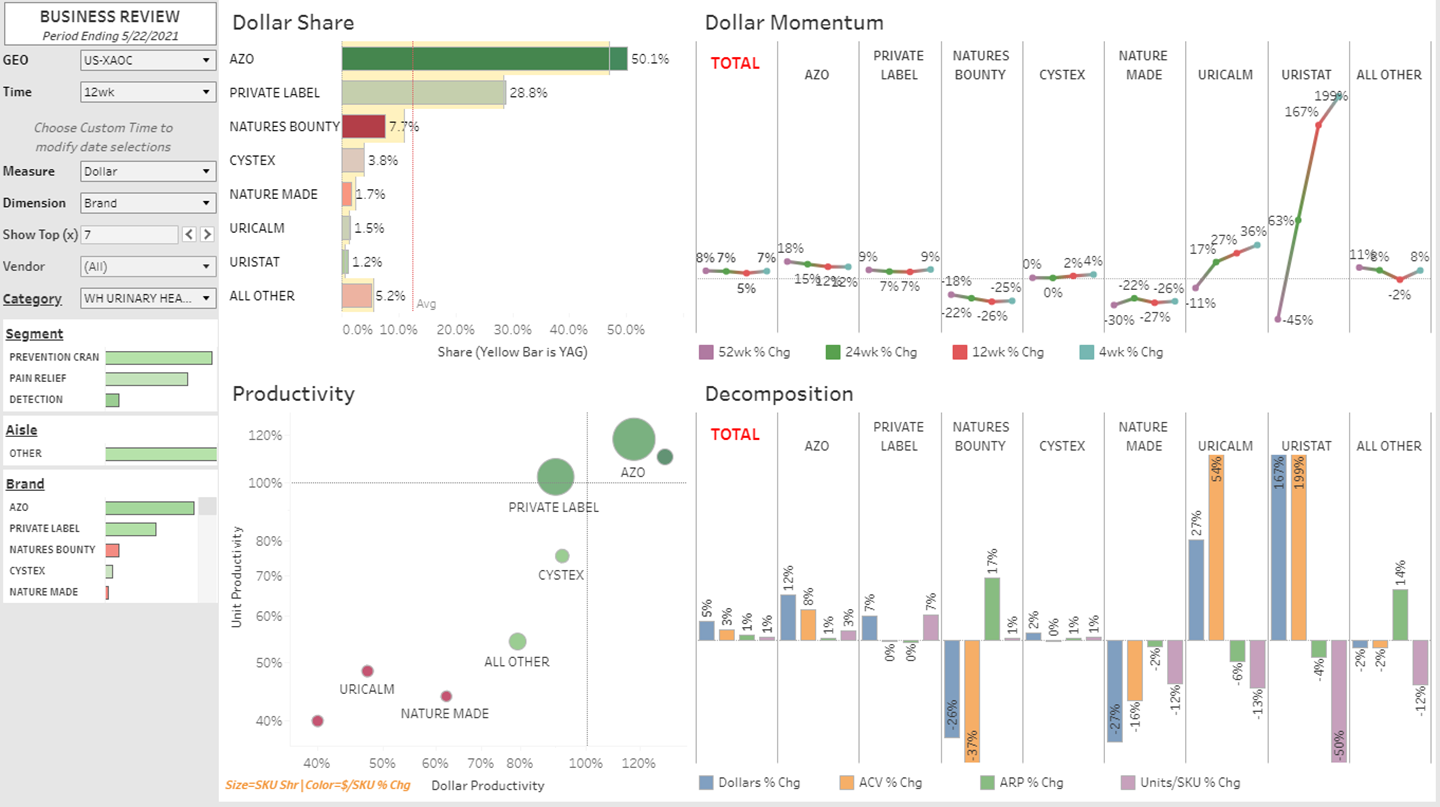 Starting with the top left chart and moving clockwise through the four charts, this single view shows:
AZO is the number 1 women's urinary health brand in dollar sales in the U.S.
AZO not only leads in dollar share, but also grew its share from a year ago.
AZO's dollar sales are growing by double digits and are outpacing the category across periods.
AZO's growth is primarily due to increased distribution and shows organic growth compared to a year ago.
AZO is a segment leader in productivity, ranking second in dollars per SKU and first in units per SKU across top brands.
AZO is making better use of its shelf space than nearly every brand in the category.
SKU Rank Report
(Video time 6:15)
Next, let's dive into the SKU rank report. It's an item level report in Market Insights PRO that shows how items are ranking in dollars, units, and velocity measures. The SKU rank report also features TABS Analytics productivity measures. Productivity is important to retailers because they want to have items on the shelf that are creating dollars for the category, as well as moving through units and avoiding inventory issues.

An insight we can pull from our AZO example is that the AZO cranberry 10 count tablets are number one in dollars per SKU and units per SKU, meaning this item is making the best use of its space on the shelf.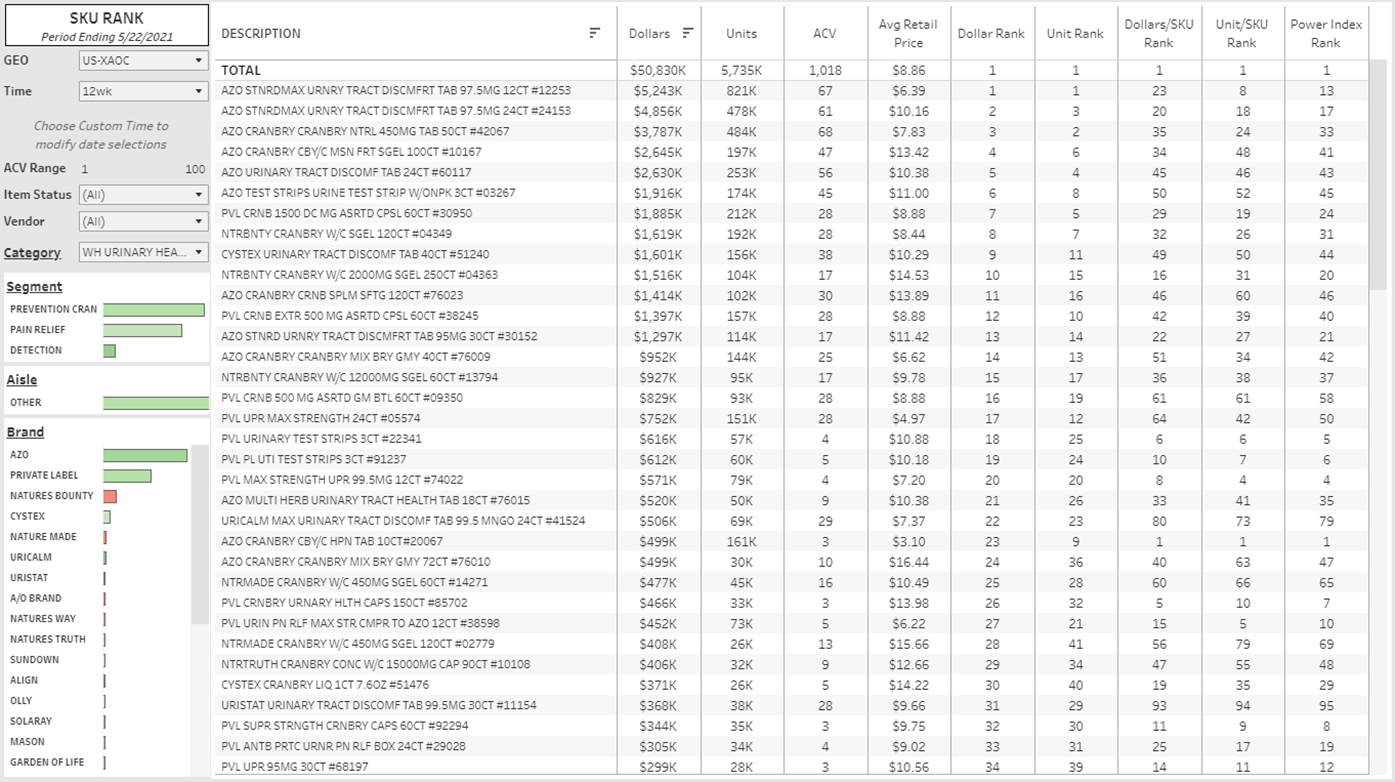 Distribution Gap Report
(Video time 8:11)
The Distribution Gap report compares retailers and channels to see where you might have key items missing in your top accounts and if there are items selling in your accounts that might deserve more distribution.
A practical example here shows the AZO bladder control 72 count and the cranberry soft gels 120 count. These items are top sellers nationally, but they don't have distribution in retailer C or D. These items can be brought to those retailers as high potential items.
Build a Strategic Selling Presentation with Presentation Builder
(Video time 10:29)
When it comes to strategic selling, your presentation is arguably the most important part. The way you discuss and visualize your data points throughout your meeting can make or break whether you get the sale. Presenting data facts and insights is a balancing game. It's important to include enough detail to make your point, but not too much as to overwhelm the buyer and get off track of your key selling points.
It helps to start with these key questions:
Is my brand winning or losing dollar sales and share?
What are the drivers of that change versus year ago?
How productive is my brand versus the competition?
When you can easily share these insights with your retailer, you can prove the value of your items and brand.