How To Build A Selling Presentation
A winning sales presentation combines romance slides that explain the features and benefits of your new item with data that supports why the retailer and consumers need your new item. Let's walk through how to find those key selling insights using one of our favorite tools, QuickTABS®.
For this example, we will mine strategic selling insights for the probiotic brand Culturelle.
First let's get the retail buyer in the right mindset by reminding them of our brand's strength.
We show them here that our brand has two of the top ten items in the category, clearly a favorite among consumers.
(Video time: 0:56)
Next, let's investigate our relationship of share of space versus share of dollars using productivity. Productivity can be an impactful measure to cover in your sales presentation. If a brand has 10% of the share of items and is delivering 10% of the dollar share, that brand's dollar productivity is 100%.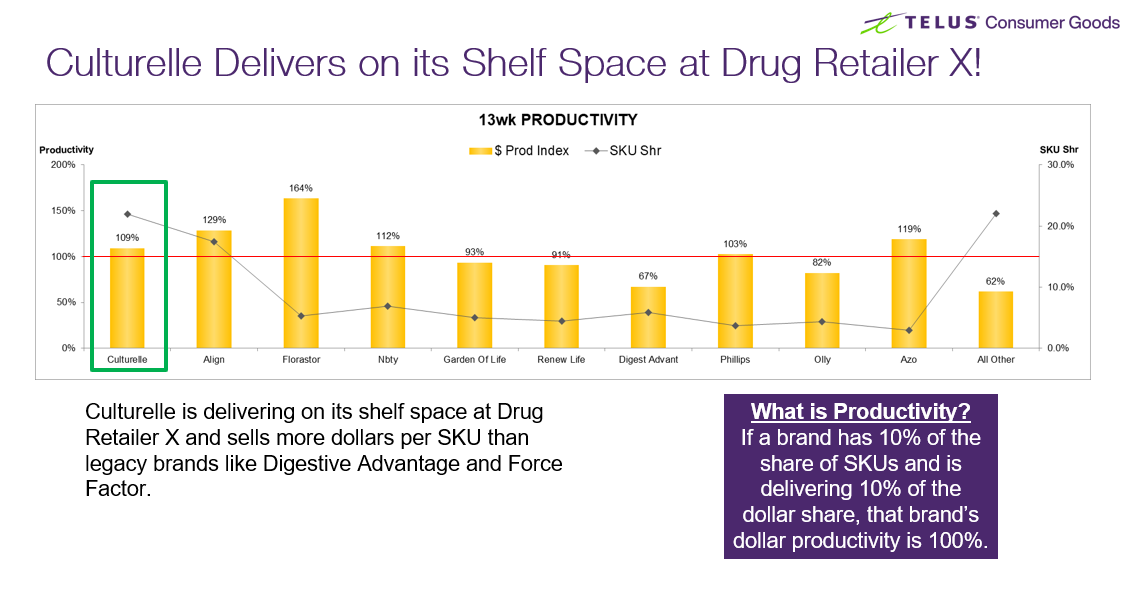 Here we show that Culturelle is delivering 9 percent more dollars per SKU than the average probiotic brand at this retailer. Even though we have a high share of the items, we still deliver more dollars to the category than the average item.
With just two slides we've shown our buyer that the consumer loves us, and the buyer should love us because we deliver dollars with our space on the shelf.
(Video time: 1:56)
In an effort to be a good partner with our retailer, we're going to provide an overview of the category performance to our buyer.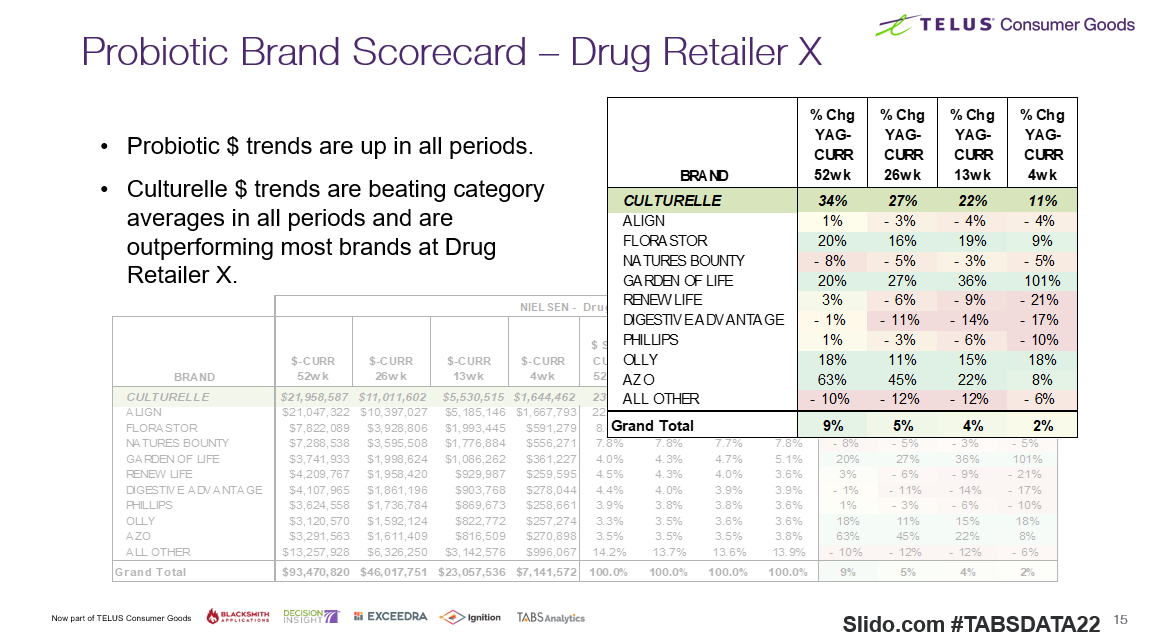 First, we will point out that the buyer's probiotic category is growing across all the latest time periods.
Then we can point out how we contribute to that growth by showing off Culturelle's positive trends across all periods. In fact, we are beating the category averages in all periods and outperforming most of our competition.
Let's break these growth trends down further.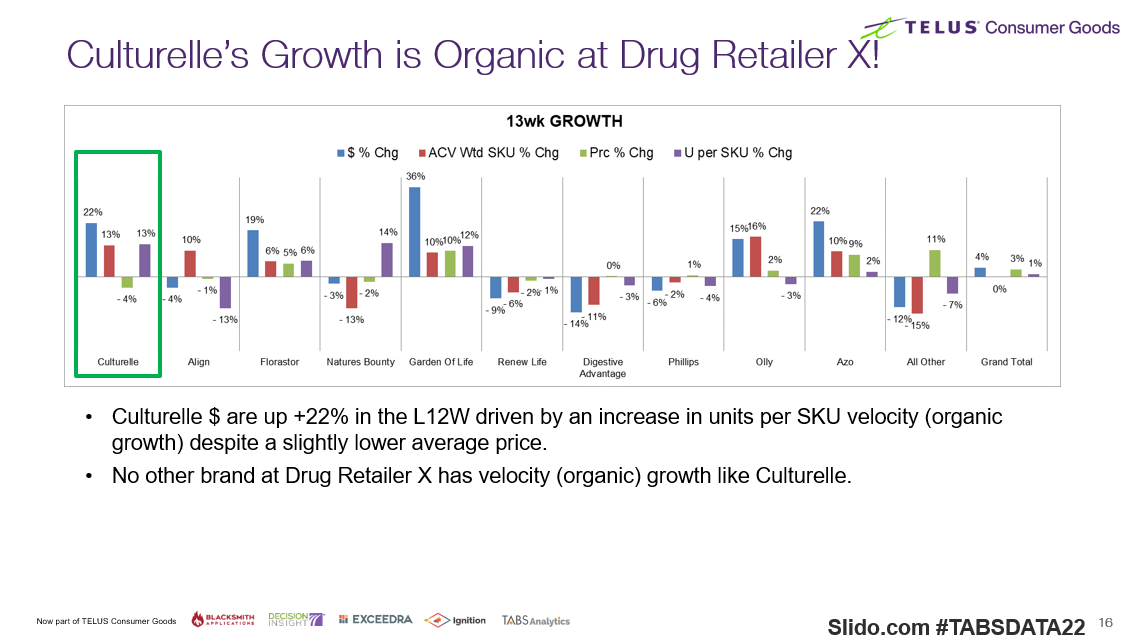 Focusing on the 13-week period, let's decompose how the growth is related to changes in distribution, price, and organic growth or unit per SKU velocity.
Culturelle has benefitted from increased distribution as well as increased unit per SKU velocity. No other brand in the competition has organic growth trends like Culturelle. You can also cover the growth trends behind any of the competitive brands.
(Video time: 3:53)
Finally, we're here to sell our new items. So, let's show the buyer the impact new items have had on the category.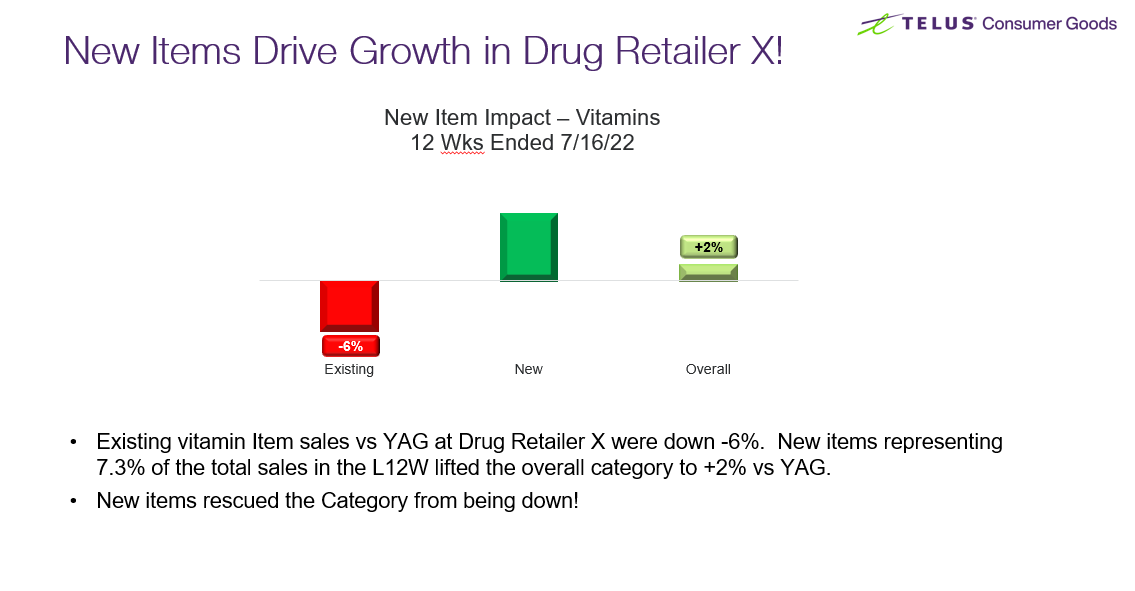 In the probiotic category at this retailer, dollar sales were up 2 percent from last year. Existing item sales were down 6 percent, so new item dollar sales must have driven the growth for the category. The new items rescued the category from being down versus last year. Perfect cue for your romance slides! Show the buyer all the wonderful features and benefits behind your latest and greatest innovation.
Now that the buyer loves your new items, they will be faced with a challenge. There's only so much space on the shelf. To bring your new items in, other items will have to be discontinued. You can answer this question with a quick Poor Performer analysis.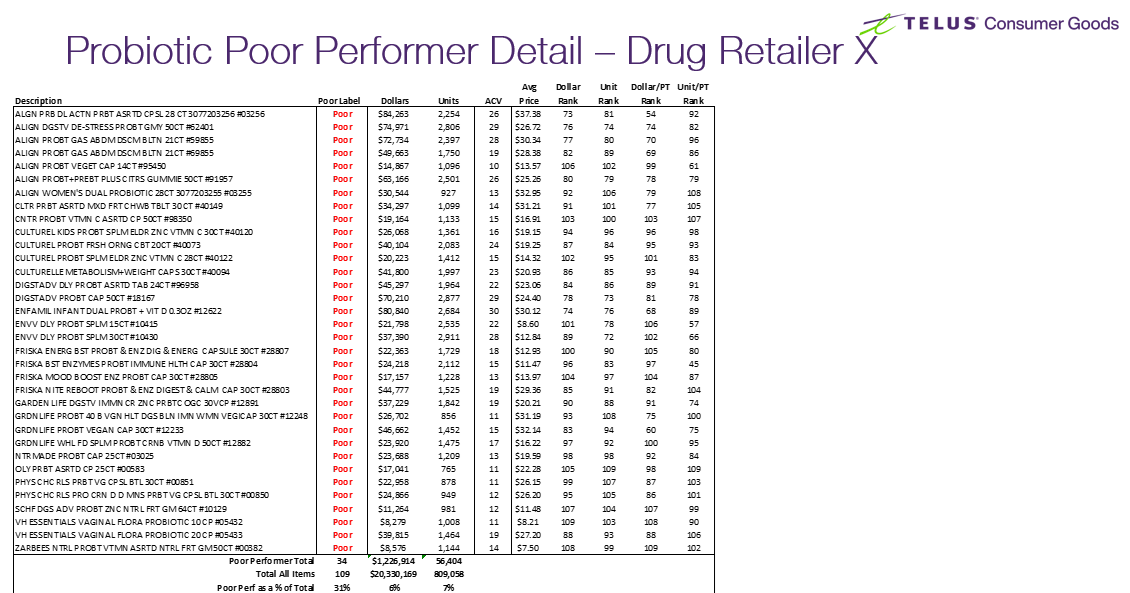 This report will rank the items in the category on four measures: dollar sales, unit sales, dollars per point of ACV, and units per point of ACV. If an item is ranked in the bottom for three of those four measures, it will be labeled as poor. You can use this report to guide your conversation with the buyer and make recommendations to improve their category performance.
Watch a live demo of these strategic selling insights being mined from QuickTABS, Video time: 7:18
Sell in your new items using fact-based insights to craft the winning sales presentation.
LINK BACK TO LANDING PAGE