Economic Foundations of Retailer Price Promotion: It's All Incremental
This paper states that under several conditions that completely apply to CPGs, incremental retail sales generated by promotional price discounts are entirely incremental to the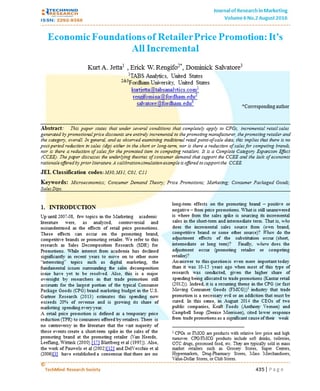 promoting manufacturer, the promoting retailer and the category, overall.
In general, and as observed examining traditional retail point-of-sale data, this implies that there is no post-period reduction in sales (dip) either in the short or long-term, nor is there a reduction of sales for competing brands, nor is there a reduction of sales for the promoted item in competing retailers. It is a Complete Category Expansion Effect (CCEE). The paper discusses the underlying theories of consumer demand that support the CCEE and the lack of economic rationale offered by prior literature. A calibration-simulation example is offered to support the CCEE.
Download now for this free paper!