See How Your Business Performs Globally.
Business moves faster and more strategic than ever these days. At TABS Analytics, we help you keep pace with an ever-shifting marketplace by providing the necessary tools to develop a significant competitive advantage.
We believe in the power of accurate, accessible, harmonized data -- and our industry-leading products reflect that commitment to data quality.
The Value of Global Data Harmonization
Business decisions should be based on a holistic view of market performance, but that is often difficult to understand given the fragmented nature of data sources (e.g. syndicated services, numerous retailer POS data portals). At TABS Analytics, we've eliminated the need to jump from one data source to the next; or the time it takes your people to integrate various data sources into a single view. Instead, TABS data harmonization brings insights and opportunities directly to users, equipping them with the business intelligence to make the right decisions to drive Sales and Profits!
TABS data harmonization enables a number of tactical benefits as well.
Are you frustrated by waiting 6-9 months for a database restatement to be implemented? TABS does it in days.
Do you have a customer that defines/merchandises your category in a different manner than another customer? No problem, TABS data harmonization allows you to have multiple, and customized views on your database.
Does it take too long time to conduct trade promo event analysis because all of the time spent aligning internal cost and shipment data with retail consumption sales? TABS eliminates that exercise for you.
Time is money – and TABS data harmonization allows you to save both, while increasing the latter with our machine learning technology!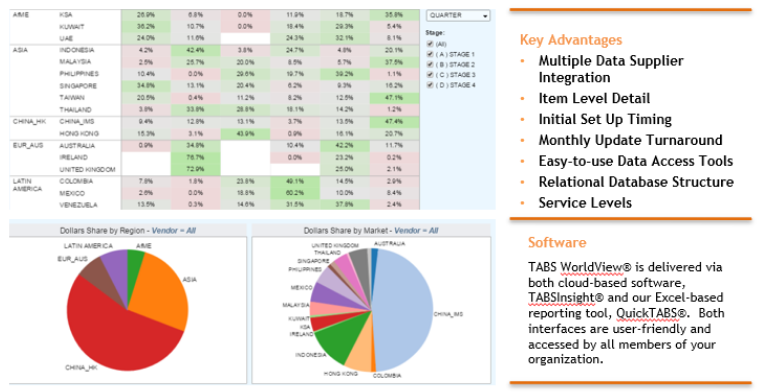 A Product that Drive Profits - Globally
At TABS Analytics, we're proud to offer the industry's only business analytics solutions that harmonizes data globally: TABS WorldView®.
TABS WorldView® is a custom multi-country consumer sales database and analytics service. Worldview brings together disparate data across numerous countries to provide our clients with:
Better understanding of market environment and competitive actions
Improved collaboration between corporate global and local countries
Accurate representation of global market share to Wall Street / financial institutions.
Many global companies spend an inordinate amount of time working with divergent data content and formats from across the globe, as all of this non-uniform information must be condensed into a single view. TABS WorldView solves this problem with a centralized data model: harmonizing and organizing divergent data --enabling companies to focus on results, rather than the tedious process of organizing information. Data Harmonization is conducted across category definitions, product attribution, monetary value exchange, and reporting time period alignment.
In essence, TABS WorldView allows you to identify and seize global opportunities while the competition is still busy aggregating data - That's the WorldView advantage.