Marketing Mix Modeling
What is it?
Marketing Mix Models developed by TABS Analytics quantify and predict the effects of major sales and marketing drivers of your business: Distribution, Everyday Pricing, Trade Promotion, Consumer Promotion, New Product Development, Consumer Advertising, Digital Marketing, and Promotional Packs.
What are we buying?
You will receive the analytics that help you understand the relative importance of each major variable in the marketing mix. You will also receive a simulator tool that helps you forecast the effects of significant changes in your marketing plan.
How will it help us?
TABS Analytics has an outstanding reputation for delivering accurate annual sales projections to both the Consumer Products and the Financial industries. In addition to better forecasting accuracy, you can generate dramatic increases in sales and profitability with a better understanding of the implications of major adjustments to your marketing mix.
How is it different?
Here is what we are not: we do not just evaluate changes in advertising tactics such as media vehicles, day parts, ad lengths, etc. Many in the industry consider that to be a Marketing Mix Model, but it is not; it is a Media Mix Model. Our specialty is in the strategic drivers of sales: Distribution, Product Innovation, Promotion, and Advertising. Academic research has shown1 that distribution is the most important determinant of sales and share. Our distribution-based analytics use that approach as the foundation of our Market Mix Models. Additionally, our TABS AccuBase® model ensures that the drivers of your Base Business (Advertising, Pricing, Distribution) are accurately differentiated from the drivers of incremental sales (Trade Promotion).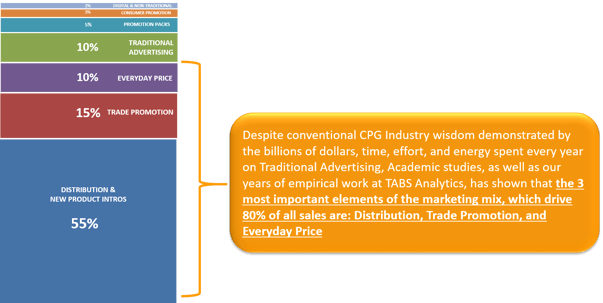 How can we get started?
We require a one-hour consultation to determine your marketing objectives and gain an understanding of the brand's spending history. Within days of this evaluation we can provide an estimate of the cost required to engage with TABS Analytics.
1 Ataman, Berk, Carl Mela and Harald van Heerde (2008), "Building Brands," Marketing Science, Vol. 27, no.6.