Price Elasticity and Gap Analysis
What is it?
This price elasticity and gap analysis service offers a unique analytics process to help manufacturers make the correct pricing decisions.
---
You Benefit 3 Ways:
1. Analytical Expertise
Analytical Expertise helps to develop price elasticity estimates for your products, as well as cross elasticity and price gap analysis estimates with other products.
2. Strategic Pricing Direction
Strategic Pricing Direction assists in executive decision-making. We provide guidance on whether or not your brand can be a price leader or follower, as well as information on the effect of price tiers in the market.
In addition, we offer insight into how the market structure and level of competition will affect your price sensitivity, and how your promotional pricing activity will affect your everyday price elasticity decisions.
3. Your very own Pricing Simulator (it's better than a calculator)
A Pricing Simulator gives you a software tool that simulates an unlimited number of pricing scenarios, based on information you provide concerning cost changes, margins goals, price elasticity, as well as other inputs. If you're looking for higher calculations, this is it.
---
Gap Analysis aids in making the best pricing decisions.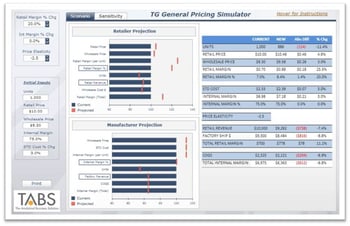 Pricing is among the most important elements of the marketing mix.
The success or failure of your brand often depends on your pricing decisions. This service ensures that you have the best information available to make the best pricing decision.
---
The Difference: Estimates developed with chain-level data.
Because we include economic variables into our modeling, our estimates can be developed using chain-level data, as opposed to store-level data. We also ensure that our results are consistent with microeconomic theory and the laws of demand.
We go beyond industry-standard.
And while this may seem a given, all too often we see competitive services providing results that are economically impossible. Our pricing studies also include consumer surveys in order to corroborate results and understand the "whys" of brand pricing dynamics. Our methodology strips time and cost from your price elasticity project.
How can we get started?
Contact us for a cost quote and a demonstration of our Pricing Simulator.