CPG Category Management – TABS Market Insights PRO™
What is it?
TABS Insight™ Pro is an advanced version of TABS Market Insights™, a powerful cloud-based CPG Category Management Dashboard with enhanced analytical capabilities. In addition to topline overview and distribution based analytics provided by TABS Market Insights™, TABS Market Insights PRO™ takes a deeper dive into the drivers of your business to understand the impact of promotion and pricing.

What are we buying?
TABS Market Insights PRO™ is a cloud-based, secure web solution built using Tableau® technology. TABS Market Insights PRO™ places your retail sales data at your fingertips from anywhere in the world on desktops, laptops, tablets, and smart-phones. TABS Market Insights PRO™ protects your data and information by providing each user in your organization with his own unique user name and password.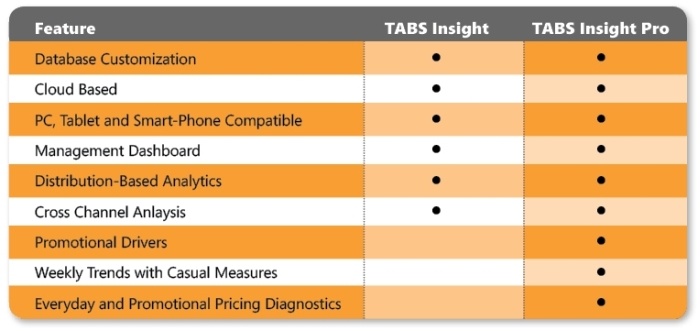 How will it help us?
Analysis that once took hours or even days will take place in minutes or even seconds. Managers can get immediate answers themselves rather than delegating. TABS Market Insights PRO™ reports are professionally constructed so that they either can be presented directly from TABS Market Insights PRO™ or easily exported to other software for building custom reports and presentations.
How is it different?
The distribution-based analytics and the promotion and pricing analytics used to drive the insights and save time in your analysis is what truly differentiates TABS Market Insights PRO™ from other solutions on the market. Since both the quantity and quality of your promotional activity dictates the overall contribution to your business, our treatment of diagnosing promotional drivers focuses equally on both the quantity of the promotion (e.g. % ACV with Feature) and the quality of the promotional support (Avg. Life per Event). In addition, we recognize that every business is different, so we can customize any workbook to meet your exact business needs.
How can we get started?
TABS Market Insights PRO™ works with any raw sales data including Nielsen, IRI, SPINS, NPD, retail account POS, and shipment data. It is as simple as TABS Analytics working with you to code your data into your own custom database and then program it into TABS Market Insights PRO™. This does not require the purchase of any other TABS Analytics tools or services.