TABS Market Insights™
What is it?
TABS Market Insights™ is a powerful web-based management dashboard that provides a top line overview of your business, while still enabling you to drill down into the major drivers of your business. It will help you spot emerging top line trends, notice areas of improvement well ahead of your competitors, and point you in the direction of where to drill deeper.
What are we buying?
TABS Market Insights™ is a secure, cloud-based, web solution built using Tableau® technology. TABS Market Insights™ places your retail sales data at your fingertips, from anywhere in the world, on desktops, laptops, tablets, and smart-phones. TABS Market Insights™ protects your data and information by providing each user in your organization with his own unique user name and password.
TABS Market Insights PRO™ For a Deeper Dive into Business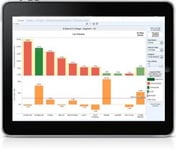 How will it help us?
Analysis that once took hours, or even days, will now take minutes or even seconds. Managers can attain immediate answers themselves rather than delegating. TABS Market Insights™ reports are professionally constructed so that they can either be presented directly from TABS Market Insights™, or easily exported to other software in order to build reports and presentations.
How is it different?
The distribution-based analytics used to drive the insights and save time in your analysis is what truly differentiates TABS Market Insights™ from other solutions on the market. We recognize that every business is different, so we can customize any workbook to meet your precise business needs.
How can we get started?
TABS Market Insights™ works with multiple raw sales data including Nielsen, IRI, SPINS, NPD, retail account POS, and shipment data. Getting started is as simple as TABS Analytics working with you to code your data into your own custom database, and then programming it into TABS Market Insights™. It does not require the purchase of any other TABS Analytics tools or services. For those wary of yet another business tool on the market, TABS Analytics offers a low-cost, low-risk option ($2,000 per month or less) to get you started.