Pricing Simulator
What is it?
Our Pricing Simulator is web-enabled software that allows managers to simulate the sales and profit effects of pricing by controlling internal, retailer, and competitive actions.
What are we buying?
You are buying user-friendly software that is typically accompanied by a Price Gap and Elasticity study conducted by TABS Analytics. We usually populate the model with the price elasticity and cross-elasticity metrics derived from our analysis, but the tool allows you to change those inputs.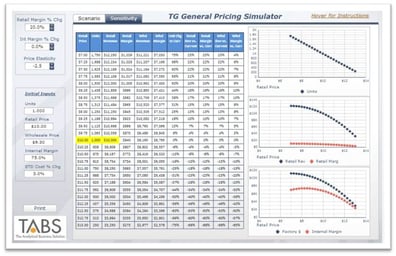 How will it help us?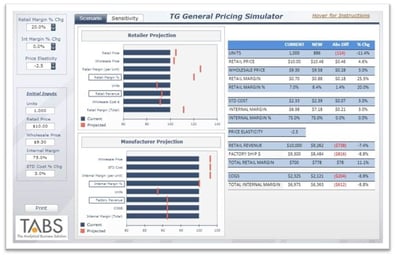 An accurate view of the effects of your pricing actions will increase your company profitability. You can significantly reduce the risk of poor pricing decisions by simulating effects on profits of highly priced sensitive brands. In addition, you can understand the importance of retailer and competitor reactions to your pricing decisions.
How is it different?
Clients have noted that our price simulator is easier to use and more realistic than other options in the market. Notably, most simulators do not properly account for retailer reactions to price changes, and they do not account for the affect it has on the profit outlook of your decisions. TABS Analytics provides the ability to simulate price effects at different retailers, which usually have different levels of price sensitivity associated with them.
How can we get started?
Turnaround time for these studies is four weeks for one brand and twenty geographies. Our prices are competitive to other options.