Trade Promotion Planning – TABS Promo Advantage™
What is it?
TABS Promo Advantage™ is a bundle of services that provide a complete set of trade promotion planning and optimization tools for your company. This service is geared towards Tier I and II CPG companies with multiple brands, large sales, and trade marketing organizations.
What am I buying?
You are buying the software and expertise of TABS Analytics in Trade Promotion Optimization. You will receive TABS PromoMaster® software, a Best Practices analysis that summarizes the optimal promotional strategies and tactics for your brand. You will also receive our development of an enterprise-wide Trade Promotion Planning solution and our TABS Trade Optimizer™ software that enables you to structure optimal trade spending at each retailer.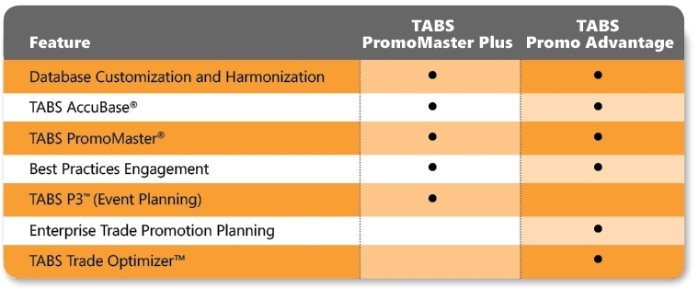 How will it help us?
At 15-20% of annual revenue, trade spending is the largest part of most CPG companies' sales and marketing budgets (Source: Gartner, 2012). The insights from this service can easily deliver double-digit gains to your sales and profits in Year I and beyond. This solution can be developed with minimal internal resources due to our extensive experience in Trade Promotion Optimization solutions.
How is it different?
All of the analytics are based on TABS AccuBase®, the most accurate and extendable method of baseline estimation in the industry. Without an accurate baseline estimate, all other promotional analytics and forecasting are useless and potentially harmful to your business. Besides accuracy, we leverage Excel in our software to minimize training time and maximize analytical flexibility. You will instantly be able to gauge the incremental sales of your events along with any potential brand cannibalization, channel switching, and competitive share gains. Finally, TABS Analytics will have your enterprise-wide TPO solution up and running in six months or less verses the industry standard of 18+ months.
How can we get started?
We offer full guarantees on our service delivery and modestly priced proof-of-concept options.