Daniel Garriott
Data Operations Engineer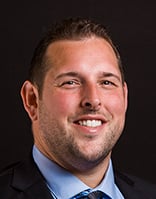 Danny joined TABS Analytics in May 2018 with 9 years technical and customer support experience. His responsibilities include: Assisting with system support tasks, creating ETL tasks, QA testing, and client implementations.
He started his career as a Customer Support Representative where he supported customers by solving data quality and software issues. From there he moved on to the role of Business Intelligence Engineer before becoming a Technical Support Engineer and eventually an Operations Engineer. Besides working with customers to implement their BI reporting needs, Danny also has 8 years of experience designing and implementing ETL solutions for customers.
Danny graduated from The Art Institute of Seattle with a Bachelor of Arts in Media Arts and Animation and is currently pursuing a Bachelor of Science in Cybersecurity and Information Assurance. When not working, Danny enjoys exploring all that the Pacific Northwest has to offer with his wife and son.
.